Valentine's day is just around the corner, guys! If you're still scrambling to find the perfect place to have a romantic Valentine's celebration with your loved one, Marimbar PJ would be a great choice! Soak in the breathtaking views of Petaling Jaya while watching the sun go down from Petaling Jaya's highest rooftop bar at the 35th floor of Pinnacle PJ will be an unforgettable experience. Check out Marimbar's Valentine's Set at the end of this post.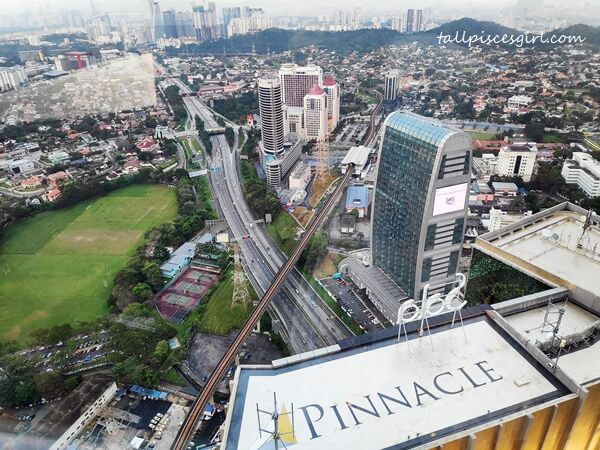 Under The Marini's Group, Marimbar is their first bar in Petaling Jaya and hence, they decided to give this spacious venue some tropical vibes to make it more special.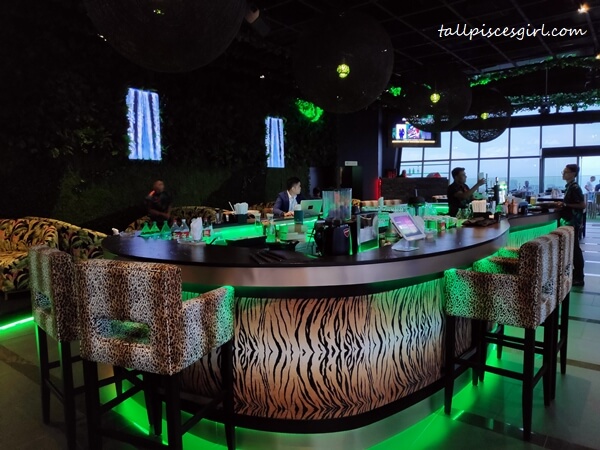 As soon as we entered, we were welcomed by splashes of green and a tiger print bar. Its indoor area has screens of simulated waterfalls on the wall, giving it a jungle-like feel.
There are 2 outdoor seating areas, one covered and one uncovered. Both offers unique and amazing panoramic view. If outdoor seating is not your thing, you can still marvel at the uninterrupted views of Petaling Jaya by sitting by the glass wall.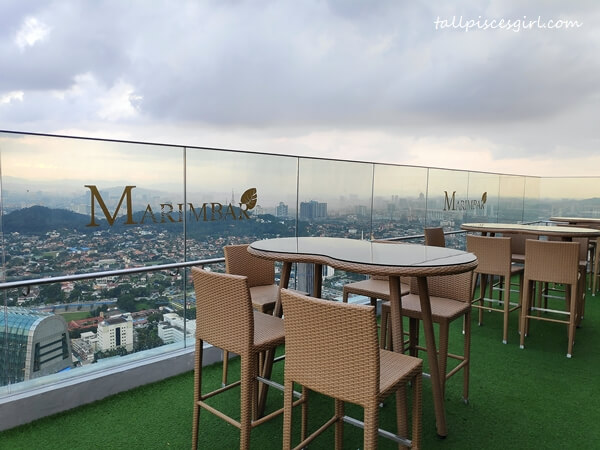 Review: Marimbar PJ The Rooftop Bar
We had the pleasure to sample all their signature cocktails.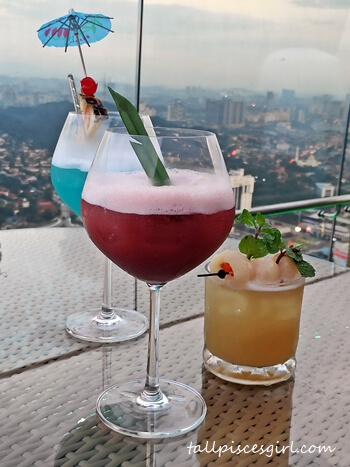 The Red Rimba, as the color symbolize, is an adventurous mix of lemongrass-infused Gin, lemon juice, raspberry puree, ginger, pandan syrup, and egg white.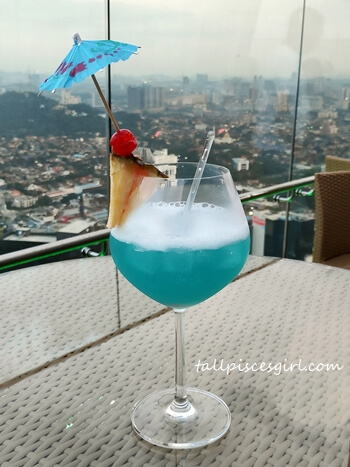 My favorite pick would be Blue Moon, which has a very refreshing taste of sweet and sour with the blend of Gin, pineapple juice and blue curaçao.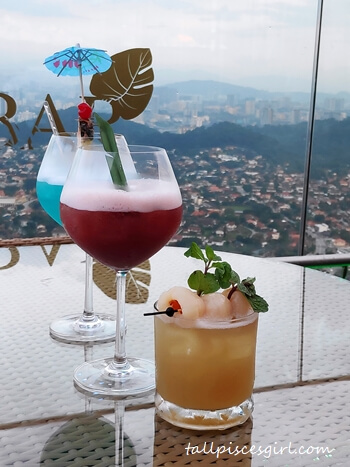 Another one would be Pisco Disco, an interesting combination of Chrysanthemum-infused Pisco, lychee liqueur, lychee juice, lime juice and pandan syrup.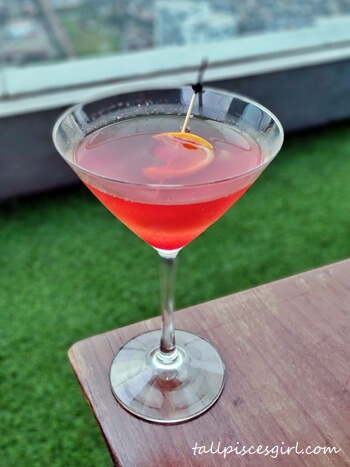 A favorite among the ladies for its sourish base, Jungle Rose is a concoction made of Vodka, Gin, cranberry juice and grenadine syrup.
Marimbar PJ Happy Hour (3pm – 9pm)
Draught Beers (1/2 pint)
Carlsberg: RM 12 Asahi: RM 17 Connor's: RM 15 Kronenbourg 1664 Blanc: RM 15 Beer package starts from RM 120 nett for 10 glasses Spirit prices start from RM 14 per glass Wine prices start from RM 20 for 150ml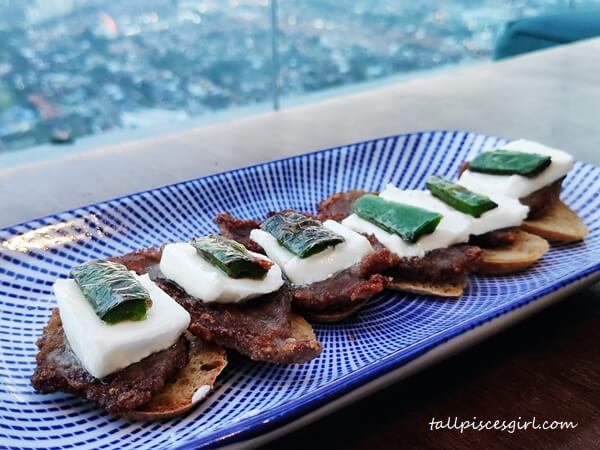 Marimbar food menu ranges from light bites, pasta, main, pizza, to dessert. We started our meal with some light bites. Totally digging into the Beef Crostini with Jalapeno Pepper and Goat Cheese. The juicy and tender beef slices paired so well with the goat cheese and a kick of spiciness from jalapeno enhanced the taste up a notch.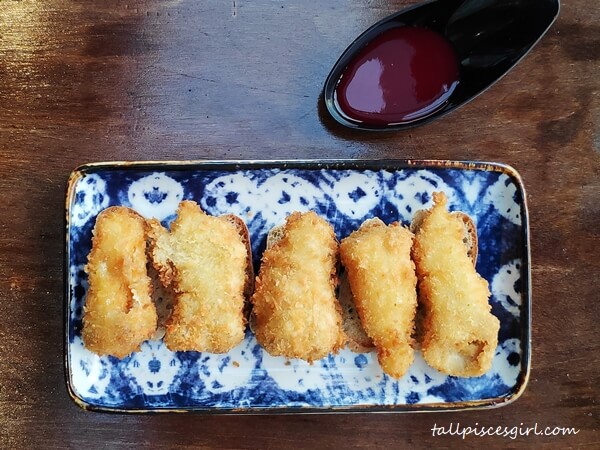 Deep fried until crunchy, these Camembert cheese were a pleasure to munch on. Cheese addicts will definitely love this. Remember to dip them in the special berry sauce!
Thin crust pizza can never go wrong. We love the crispy, thin crusted Capriciossa pizza made with turkey ham, tomatoes, mushroom, and topped with generous amount of thinly sliced mozzarella cheese and artichoke leaves.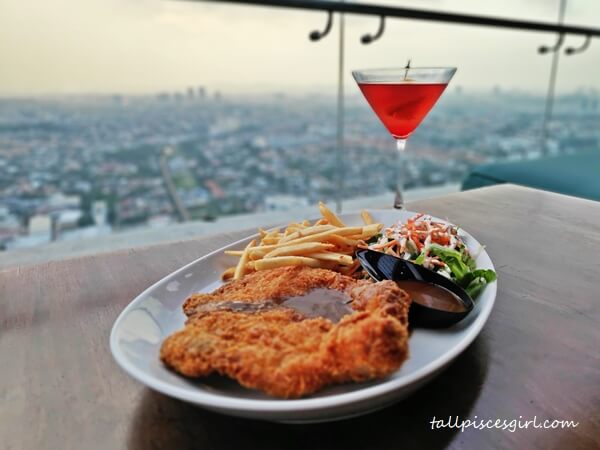 We had one of the mains, Deep Fried Breaded Chicken Chop with Fresh Greens & Fries. The chicken chop was deep fried perfectly until beautiful golden brown and very juicy.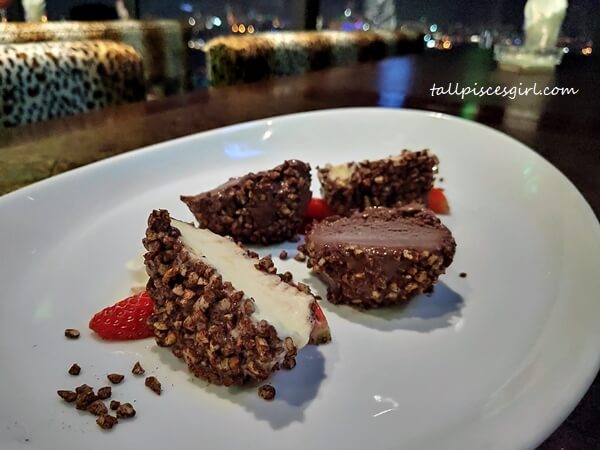 For dessert, we had the Tartufo, a combination of vanilla and chocolate gelato. They were coated with crushed almonds and cocoa powder, making it even more delicious and full of texture.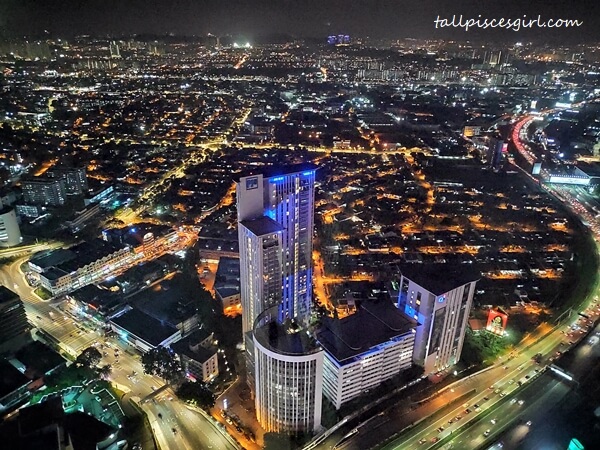 Marimbar PJ is definitely the place to unwind and chill with friends, colleagues or business associates after a hectic day.
Marimbar Valentine's Day Set
Enjoy a snack for two in a modern tropical setting at Marimbar. They are offering a Valentine's Day set (RM149++) that comprises of a Chicken Quesadilla and Sausage Platter paired with white wine. The Marimbar Valentine's Day set is available from 1 to 29 February 2020.
Address
: Marimbar The Rooftop Bar Level 35, Pinnacle PJ Tower A, Lorong Utara C, Pjs 52, 46200 Petaling Jaya, Selangor
Tel
: 03-2386 6030
Opening hours
: Daily 3pm – 1am
Dress Code
: Smart Casual
Website
:
https://marimbar.com
For reservation, kindly visit their website or give them a call on the phone number above.