Zuan Yuan Chinese Restaurant at One World Hotel is definitely one of the best restaurants in Peta|ing Jaya to celebrate Chinese New Year in style. I personally think it is a convenient option for PJ dwellers who'd rather not make the schlep to KL for reunion dinners. For a happy and yummy reunion feast, the restaurant offers 3 set menus with a number of dishes that feature prized catches.
Zuan Yuan Chinese New Year Menu 2020
The Merriment of Spring set menus are priced at RM 1,888 nett, RM 2,088 nett and RM 2,238 nett for a table of ten with a complimentary bottle of house wine or premium Chinese tea (while stocks last).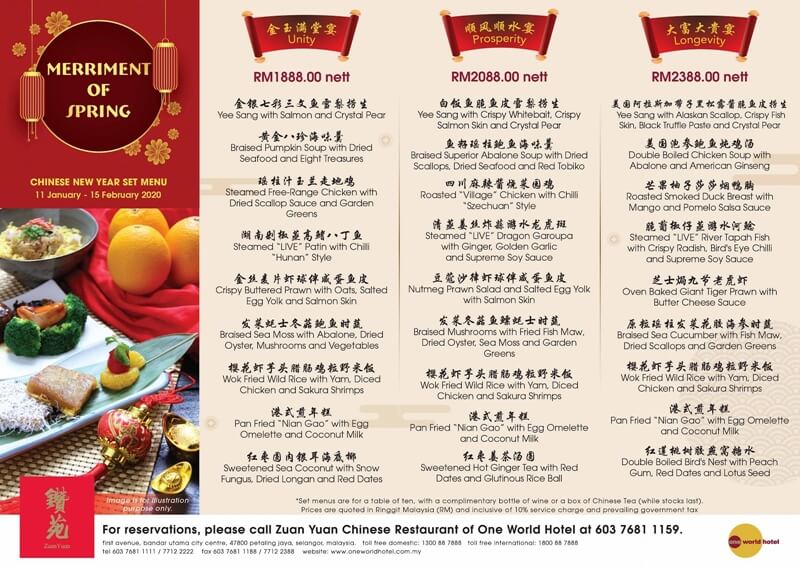 Dining in a sophisticated oriental ambiance, here's what we had during Zuan Yuan CNY Menu 2020 tasting session:
Yee Sang with Alaskan Scallop, Crispy Fish Skin, Black Truffle Paste and Crystal Pear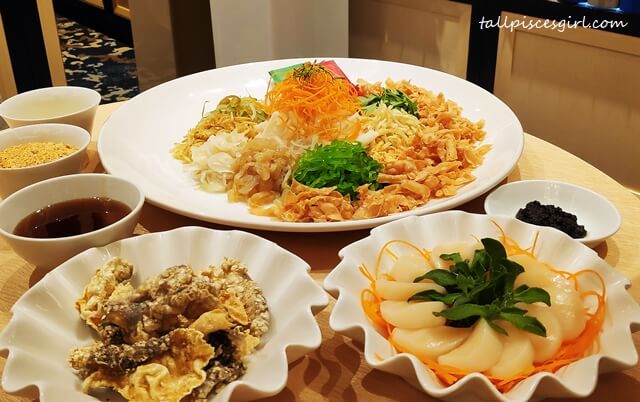 Yee Sang is one of the dishes I anticipate in CNY reviews because I'm curious what variation I'll get to try. This year, Zuan Yuan paired it with Alaskan Scallop, Crispy Fish Skin, Black Truffle Paste and Crystal Pear. I've always loved scallop, so I really appreciate the huge Alaskan Scallops! Crispy Fish Skin was so crunchy and addictive at the same time. Chef Tommy Choong made his own concoction of Black Truffle Paste to make it milder and complement with Chinese food. He did a great job on this!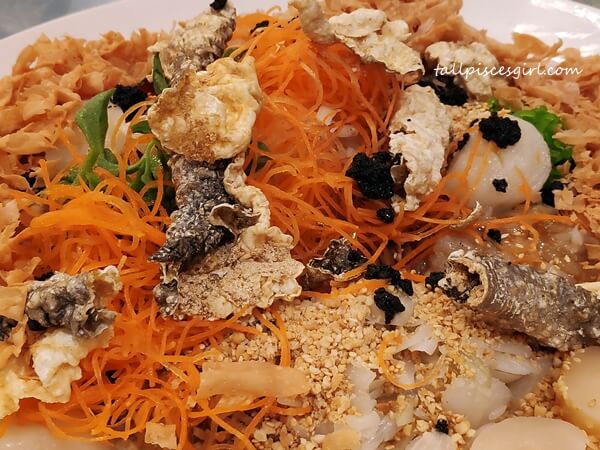 Braised Superior Abalone Soup with Dried Scallops, Dried Seafood and Red Tobiko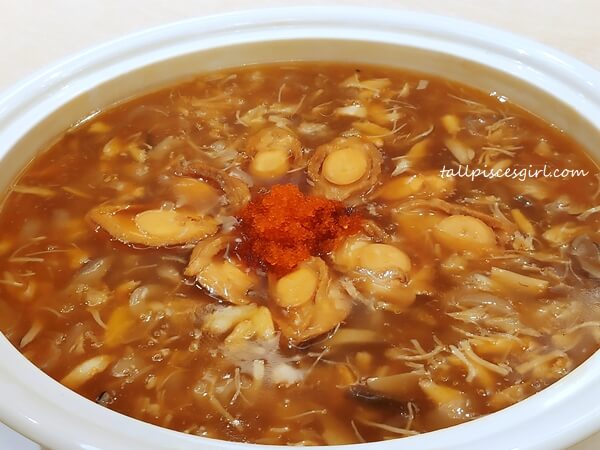 Abalone is one of eight valuable seafood and a symbol of wealth to Chinese. This is why I'm pretty excited to see all the abalones in Braised Superior Abalone Soup with Dried Scallops, Dried Seafood and Red Tobiko. This thick, piping hot soup is full of sweetness from the sea. Aside from enhancing the texture, the red Tobiko made the soup looked more vibrant, so apt for Chinese New Year.
Roasted Smoked Duck Breast with Mango and Pomelo Salsa Sauce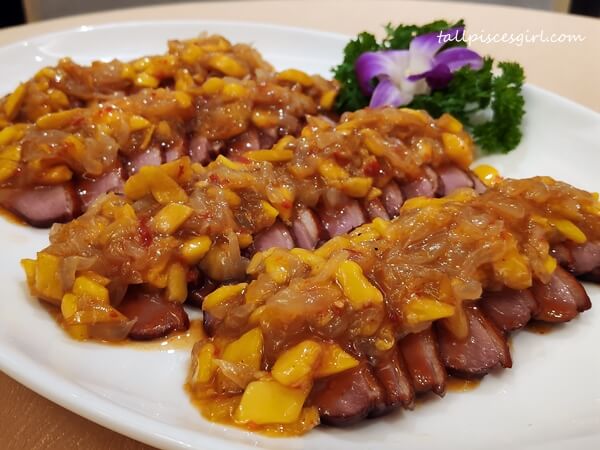 Instead of a chicken dish, Chef Tommy Choong decided to go with Roasted Smoked Duck Breast for a twist. Beautifully done, the smoked duck breast came out very juicy and flavorful. The combination of mango and pomelo salsa sauce gave it a sweet and spicy flavor.
Steamed Live River Tapah Fish with Crispy Radish, Bird's Eye Chili and Supreme Soy Sauce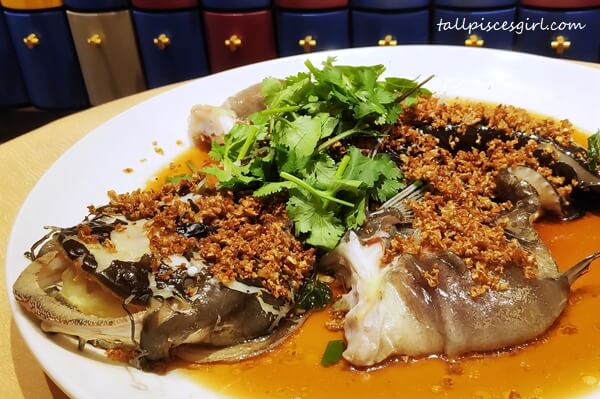 This is the first time I encountered Tapah Fish, thanks to Chef Tommy for educating us about our local fishes. Tapah fish is a river fish which is also known as helicopter catfish and wallago catfish. Although the fish texture is firm, but it's smooth and very fresh. The generous amount of crispy radish makes munching them much enjoyable. Fun fact: The place called Tapah in Ipoh is
named after Ikan Tapah
and not the other way round!
Nutmeg Prawn Salad and Salted Egg Yolk with Salmon Skin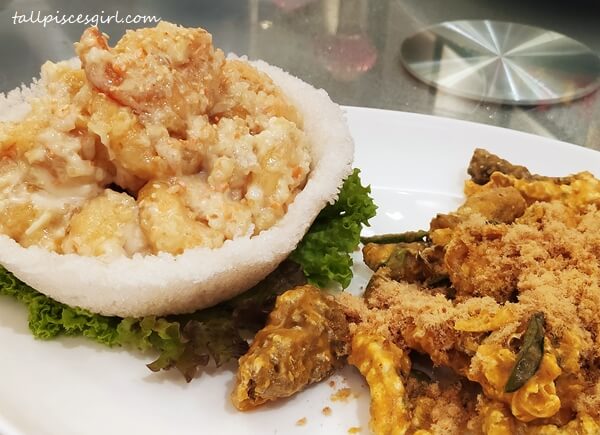 I've always said this: nothing can go wrong with salted egg yolk. True enough, the crispy salmon skin coated with salted egg yolk and chicken floss tastes so amazing, I'm now drooling thinking about it. Ahhhh~~ A 2-in-1 dish, Nutmeg Prawn Salad is a dish with unique flavors. Chef Tommy meticulously used nutmeg, celery and carrots in the sauce creation, hence the well-complemented salad sauce. Simply delicious!
Braised Mushrooms with Fried Fish Maw, Dried Oyster, Sea Moss and Garden Greens
Time for some vegetables! This was a well executed classic dish as the mushrooms along with other ingredients were braised perfectly in abalone sauce.
Wok Fried Wild Rice with Yam, Diced Chicken and Sakura Shrimps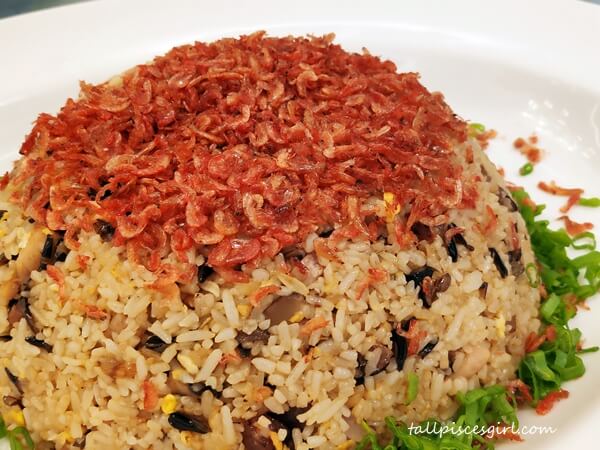 Chef Tommy loves to use premium Wild Rice in his dishes as it is nutritious and it adds more texture into the dish. Highlight of this dish is the halal Chinese sausage (lap cheong) made using chicken meat which tastes similar as the real thing. This has received much praise from everyone.
Pan Fried Nian Gao with Egg Omelette and Coconut Milk
Just like previous years, they made their nian gao from scratch. With egg coating and coconut milk, it turned out very fragrant. Plus, it is not sticky and oily at all!
Sweetened Hot Ginger Tea with Red Dates and Glutinous Rice Ball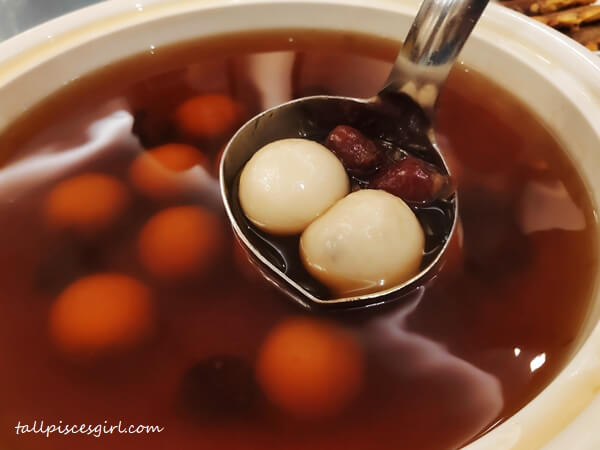 End the auspicious feast with something sweet and warm like ginger tea with red dates would be perfect for a sweet year ahead. Zuan Yuan remains open on the eve of Lunar New Year and throughout the festive season. Private rooms are available at your behest, but to avoid disappointment, prior reservation is highly recommended. On 28 January (Tuesday) at 11am, One World Hotel will also be hosting a traditional lion dance ceremony. Come join in the fun and let the drums and cymbals bless you and your family for an auspicious year!
Address
: Zuan Yuan Chinese Restaurant One World Hotel, First Avenue, Bandar Utama, Petaling Jaya
Tel
: 03-7681 1159
E-mail
:
zuanyuan@oneworldhotel.com.my
Business hours:
Monday to Friday: Lunch: 12.00 pm to 2.30 pm Dinner: 6.30 pm to 10.30 pm Saturday, Sunday and Public Holiday Lunch: 10.00 am to 2.30 pm Dinner: 6.30 pm to 10.30 pm