Welcome the year of the Golden Rat with abundance of festive favorite dishes with families and friends at The Westin Kuala Lumpur's Chinese restaurant, Five Sen5es. While the Lunar New Year revolves around 5 blessings namely, Longevity, Prosperity, Peace, Wisdom and Virtue, Chef Ron Lean and his team cooks up a feast for this auspicious event with celebratory dishes engaging your 5 senses: Sight, Taste, Scent, Touch and Sound. Five Sen5es is the perfect choice for families, friends and colleagues to indulge in an exquisite meal while ushering in a new year of strong fortune and blessings.
Five Sen5es Chinese New Year Set Menu
From 6 January to 16 February 2019,
Five Sen5es
Chinese New Year Set Menu consists of 3 exquisite set menus for diners to choose from, with a selection of fresh Yee Sang and alluring festive à la carte items that will leave your taste buds craving for more. Each set menu
comes with ONE selected complimentary House Red or White Wine Bottle
.
Happiness Reunion Chinese New Year Set Menu 1
RM 1,988 nett per table of 10 persons
Blessings Reunion Chinese New Year Set Menu 2
RM 2,188 nett per table of 10 persons
Abundance Reunion Chinese New Year Set Menu 3
RM 2,388 nett per table of 10 persons
Among a wide array of festive indulgences, Chef Ron's Imperial Braised Crab Meat Soup with Fish Lips and Dried Scallops surely calls for some attention and will make the perfect dish to warm your palate. Enjoying this guilt-free, knowing that no sharks were harmed in the process but the taste and texture is just as great.
Roasted Chicken with Crispy Salt Pepper definitely is one of the crowd-pleaser. Marinated and roasted to perfection, the chicken is crispy on the outside and tender on the inside. Accompanied by crispy rice crackers, it reminds us of our childhood times.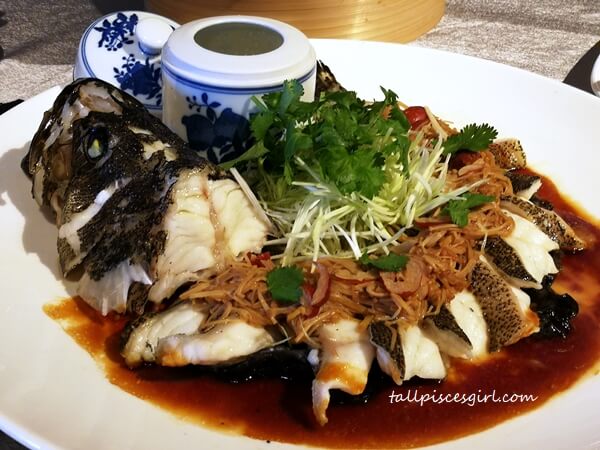 The Steamed Dragon Grouper with Fungus and Enoki Mushroom represents abundance. Fresh fish is best enjoyed when steamed so you can taste the freshness of it. Truly a perfectly executed classic dish.
Prawn represents laughter and therefore, it's definitely a must-have for Chinese New Year! Stir Fried Prawns can't go wrong with the fragrant Butter Milk Sauce. Getting my hands dirty for this is so worth it!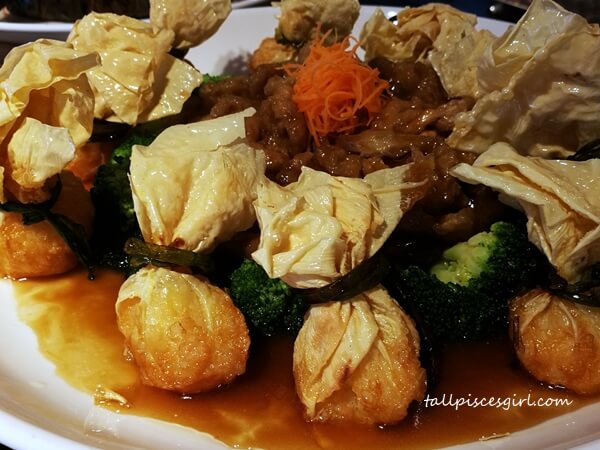 Call for prosperity with Braised Fish Maw, Mushroom and Beancurd with Money Bag. Fingers crossed that our money bag is as full as the money bag in the dish ya! There are quite a few of ingredients in the money bag that gave it layers of texture and great complementing taste. I love it!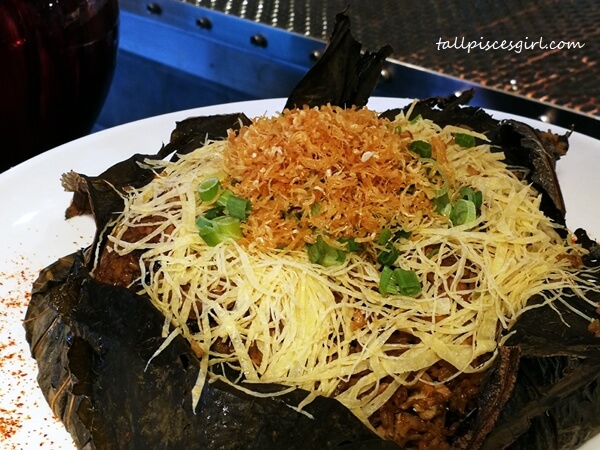 The aromatic lotus leaf rice is calling us to have more although we were already quite full. In the end, we gave in and had a few bowls of it.
What a way to end a perfect feast. Cooled down with a bowl of Chilled Peach Gum Soup with Red Date and Longan. Peach gum is also very good to nourish our skin! Definitely needed this to look good before Chinese New Year. Last but not least, we had the crispy Deep Fried Chinese Gold Cake. It's amazing that it doesn't taste oily despite being deep fried. It was super crispy too! Everyone had to fight for the last piece!
Unity Chinese New Year Specialties Yee Sang
Yee Sang is a must-have during Chinese New Year! Share the joy and hope for a prosperous year with a symbolic tossing of The Westin Kuala Lumpur's Unity Chinese New Year Specialties Yee Sang. Priced from RM198 nett per standard serving, it will be made available from 6 January to 16 February 2019. Takeaway option available for celebrations at home too. Five Sen5es offers 3 types of healthy and fresh Yee Sang selections to choose from – Smoked Salmon Yee Sang, Abalone Slice Yee Sang and a combination of Abalone Slice and Salmon Yee Sang. Chef Ron's special plum sauce just made it complete!
À la carte selling price
Smoked Salmon Yee Sang: RM 198 nett Abalone Slice Yee Sang: RM 218 nett Abalone Slice and Salmon Yee Sang: RM 238
Enticing Discounts
Maybank, Citibank, CIMB, Hong Leong Bank, HSBC credit card holders can enjoy up to 30% discount on the promotion for up to 10 persons. Blackout dates apply on Chinese New Year Eve and Days (24-26 January 2019).
Discount is also available for Beyond Dining, Club Marriott and Marriott Bonvoy members.
Children aged 6 years old and below dine free, while kids from 7 years old to 12 years old get 50% off food only.
** Prices in NETT are inclusive of 6% Sales & Services Tax (SST)
Activity
Join The Westin Kuala Lumpur for a mind blowing acrobatic Lion Dance Performance at the Hotel's Porte Cochere and Lobby on 31 January 2020 at 11am. * Diners at Five Sen5es during this period will receive a special door gift! *
Address
:
Five Sen5es Chinese Restaurant
Level 1, The Westin Kuala Lumpur, 199, Jalan Bukit Bintang, Bukit Bintang, 55100 Kuala Lumpur
Tel
: +603-2773 8338/8495/8017, WhatsApp +6017-281 9231 (for reservations and further enquiries)
E-mail
:
westindining@westin.com