Thanks to the exclusive invitation, I was at Berjaya University College recently as one of the 40 key Malaysian KOLs to usher in the auspicious new year with Raisin Administrative Committee (RAC). We celebrated with a sweet repertoire of specially-curated delicious dishes using the ever versatile California Raisins.
A Date with California Raisins and Chef Emmanuel Stroobant
The recipes were created by 2-star Michelin celebrity Chef Emmanuel Stroobant along with guest Chef Erich Anton Roos. We were pleasantly thrilled to be treated to an intimate dining experience – watching the chefs demonstrate how they cooked the dishes using the versatile California Raisins in a 4-course dinner.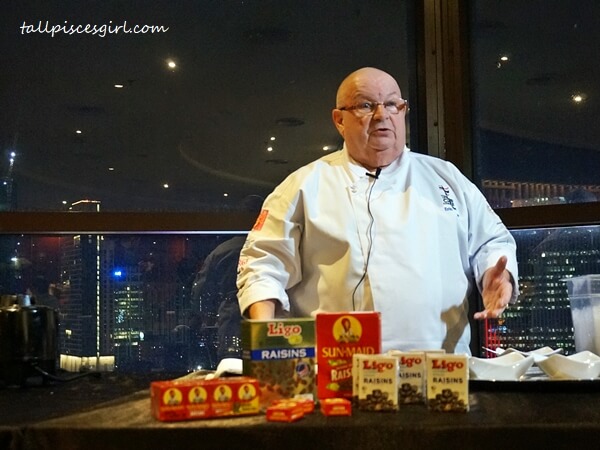 The culinary gourmet recipes as prepared by the respective chefs:
Chef Emmanuel Stroobant (3 recipes)
1. California Raisins, Crab & Cauliflower
2. California Raisin Pasta With Fennel & Prawns
3. California Raisins With Beef Short Ribs & Winter Fruits
Chef Erich Anton Roos (Dessert)
4. Symphony of California Raisins consisting of: California Raisin muffin with cream California Raisin cinnamon ice cream Apple puff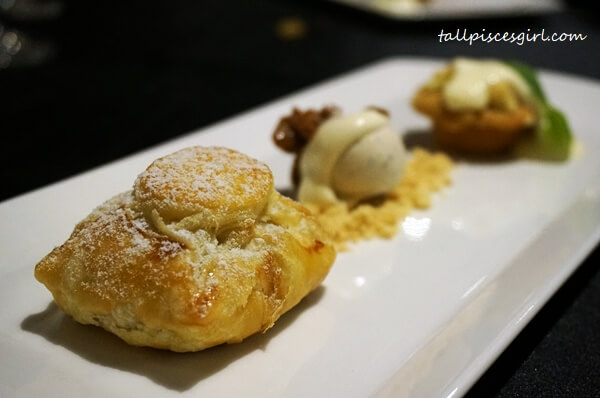 Chef Emmanuel Stroobant needs no introduction as the Belgian 2-star Michelin celebrity chef had his first brush with the world of culinary when he started working as a kitchen help at a tender age of 16. Within a decade, Chef Emmanuel Stroobant hosted his own show on Asian Food Channel such as
AFC: "36 Ways To Live" with Chef Emmanuel Stroobant
before opening his first restaurant in Singapore,
Saint Pierre
.
Chef Erich Anton Roos is a Swiss national with 40 years of culinary experience from all over the world up his sleeve. He is currently based in Bangkok to focus on consultancy and strategic planning for kitchen training needs in international hotel chains.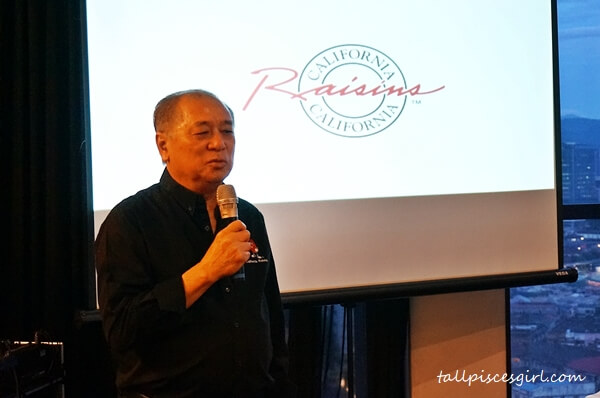 Mr Richard Lieu, Trade Promotions Director for Malaysia in RAC, says that California Raisins are a healthy snack alternative compared to other snack foods, especially for the children. This is due to the natural sweetness and they do not contain added sugar. California Raisins is so versatile that it can be used to create a wide variety of dishes including appetizers, main dishes, desserts and beverages. This is very useful especially for consumers who are health conscious and adventurous in their culinary endeavors.
Raisins are also a great source of nutrition which is suitable to incorporate into daily meals. We only need to consume 1 cup of raisins instead of 2 full cups of fresh fruit to achieve USDA recommended daily intake. California Raisins can be fitted easily in a purse or briefcase for convenience. Have a tasty and healthy snack on-the-go is so easy!
Ms Tan Yen Sing, a certified dietitian was also present to share on the goodness of California Raisins. She shared that studies have shown that consumption of fruits and vegetables more than 5 servings a day contribute to 17% reduction in coronary heart disease. Among the benefits of California Raisins:
All-natural
Naturally sweet with no added sugar (35% fructose and 35% glucose)
They are fat- and cholesterol-free and naturally low in sodium
Source of potassium that aids in muscle, cardiovascular and nervous system function
Source of fibre
Source of concentrated nutrients
Contain high level of polyphenol antioxidants which vital for protection against oxidative stress related to aging and disease
Contain phytonutrients that suppress the growth of oral bacteria associated with cavities and gum disease
Don't judge raisin by the size. It is small, but surprisingly packed with lots of health benefits. No wonder this healthy snack is used as sugar replacement in cooking and baking. For further information and more recipes on California Raisins, kindly visit
www.calraisins.org
and
www.caraisins.com
. Follow them on Facebook too:
www.facebook.com/RACASEAN
.