If you're looking for a quaint and cozy place to dine in, head down to Brew & Co – sibling to Jigger & Shaker and the latest addition in the F&B scene in Bandar Sri Sendayan, Seremban. Dwell within the smooth sights and sounds of an English-inspired café, deli and lounge set within a 5-star Club.
Brew & Co @ Bandar Sri Sendayan, Seremban
With its modern contemporary setting and vibrant lifestyle concept that inspires all walks of life, Brew & Co is the perfect place to spend lounging time with family and friends or entertaining guests. One of the highlights here is the availability of many seat type options i.e. Bar seating, dining table, sofa lounge, Al Fresco and private dining. Opt for Al Fresco dining if you would like a fantastic view of the Olympic sized pool to accompany your meal.
At Brew & Co., they boast an extensive menu over breakfast, brunch, lunch and afternoon tea. The tastefully crafted dishes tastes better as they are made upon order using fresh produce. I had the chance to sample their New Lunch Menu which is now available daily, between 12.15pm – 5.00pm.
Fancy some Italian dishes? Try this exceptionally creamy Spaghetti Sausage Carbonara with mushrooms, sausage and cheese. It certainly did not disappoint.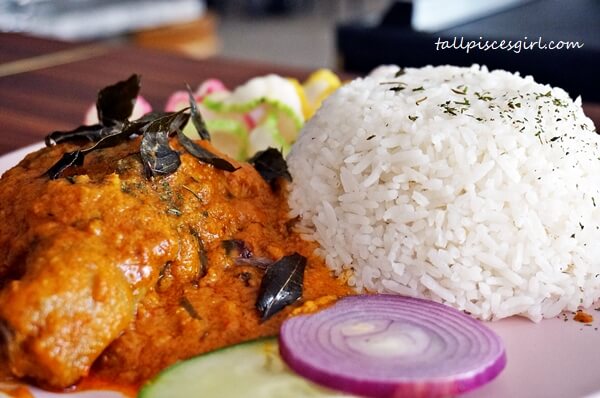 Brew & Co also offer a lot of Malaysian favorite dishes to tantalize our taste buds. One of them is Chicken Rendang with Rice. I enjoyed the thick and yummy rendang on top of succulent chicken thigh. It goes really well with rice!
Salted egg, anyone? You can never go wrong with salted egg. When pop corn chicken and croissant meets salted egg, it's a beautiful and mouth-watering fusion dish. It also comes with potato salad on the side.
Another lovely fusion dish you could try is Chicken Rendang Burger with Fries. They are serving this with charcoal bun, a hipster version of the usual ones. On the sides is crispy fries with salted egg sauce.
One of my favorite Western food is Fish n' Chips, a classic English dish. Since this restaurant is English-inspired, I took the chance to sample this and I can say that it's quite satisfactory and filling!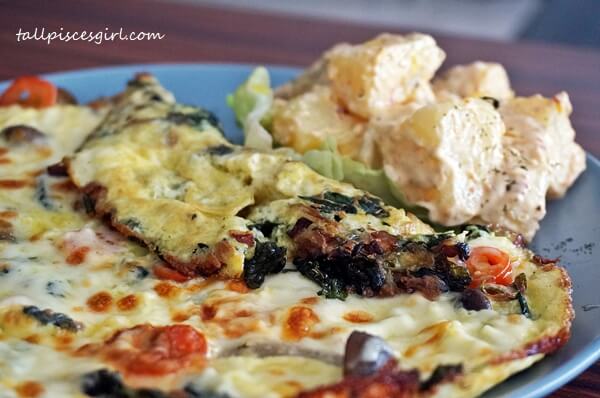 For a light lunch or vegetarian option, opt for Cheesy Omelette with Potato Salad which consists of mushrooms, onions, spinach, mozzarella cheese and egg. The potato salad is great for those who can't live without carb.
If you're a big fan of egg mayo like me, you're gonna love this Egg Mayo Croissant. Love the generous amount of mashed boiled eggs, mayonnaise, onions, hummus, salad and bits of almond flakes enhanced the texture. Comes with potato salad on the side.
Oooo…. Chef Sam's Assam Laksa is definitely a mouth-watering selection that you shouldn't miss when you're at Brew & Co. Apart from being exceptionally delicious, you will find that they do include a generous amount of ingredients (especially the fish!) to fill your tummy.
The Wild Mushroom Chicken Pilaf was a really flavorful one thanks to the seasonings and abundance of wild mushrooms. I'm also digging into the soft and fluffy omelette egg.
How about a sweet treat to reward yourself for the hard work? After all, the word "stressed" when spelled backward is "dessert"!
No matter you choice is Coconut Pandan Waffle or Red Velvet Chocolate Waffle, it will definitely lift up your mood!
If you're a coffee lover, don't miss their Signature Rose Charcoal Latte. It gives my tummy a warm feeling. The scent and taste of rose also has aromatherapy effect on me. I feel so relaxed!
Fancy chilled coffee instead? If yes, I would recommend the highly addictive Peanut Butter Latte. Try it and you'll know what I mean!
Hawaii Fruit Tea – a concoction of passion fruit, pineapple, lychee, kiwi and Lily of the Field Tea. I heard this is pretty good as a detox tea!
Berries Fruit Tea – Crushed mixed berries, mint syrup and Mogambo tea, a combination for healthy skin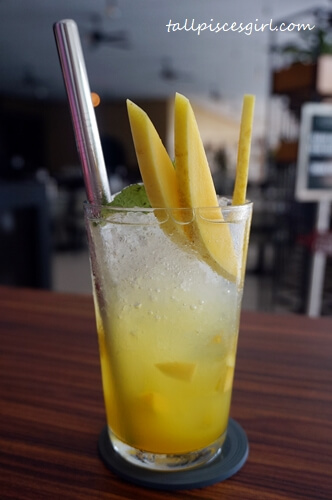 Mango Mimosa – A refreshing drink to accompany your meal, especially for mango lovers The 'Co.' in the restaurant name refers to Co-working space, a highly popular trend for enterprises to operate remotely. Facilities are available on demand.
Address
:
Brew & Co. @ d'Tempat Country Club
PT 12653, Bandar Sri Sendayan, 70300 Seremban, Negeri Sembilan
Tel
: +60 12-918 5236
Opening hours
: Monday – Thursday: 10 am – 6 pm Friday – Saturday: 10 am – 10 pm Sunday: 8 am – 8 pm Update: Brew & Co has been rebranded to Nyonya Bee
Facebook Page
:
https://web.facebook.com/nyonyabee.official