City dwellers are owning more gadgets for better productivity and efficiency. As for the usual electrical appliances, they became smarter to enhance convenience and comfort. Fans are an important appliance that play an active role in our lives. Hence, incorporating the latest technology, making electric fans smarter is the right thing to do.
YAMAZEN Touch Stop Electric Fan Review
For the very first time, the No. 1 electric fan brand in Japan, Yamazen will be bringing in their Yamazen Touch Stop Electric Fan to Malaysian shores exclusively via AEON retail and AEON Big outlets. Designed to offer safety, convenience and comfort, Yamazen Touch Stop Electric Fan is the ideal choice for Malaysia's hot and humid weather. Feel cooler instantly and remove the stuffiness in the air quietly, allowing even babies to sleep soundly throughout the whole day.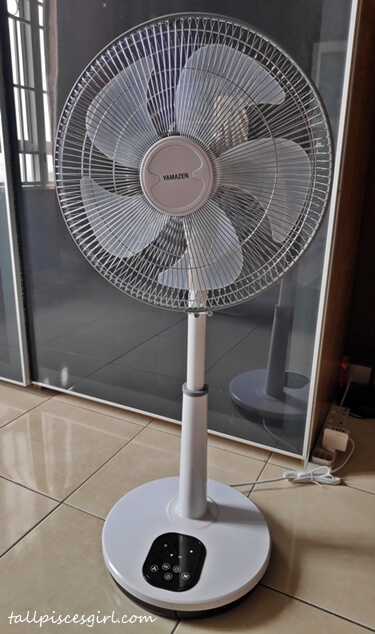 Features of Yamazen Touch Stop Electric Fan
Child lock safety sensor (Child friendly)

The fan immediately stops when the guard is touched and resumes after 15 seconds. Now, you can enjoy the cool breeze without having to worry about child safety.

Remote control

YAMAZEN stand fan with remote control

We don't always see a stand fan that comes with remote control. Now, we can control it without having to leave our comfortable couch or bed.

Quiet operation

Comes with 5 blades

Standing at a maximum of 1000mm and a minimum 800mm, Yamazen Touch Stop Electric Fan offers quiet, gentle yet efficient cooling. The five blades contribute to the fan's overall silence during use.

3 wind power levels

With three customizable speed levels namely low, medium and strong, it can also oscillate left, right, up and down to produce different breeze variations.

Rhythmic breeze

It has a rhythmic breeze function that produces a natural rhythm style wind, mimicking sea breeze.

Timer setting

Feeling cold during the dawn? You can have the timer set to maximum of 8 hours so it will turn off automatically. This helps you to save energy while maintaining your comfort level.

3 color choices

Comes in 3 colors choices namely blue, sand gold and clear.
Here's a short video to show you how the fan works: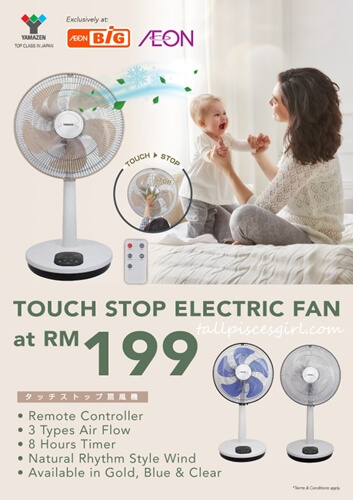 Get the Yamazen Touch Stop Electric Fan for only RM 199 at Aeon retail and Aeon Big stores and enjoy the cooling sensation with a peace of mind.
If you're at Aeon 1 Utama, the fan can be found at Little Akihabara Electrical Station at level LG.