脏脏包 (Dirty Bread / Dirty Bun)
The recent hype on the Internet is about 脏脏包 (Dirty Bread a.k.a. Dirty Bun) that has taken Taiwan and China by storm. Lots of people are queuing just to purchase this bun and upload their funny videos on social media.
"What is so funny?", you might wonder. Let's start by talking about why this bread is called Dirty Bread.

First of all, from the look itself, you will be able to see how "dirty" it is because of the dark brown bun coupled with even darker brown color fillings! The moment you picked it up, you'll surely make a mess. Hahaha yes, this is even before you start eating. When you start to eat it, you will find your hands, teeth, mouth, basically everywhere will be dirty. Remember not to laugh or breathe out too hard or else the person sitting opposite you will be covered in cocoa powder hahaha! And here's the fun part! Remember to take a video or photo of your friends/family eating it. It'll surely be hilarious. Learn from us…
Dirty Bread @ Donutes Malaysia
The good news is, we can now get this highly raved Dirty Bun from Donutes Malaysia! Now, let's take a look at the anatomy of this 脏脏包 (Dirty Bread). It's definitely not just a chocolate bun as the skills and effort needed to make this bun is very complicated. First of all, it is made up with 16 layers of Danish pastry using 100% imported flour from Japan. Within the bun, there are luxurious ingredients like 52% French Nugget chocolate and 84% AOP French butter! Last but not least, it is topped with a generous amount of 100% French dark cocoa powder.
Taste wise, I kinda like it! Since Dirty Bun is a pastry after all, mild sweetness is guaranteed but don't worry, it's not too sweet. In fact, the combination of sweetness and bitterness from the dark cocoa makes them a great match!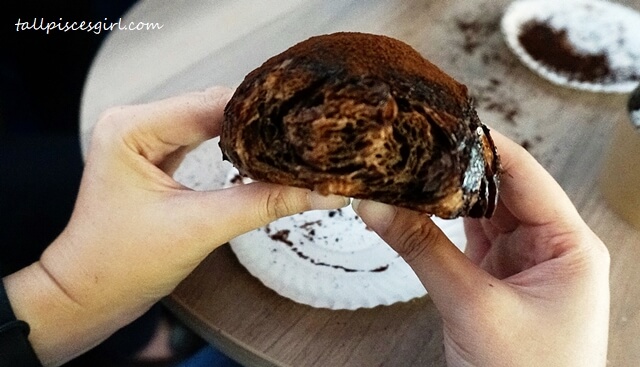 If you're curious on how it tastes like, wait no more! Head to Donutes Malaysia to get a taste of this Dirty Bread. You'll be surprised! It will be available daily from 1 pm onwards. To ensure freshness, there will be limited quantities available for sale everyday. Make sure to be there early to avoid disappointment. Each bread is retailing at the price of RM 6.90 per piece.
Puchong branch:
No 7, Jalan Kenari 6,
Bandar Puchong Jaya,
47100 Puchong, Selangor
Tel: 03-5880 7038
Kota Damansara branch:
No 1, Jln PJU 5/13 Dataran Sunway,
Kota Damansara,
47810 Petaling Jaya, Selangor
Tel: 03-6143 7262
Subang Jaya SS15 branch:
1, Jalan SS 15/4e, SS 15,
47500 Subang Jaya, Selangor
Tel: 03-5879 7638
Facebook Page: https://www.facebook.com/DonutesMalaysia/