Alibaba Group's Tmall World (天猫海外), the global platform which has been serving over 100 million overseas consumers, has recently announced its Chinese New Year initiatives here in Malaysia.
Tmall World (天猫海外) Chinese New Year Campaign 2018
To celebrate the most important festival on the Chinese calendar, Tmall World will be hosting a 'Tmall World Chinese New Year Dinner' event on 26th January 2018 at Setia City Convention Centre, Shah Alam. This mega reunion style Chinese New Year Dinner will be featuring internationally renowned artist Michael Wong, a.k.a. Guang Liang (光良), and will be attended by approximately 1,000 Malaysian consumers as well as children from 5 charity homes in Klang Valley. This Chinese New Year celebration is set to be a meaningful, and memorable experience for all as giving back to the society is a value deeply embedded in Alibaba's culture. There will also be 24-season drum performance, dragon dance, and stilt lion dance.
Now, I'm sure you're wondering how you can score an invite to the Chinese New Year dinner event too since it sounds like it's gonna be a lot of fun! Guess what? Stay tuned to Taobao and Taobao Facebook  because they'll be giving out invitations via these channels.
Tmall World will also be making contributions to the following 5 charity homes in the Klang Valley:
Rumah Victory Children and Youth Home
Yayasan Sunbeams Home
Rumah Kanak-kanak Trinity
Rumah Charis
Rumah K.I.D.S.
That's not all; representatives from Tmall World will also visit the homes bearing gifts to bring joy to the children! YAY to gifts!!
"Chinese New Year is a time for unity and generosity. The initiatives we have planned for the celebrations here in Malaysia is a symbol of that value as well as our appreciation for the tremendous support we have received from our Malaysian consumers since we launched Tmall World here," said Cici Cai, Business Development Manager of Tmall World South East Asia.
Gearing up towards the Chinese New Year celebrations, promotions and special discounts will run from 24 January to 28 January 2018 for Malaysians. It's a great timing as we'll be preparing for our gift exchange tradition!
Chinese New Year Promotions at Tmall
Grab the Ang Pau on Taobao.com! Spend RMB 666 and get RMB 88 off; Spend RMB 88 and get RMB 18 off
Vouchers Exclusively for Overseas Users
Free Shipping on Flash Sale Products
In 2017, the most popular products purchased by Malaysian consumers on Taobao during Chinese New Year were items such as Cheongsam (qi pao), fashion, personalized Ang Pao packets and DIY bracelets. On the other hand, Malaysian products that were most sought after among Chinese buyers from China are Birds Nest, Coffee and Biscuits as they make great gifts for family and loved ones during the Lunar New Year festivities. Now you have an idea of what to buy, don't you? 😉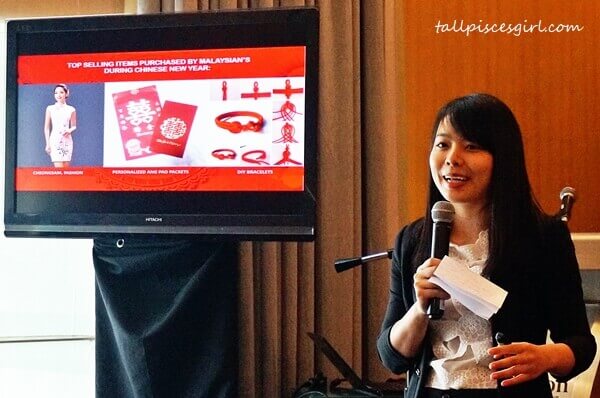 To find out more about Tmall World's Chinese New Year initiatives, offers and rebates, kindly visit https://world.taobao.com or download the Mobile Taobao app.