The food review session at Champignons at Oasis was the first review of 2018. And I'm so glad to discover this new place at Oasis Square, Ara Damansara! The main reason why I would recommend this place is because it is spearheaded by a one of the co-founders cum head of chef, Chef Gary Chang, who exudes a lot of passion in what he's doing. He has been exploring cuisines all over the world including London, Switzerland, Dubai and Macau in the past 2 decades to sharpen his skills and deepen his knowledge.
Champignons at Oasis, Ara Damansara
Champignon at Oasis @ Ara Damansara serves contemporary European with a modern twist. In order to come up with high quality food for customers, they made sure to only use the freshest produce for their menu. In fact, they boast that up to 90% of their ingredients were made in-house including their sauces!
I personally like the interior a lot; it looks very welcoming, cozy, and I just love the white European feel walls! Now, let's explore their breakfast and brunch menu.
Champignons Signature Big Breakfast
Big Breakfast is what I usually order when I have my brunch because the portion is big enough for breakfast and lunch combined. With 2 country eggs prepared any way I like, I certainly enjoyed the fluffy omelette served. The awesome platter also comes with crispy streaky bacon, homemade German sausage, baked beans, grilled tomato, potato cake, sauteed button mushrooms, and black pudding.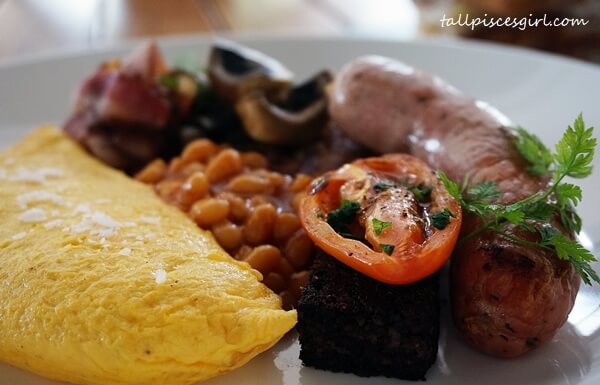 If you didn't know, black pudding is a type of blood sausage which is made from pork fat, pork blood and oatmeal. This is so unique!
Seaweed Tempura Soft Shell Crab Open Sandwich
Wow! Having this Seaweed Tempura Soft Shell Crab Open Sandwich just feels so luxurious and this is not an item that you can get from any brunch menu. I only see this at Champignons at Oasis so I highly recommend this. Wonderfully taste seaweed tempura soft shell crab on Brioche toast was decorated beautifully with pickled red onion, and tobiko. Last but not least, it was drizzled with special cocktail sauce.
Smoked Salmon and Crab Meat Egg Benedict
Look at this tempting piece of art. You might have tasted a lot of Egg Benedict in your life but this is the first Egg Benedict I've tasted that has crab meat! Crab lovers are so gonna love this. Not to mention that there's smoked salmon, cherry tomatoes, pickled cucumber, pickled red onion, and avocado puree on the side. Topped with their homemade Hollandaise sauce, I can definitely feel the passion behind the making of this dish.
"Croque Madame" Baked Ham and Cheese Sandwich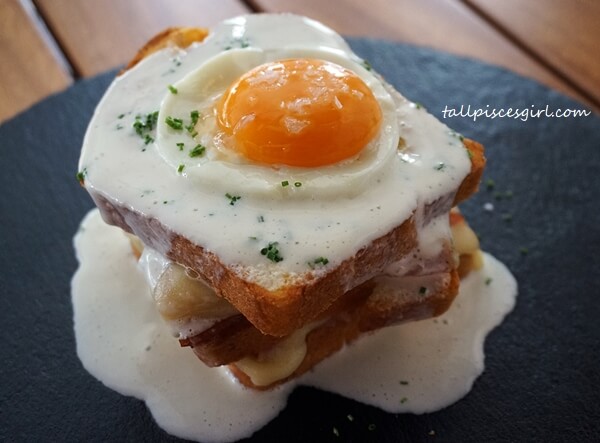 When I imagined this "Croque Madame" Baked Ham and Cheese Sandwich, it gives me a reason to wake up. Just because we all need a reason to wake up instead of hitting the snooze button! I'm loving this perfectly toasted Brioche toast accompanied by Emmental cheese, Gammon ham, and fried country egg on different layers. Pop the egg yolk for some egg porn!
A breakfast / bunch is not complete without a cup of aromatic coffee! Just chilling with my cup of Cappuccino while watching the world go round… Don't jealous, k? Haha!
Thanks to Chef Gary for the scrumptious brunch! Click here for full menu of
Champignons at Oasis
.
Opening promotion
Lunch – Every LIKE on Facebook and Instagram gets a cup of complimentary coffee or tea from 17/01 – 16/03 Dinner – Every guest gets complimentary Grilled US Pork Rib with Plum Sake Glaze as amuse bouche from 17/01 – 17/02
Address
:
Champignons at Oasis, Ara Damansara
B-G-02, Oasis Square, Ara Damansara, 47301 Petaling Jaya
Tel
: 03-7832 2629
Opening Hours
: Monday – Friday: 11 am – 3 pm; 6 pm – 10 pm Saturday – Sunday: 10 am – 10 pm
Facebook Page
:
https://www.facebook.com/ChampignonsOasis/