It's the season where we can look forward to fresh, juicy and delicious Australian Cherries and Summer Fruits like peaches, apricots, nectarines and plums on supermarket shelves. These luscious fruits are seasonal commodities and are best enjoyed fresh. They are not only sweet and tasty; they are also nutritious and full of health benefits!
Australian Cherries and Summer Fruits Season is NOW!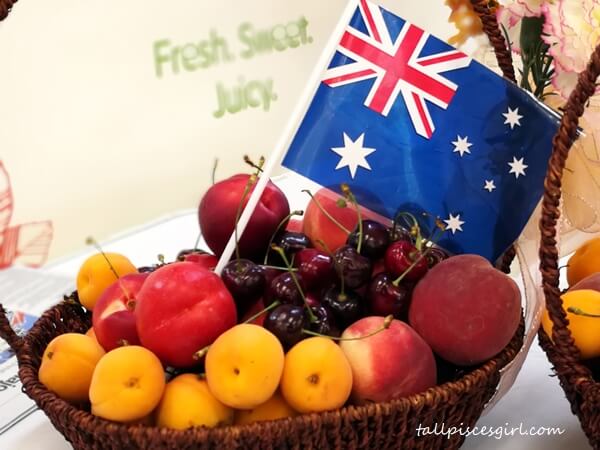 Taste Australia campaign was recently launched at Tesco Kepong Village Mall to celebrate the arrival of these summer fruits! This national horticulture marketing campaign is coordinated by the State Government of Victoria (Australia) in collaboration with Austrade and Hort Innovation Australia on behalf of the cherry and summer fruit industries. Australia has a solid reputation for its high-quality produce as they maintain strict food safety measures throughout the supply chain.
"Lots of sunshine, a clean and green natural environment, rich soil and blue skies are the reasons why Australian stone fruits taste better, is greener, is cleaner and safer," explained Ms Amelia Fyfield, The State Government of Victoria (Australia) representative.
Although best enjoyed on its own, these fresh and yummy cherries and summer fruits also make great ingredients for the ever popular smoothie bowls, popsicles and smoothies. You can also serve them alongside with pancakes, yoghurts and salads!
Nutritionist and Health advocate, Marissa Parry demonstrated 3 refreshing recipes during the launch using these Australian seasonal fruits – Breakfast Summer Smoothie Bowl, Fresh Fruit Popsicles and Fresh Summer Salad which are perfect for our Malaysian weather. The gorgeous explosion of colors was so eye-catching and a feast to the senses.
Australian Cherries and Summer Fruits Smoothie Bowl
Australian Cherries and Summer Fruits Smoothie Bowl
Ingredients
Smoothie
1

Australian peach

frozen

2

Australian nectarines

frozen

1

cup

Australian cherries

pitted

1/2

cup

Non-dairy milk
Toppings
6

Almonds

6

Pecans

Granola

Chia seeds

Coconut

Australian peaches

Australian cherries
Instructions
To make the smoothie, blend the fruits and milk in a food processor until smooth

Pour in to a bowl and adorn with toppings
"It's best to taste them at their freshest while at the same time enjoy the nutritional benefits of cherries and stone fruits which are not just tasty but rich in vitamins and potassium while being low in fat, calories and sugar," Marissa explained.
Here's a list of health benefits of these Australian summer fruits:
Cherries – Superfood which has high melatonin level, helps insomnia
Nectarines – Food of the gods
Peaches – High amount of potassium are great for muscle function, make skin healthier, contains vision-supporting nutrients
Apricots – Promotes healthy heart and eye function, aid in digestion
Plums – Contain antioxidants which can fight off free radicals and protect the skin
With Chinese New Year around the corner, a basket of Australian Cherries and Summer fruits would be make a delightful gift. Their round shape and color are said to symbolize prosperity and bring the recipient good fortune throughout the year. Fresh fruits at the New Year symbolizes life and a new beginning. For instance, both in China and Japan the peach is associated with immortality and a long life.
Tesco Stores (M) Sdn Bhd CEO, Paul Ritchie expressed at the Taste Australia campaign, "We are delighted to bring the best of Australian cherries and summer fruits at all our stores, and just in time to start the year eating healthy. Australia produces some of the best tasting fresh produce and it's great that these summer fruits will be available throughout the Chinese New Year festivities as golden fruits symbolizes good fortune," he said. Don't forget to look out for special promotions at Tesco outlets when you shop. Australian cherries and summer fruits will also be available at leading supermarkets and hypermarkets nationwide throughout the season.