My first encounter with
Bread Story
was when I tried their
Lava Croissant
. It sounded so tempting and hence, I decided to give it a try.
It certainly didn't disappoint! The oozing custard lava tastes amazing with fresh, warm croissant.
Bread Story Malaysia
Last 2 weeks, I was at BreadStory's latest branch at
Sunway Velocity Mall
to find out what they have to offer. This is a great opportunity for me to learn more about the brand and their buns so I can share with my beloved readers!
Behind every brand, there's a story. Have you ever wondered what's the story behind BreadStory? At first, it all started as a dream for Jun. Her love for freshly baked designer breads and the alluring aroma that comes with it drove her culinary dream into a palate-pleasing reality! Fueled with passion, she opened her first
boutique bakery
in September 2002 at Mid Valley Megamall. Apart from using the finest quality ingredients, they also offer premium service and stylish presentation to set them apart from other brands.
To date, BreadStory has became a popular bakery brand with
20 outlets in Malaysia
, striving to fulfill the kneads of bread lovers. All the breads in this post are a combination of their best-selling breads and my personal favorites.
Flossy Hottie
(spicy) and
Flossy Signature
(non-spicy) are in their Top 10 bestsellers list and I can totally understand why after tasting them! They use extremely generous amount of chicken floss on top and inside, there's yummylicious egg custard that makes the whole bun tastes moist.
A creative product from them,
Flossy Sponge
is a fluffy sponge cake topped with chicken floss, layered with special sauce inside!
Spicy chicken floss and turkey ham – who can resist this combination? The fiery chicken floss will definitely satisfy spicy food lovers. Are you up for the challenge?
Flossy Twist
is a soft and long twist bun filled with their special recipe, curry chicken floss. So Malaysian taste!
Bread Story's
Garlic Butter
bread is another MUST-TRY! The bread is fluffy like cloud and the garlic filling is just overflowing. It's definitely different from the usual garlic breads I had!
Malaysians can never get enough of their durians. What more if it's Musang King? Let's grab this
Musang Durian
bun from BreadStory to satisfy our durian cravings!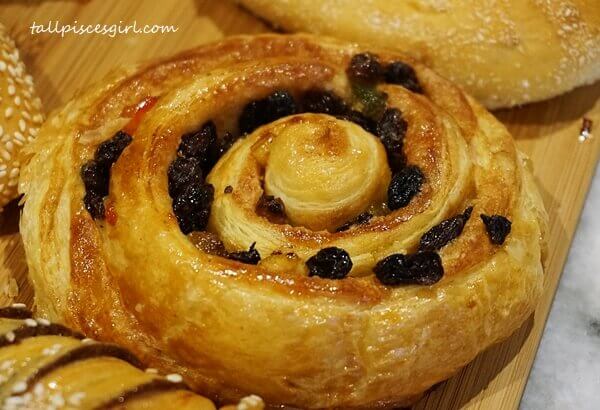 It has been a while since I've eaten Mixed Fruit Roll. The one from BreadStory didn't taste the same; in a good way of course! Just look at the photo – the golden and dark raisins, assorted cherries and orange peel are abundant! There's no bite where you couldn't taste the fruits. At BreadStory, the vital ingredient in the recipe of success is its people and passion. In conjunction with their 15th anniversary this year,  they will organize a
special Anniversary Promotion on 14th and 15th October
(Saturday and Sunday).
All buns will be priced at only RM 2.50!!
YAY! This is a very good chance to try all the buns and decide which are your favorites. Besides, there will also be 25% discount for cakes and RM 1 promo price for mineral water with any purchase. Refer to the table below for a list of Bread Story outlets in Malaysia: Follow BreadStory Malaysia's Facebook Page to get more update on their future promotions:
https://www.facebook.com/BreadStoryMy/