One of the highly anticipated restaurants this year, Marco Creative Cuisine has officially opened its doors on 27 March 2017.
Foodies will definitely appreciate the opening of this 62-seater restaurant because we can now enjoy a 7-course degustation fine dining menu carefully crafted by chef cum owner, Daren Leong at only RM 78+ per pax. Yes, that's correct! It's affordably priced at RM 78+!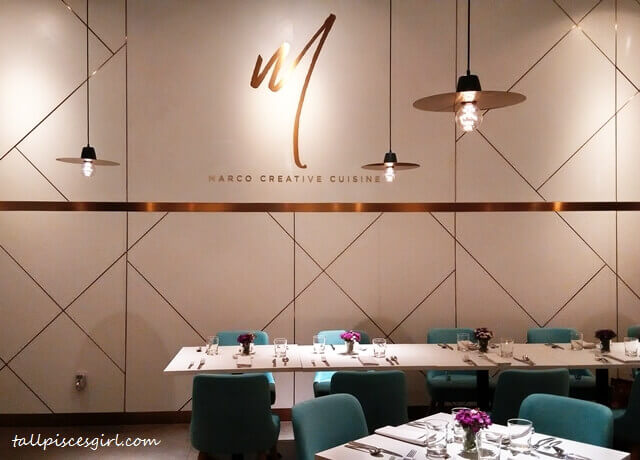 Every dish in Chef Daren's distinctive hand crafted, multicourse menu is made from scratch, right from making stock and butchering poultry in-house.
"I was fascinated by how memory and personal experiences influence the way we taste food. That was how a multicourse meal, with its avenue for variety, became the key concept behind our menu. A meal is an experience and a journey of discovery in flavors, much like how our different experiences make up our own personal journeys," says Daren.
If you haven't knew, Marco Creative Cuisine is located on the ground floor of 1 Utama Shopping Centre (Old Wing); opposite PappaRich and Pasta Zanmai.
It's definitely hard to miss this restaurant because they have these super attention catching jellyfish swimming around in the aquarium. Talk about being different!
Dimly lit, Marco Creative Cuisine exudes a romantic yet mysterious ambiance in its modern contemporary setting. With aqua blue chairs, white tables, fresh flower table decor, and hints of gold on the wall, it certainly sets the mood right for a perfect evening date.
Let's start our date, shall we?
Palate Cleanser: Velvety Matcha-Lime Shooter
In order to prepare our palate for a myriad of flavors in the coming dishes, we need to first clean and neutralize them. For a mild start, we tasted the velvety matcha-lime foam on the top. After that, we slowly move on to the refreshing chilled lime snow beneath that instantly awakens our senses with its tanginess.
Appetizer: Savoury Éclair
Savoury Éclair – what a twist to the classic flavors. Totally fell in love in the crispy yet airy Gruyere Flavoured Pate a Choux topped with creamy Aubergine Caviar, Green Chile Pesto, and Tomato Confit shaped like a pretzel. There's a lot of flavors going on in every bite! As the Choux is extremely crispy, eat it with your hands instead of cutleries to prevent breakage.
The next courses come with selections. Hence, I'll only talk about those that I've tried before.
Soup: Strawberry Gazpacho
Strawberry Gazpacho is their recommended signature soup. Of course we gotta try it since it's kinda rare to find cold soup in Malaysia. Instead of tomato, Chef Daren cleverly uses strawberry to give it a twist. This chilled cold soup comes with dehydrated strawberries and microgreens such as cucumbers, mint, and capsicum. This combination makes the soup have a balance of tanginess and sweetness. Not too sour for my liking.
or
Soup: Truffled Mushroom Soup
We did contemplate whether to order Truffled Mushroom Soup because we wanted to have something special. But mushroom soup is so classic! No regrets though because this plant-based creamy wild mushroom soup is executed so perfectly with generous amount of truffle oil. We're addicted to the nice earthy tone of the soup. Simply delicious!
or
Soup: French Onion Soup
I ordered the French Onion Soup when I visited here the second time. I'm awed by the taste of its thick caramelized onion broth. A lot effort has been made to come up with an exceptional soup like this. In fact, it was cooked gently for 5 hours to bring out its sweetness. What's more awesome is, the soup is accompanied by French toast, which is also one of their signature. Tastes excellent when dipped into French Onion Soup.
Entrée: Chicken Liver Parfait
You're so gonna regret it if you're not ordering Chicken Liver Parfait. Yes, really, the deliciousness is over the roof. Chicken Liver Parfait has a caramelized layer that gives it a hint of sweetness; liver parfait is slightly salty of course, which makes it a good combination. Do note that the Chicken Liver Parfait contains traces of alcohol though.
The Chicken Liver Parfait at Marco Creative Cuisine is perfect as a spread on toasted bread and apple chips. Try it and you'll know what I'm talking about. The apple chips was rather sweet when eaten on its own. I didn't realize that when they were paired together with the spread and toast though. It's a journey of flavours indeed.
or
Entrée: Savoury Ice Cream
If liver and alcohol isn't your thing, the Savoury Ice Cream is a pretty good choice too. The assorted baby leaves, heirloom tomato, seasonal Microgreens and Violet flowers goes so well with the savoury ice cream made with sea salt and skimmed milk.
or
Entrée: Garden Platter
Mains: Duck Breast with Orange Puree and Roasted Beetroot
Duck Breast with Orange Puree and Roasted Beetroot is a notable selection among many on the menu. Inspired by Cantonese roast duck, Chef Daren uses the sous vide method to make the meat tender and finishes the dish with an accompaniment of Naval orange puree, 66% Valrhona dark chocolate sauce, and roasted beetroot. The result is an exciting burst of sour, bitter and sweet notes for the taste buds to explore. Simply amazing!
or
Mains: Chicken Roulade with Brussels Sprout
I'm actually a chicken person, so we decided to try Chicken Roulade with Brussels Sprout as well. It clearly didn't disappoint as we were greeted with juicy and tender Chicken Roulade. You might see that the meat is still reddish, but not to worry as it indicates that the meat was cooked just right. It is cooked at the temperature of 60 Celsius for 6 hours.
Totally enjoyed Chicken Roulade with Brussels Sprout 🙂
or
Mains: Salmon with Jet Black Hollandaise
Salmon is a great choice for fish lovers. Crispy skin, succulent tender salmon meat that is still pinkish on the inside is perfect with Squid Ink Hollandaise and Green Chile Pesto sauce. Pickled beetroot and tobiko on the sides is a bonus!
Dessert: Raspberry Decadence
It's finally dessert time! I chose the Raspberry Decadence since I want to try something not so sweet to end my meal with. Bursting with citrus flavors from raspberry, the luscious Strawberry Cheesecake topped with Raspberry Gel is beautifully decorated with edible flower and Passion Fruit Gel and tastes absolutely smooth. It is also accompanied by cute Lemon Meringue Shards.
or
Dessert: Deconstructed Lemon Meringue Pie
Chef's recommendation is Deconstructed Lemon Meringue Pie, technically plated with elements of Lemon Curd, Passion Fruit Gel, Italian Meringue and White Chocolate Sherbet.
Drinks were served at the end of the course in order not to let other tastes affect your palate during the whole journey. Choose between Single Origin French Pressed Coffee, Loose Tea Leaves, or Sparkling Iced Berry.
Regardless whether you're a coffee lover or a tea lover, both are a great choice! It's just a matter of personal preference.
Marco Creative Cuisine also offer a la carte dishes at the following price:
Soup, Entree: RM18 per serving
Main: RM35 per serving (+RM10 for Duck Breast)
Dessert: RM20 per serving
Address:
Marco Creative Cuisine
Lot G146, Ground Floor (Old Wing)
1 Utama Shopping Centre,
1, Lebuh Bandar Utama,
Petaling Jaya 47800 Selangor
Tel: 03-7731 8923
Business hours: Daily 12 pm – 10 pm
12.00 pm to 3.00pm – Lunch Service
3.00pm to 6.00pm – Coffee & Desserts only
6.00pm to 10.00pm – Dinner Service
Website: www.marcocreativecuisine.com
Facebook Page: www.facebook.com/marcocreativecuisine
* Reservation is recommended to avoid disappointment