As the year end celebrations begin to dawn on us, the city comes alive with the holiday spirit. Go jingle bell rocking with Santa, Frosty, Rudolph and friends, and bask in the holiday mood at One World Hotel this Christmas as the culinary maestros of Cinnamon Coffee House offers the finest delights with a refined spread of gastronomic treats.

Cinnamon Coffee House, One World Hotel Christmas Buffet 2016



For Christmas, turkey is definitely not to be missed. I'm glad to see a variety of dishes prepared with turkey. Some familiar favorites are the Roasted Turkey with Chestnut stuffing, Rib Eye with White Pepper sauce, Mixed Seafood with Saffron Cream, Roasted Lamb with Apple and Pear Chutney accompanied with Cranberry Sauce, Chicken Confit with Caramelised Apple Sauce, Seafood Au Gratin and Baked Salmon with Bell Pepper Sauce and Orange Segments.
Turkey Varuval is a must-eat! Tender turkey meat cooked in Indian style; a great fusion dish.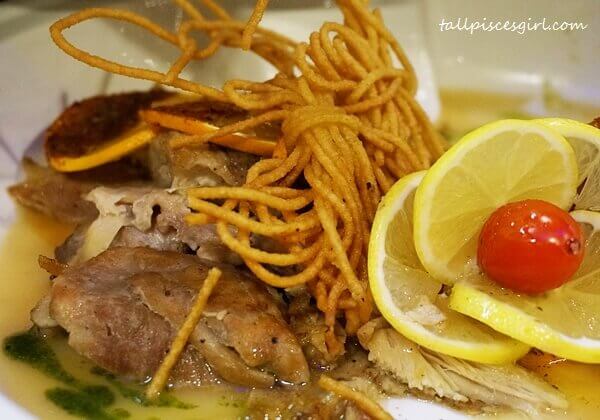 If your appetite is screaming for more, I recommend you to the Cheesy Lamb, Spinach and Artichoke Lasagna, Chicken Saltimbocca with Basil Emulsion, Stewed Beef with Cream and Potatoes and Turkey Cordon Bleu with Mushroom Sauce.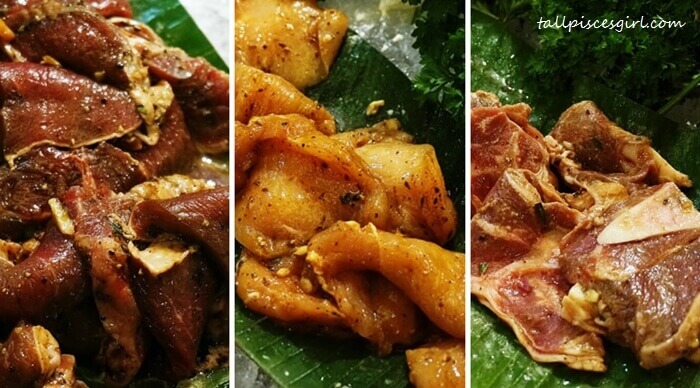 You can get your favorite marinated meat from the counter and the chef will grill it to perfection for you. Great food, without hassle!
As always, the prized cold seafood counter showcases fresh slipper lobsters, oysters, mussels, prawns and crabs. Attack, my dear seafood lovers!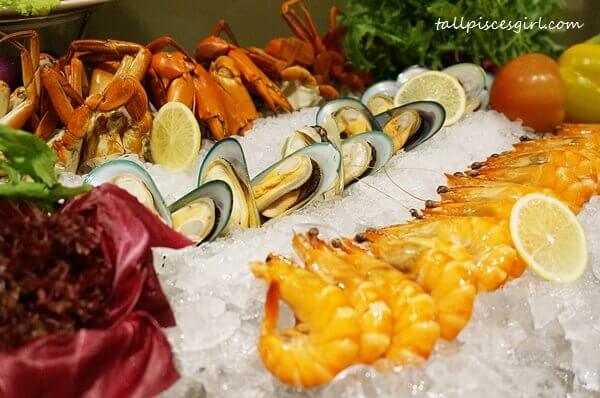 The Japanese counter features hearty servings of sushi and tempura as well as generous slices of salmon, tuna and octopus sashimi.
Aside from the usual ones, there are some that were decorated beautifully with extra effort for One World Hotel Christmas Buffet Dinner.
Sweet treats are the most anticipated for dessert lovers and those who are a child at heart. Pastry chef, Syeriff Hafizal made sure that every pastry is intricately crafted. The crowd-pleasers include Yule Log Cake, Minced Pie, Ginger Churros, Cranberry Clafoutis and Passion Meringue Tartlets.
Eve of Christmas Day & Christmas Day Buffet Dinner
Date: 24 & 25 December 2016
Time: 6.30 pm – 10.30 pm
Price: RM158.00 per adult & RM79.00 per child aged 4 -12 years
Christmas Day Hi Tea
Date: 25 December 2016
Time: 12.00 pm – 4.00 pm
Price: RM118.00 per adult & RM59.00 per child aged 4-12 years
Take-away Turkey @ One World Hotel
If you're planning to celebrate Christmas at home, take home a perfectly Roasted Turkey for RM580.00nett with the preferred stuffing of Classic Chestnut, Chestnut with options of Raisin, Apple or Pastrami accompanied with delicious Giblet and Cranberry sauce, Buttered Brussels Sprout and Roasted Potatoes.
If you're looking for something different, get the show-stopping Roasted Leg of Lamb or crowd-pleasing Roasted Beef Striploin complemented with Buttered Seasonal Vegetables, Roasted Potatoes and Herb Jus for RM350.00nett per set.
For enquiries or reservations, please call 603 -7681 1157 or email to cinnamon@oneworld.com.my.
Have a Merry Christmas and a Happy New Year!