It was a very fun experience with my bunch of friends at Malaysia Agriculture, Horticulture & Agrotourism 2016 (MAHA 2016). It was my first time attending MAHA and I'm surprised that there were so many new things to see!
MAHA 2016
As you know, I love sharing and thus, I'm gonna share with you guys our whole journey! MAHA 2016 is happening from 1 – 11 December 2016, 10 am – 10 pm at Malaysia Agro Exposition Park Serdang (MAEPS).
Nafas Cube @ Mardi
Nafas Cube is a collaboration project between National Farmers Organization (NAFAS) and Mardi. As you all know, container style accommodation is getting a lot of hype lately. At Nafas Cube, there are 3 types of accommodation: Tent, Tube and Container. The best thing is, it's very affordable!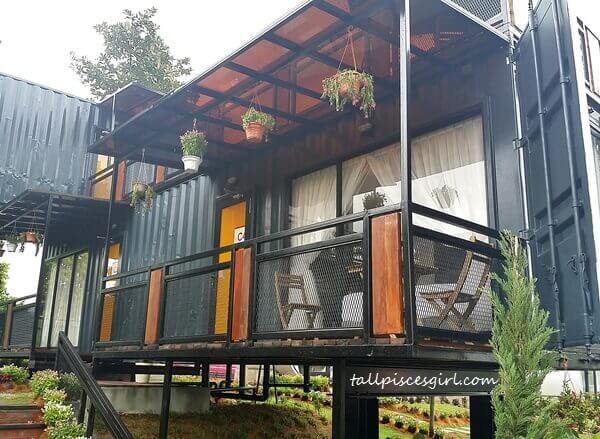 Price per night:
Container (Executive) – RM 180
Container (VIP Family) – RM 250
Container (VVIP) – RM 250
Tube – RM 150
Tent (Khemah) – RM 120
Grabbed our breakfast at Cube Cafe before starting our activities at MAHA 2016. Love their sandwiches and Nasi Lemak is also the crowd pleaser!
My DOF Valley (Laman Perikanan)
Tropicarium
UGC has developed a greenhouse system to replicate the tropical rainforest. Hence, you can now have your own rainforest in a controlled environment. It's now possible to plant strawberries in Malaysia! With just a tap on your phone's screen, the environment will change. You can make it fog, rain, or have thunderstorm.
How cool it is to have this floating Air Bonsai at home? They're using magnetic field to make this possible.
Kingdom of Sharks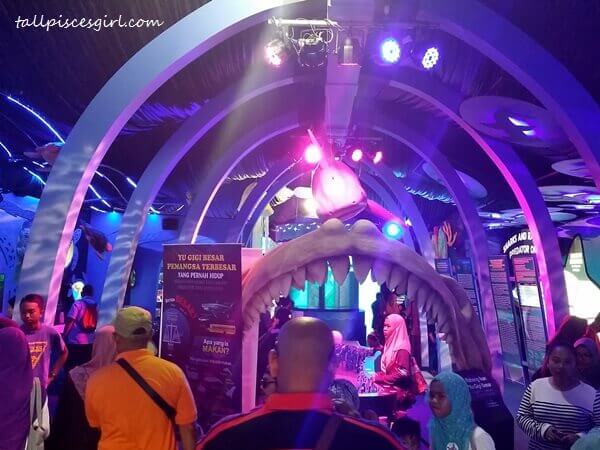 It's always good to bring kids to see animals so it's easier for them to identify. I know that some kids love sharks (not sure why though LOL).
Besides sharks, there are also turtles and dugong, one of the animals that are near extinction.
Sate Tuna
We always heard about Chicken Satay, Beef Satay and Lamb Satay, but have you heard of Tuna Satay?
We're happy to be able to try this unique and newly launched Sate Tuna. As tuna contains high levels of omega-3 fatty acids, this is definitely a better choice!
Fisherman's Fun House
At the Fisherman's Fun House, there are some upside down furniture and decorations for you to take photos with. If you need someone to help you shoot photos, don't worry, the staffs are very helpful and they will even teach you how to pose.
Laman Padi Bernas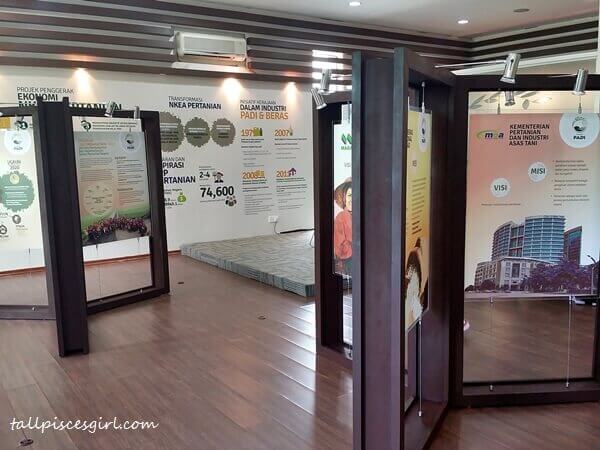 Inside Laman Padi Bernas information centre, we get to learn about all the facts and numbers about rice production in Malaysia.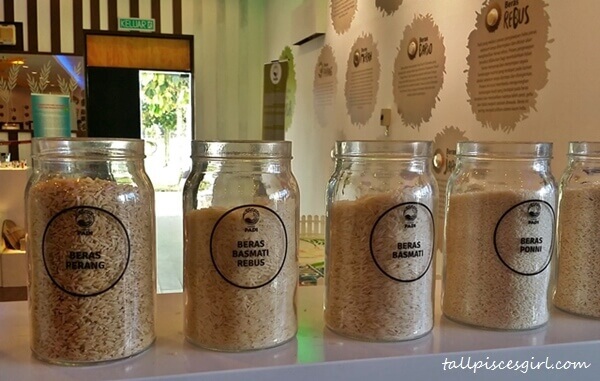 Besides, we also get to see how different variety of rice looks like. Which one is your favorite? For me, I prefer Basmati Rice the most for its nutritional benefits.
Do you know how rice is being processed?
We were being shown how rice was being processed after harvested. It feels like a school field trip, isn't it?
Pineapple Planet (Laman Nanas)
We're here to learn about pineapples!
Have you seen a pineapple plant before? Just in case you haven't, here it is!
This pineapple is of MD2 variety, known for its super sweet taste and it doesn't have thorn. Hence, our tongue will definitely not feel prickly after eating it.
Come and take some photos with the 3D Art in Laman Nanas, post it on social media and you might win some cash prizes! I think my tanned photo looks pretty convincing, right?
Also supporting our fellow blogger who founded his own business called Jus Bob Nanas. It's high in fiber as it includes pineapple pulp too.
Laman Jentera
At Laman Jentera, you get to see the new machines and the old machines that were being used in rice production. How times have changed!
During the olden times, everything was done manually but now, almost everything can be done in auto mode.
Finally, it's time to sit down, relax and have some snacks. All the food we had were quite special – Aiskrim Premium Nangka Madu, Sate Ayam Goreng and Corn drink by Mr. Jagung Klebang. Yummy!
Laman Ternakan
Check out this big guy! It's called Lembu Sado (Belgian Blue), a breed of beef cattle that can produce doubling muscling.
Dairy Valley
The day has turned really hot come afternoon. Thanks to Dairy Valley, we get to enjoy some ice-cream to cool down.
My favorite milk brand – Farm Fresh is having promotion here. Remember to check them out! Love them because it has no preservatives and it tastes really creamy.
These Shami Goats (Kambing Shami) are so adorable. You can feed them so you can get a better of view of them. Did you notice their shiny fur?
We also get to try some goat milk. It's very creamy and concentrated.
Garden District – Laman Herba/Laman Sayur
Gigantic bottle guards were spotted at Laman Sayur but most of them were ornamental plants because these are the results from researches.
We were just strolling around, feeling amazed by everything we saw.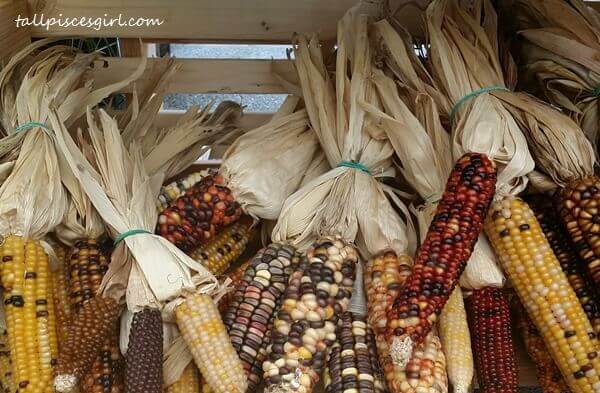 Who could have guessed that the name of this plant is called Upin Ipin V74?
Ladang Mini Kelutut
This is the first time I was so near to bees. It was nerve-wrecking but knowing that they won't sting makes me feel relieved. You can also get a straw from them and suck out their honey to try.
To quench our thirst again, we had some juicy and sweet Melon Manis Terengganu.
Kampung Durian Runtuh
This is undoubtedly the place that kids love to visit the most. Why? Because this is the land of Upin Ipin! Kids get to experience so many different things in Kampung Durian Runtuh @ MAHA 2016. They have made the theme to suit the occasion, which is to teach them about plants.
I'm glad the staff directed us on posing and slot so many of us into the 3D Art photo. It looks so merry and joyful!
One of the uniqueness of this project, is the use of hologram technology to make the experience more immersed and believable.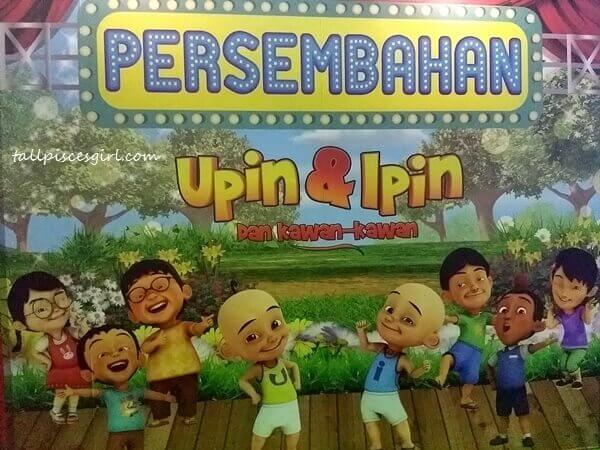 Let's go in to watch Upin & Ipin!
Can you imagine how ecstatic the children are, seeing Upin & Ipin in real life? So am I!
Next… shopping time! Head on to Dewan A at MAEPS, Serdang if you want to discover more Agro-based products. Here are just a small portion of them.
Don't forget to visit LKIM's booth and take a lot at this Kingdom of Seafood.
Who wants the Boston Lobster and King Crab? MEEEE!!
Guess what? A total of 3.7 million people have visited MAHA this year! Wow!!!
For more information on #MAHA2016, kindly visit https://maha.gov.my/.