My besties and I planned for a trip to Sasaran Beach 沙沙兰天空之镜 (Sky Mirror) because YC will be leaving for Singapore soon. So this is a so-called farewell trip. My besties are all leaving me one by one. Sometimes I just felt envy seeing some besties who are able to catch up every other weekend.
How to Book for a Tour to Sasaran Beach 天空之镜 (Sky Mirror)
Before you go to Sasaran Beach 天空之镜 (Sky Mirror), you will need to
book in advance
for a spot. For booking, you can either Facebook message
天空之镜 Sky Mirror Tour & Travel Sdn. Bhd.
or Whatsapp 019-266 6665 (YM Lim).
Price per person
: RM 80
Journey to Sasaran Beach 沙沙兰天空之镜 (Sky Mirror)
We were told to reach the meetup point (Burger King, Jeram) at
7.30 am
. As I had to travel from Kepong to Petaling Jaya to meet my friends and the location was 65 km from Petaling Jaya, I woke up at 5 am!!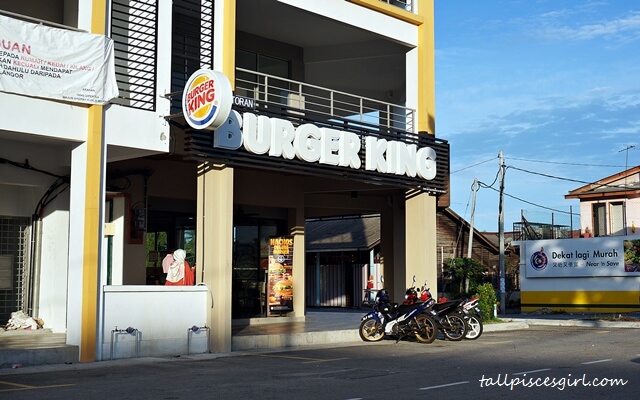 Many friends of mine asked where is this Sasaran place. Is it near Sekinchan? Definitely not, although Sekinchan and Kuala Selangor are also along Straits of Malacca. It's nearer to Kuala Selangor because the distance is only 12 km, but it's 39 km from Sekinchan. At
8 am
, we followed their car into Sasaran fishing village. We were told to go to washroom first because there will be no washroom to use later. WHAT?! Most of us already went to the toilet in Burger King before this but to be safe, better empty the bladder again.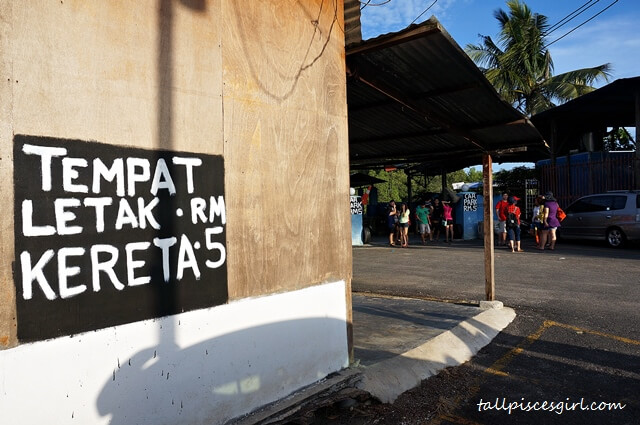 There were a few boats that head to the same destination. So we have to wait for the boat that they already assigned for us beforehand. Our boat finally arrived at 8.20 am and ready to depart.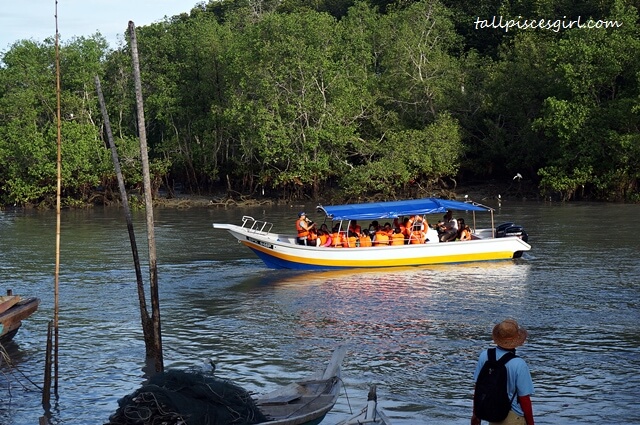 Along the journey, the tour guide explained a lot of things to us in Mandarin. If you're banana, sorry-lahhh… Ask your friend to explain k?
It feels so awesome to witness so many egrets flying freely across the sky. I've never seen so many egrets before in my whole life! According to the tour guide, we can see 4 species of egrets here.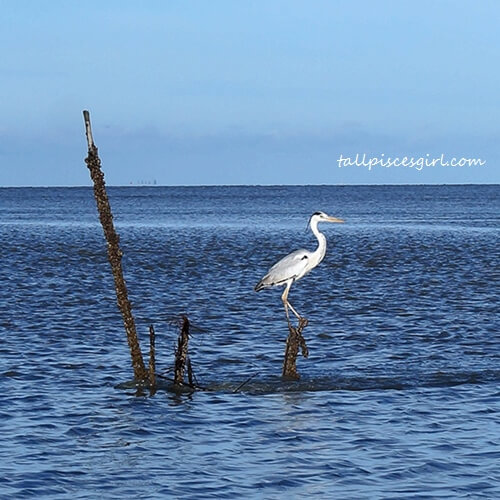 If you're lucky, you get one of them to pose for you.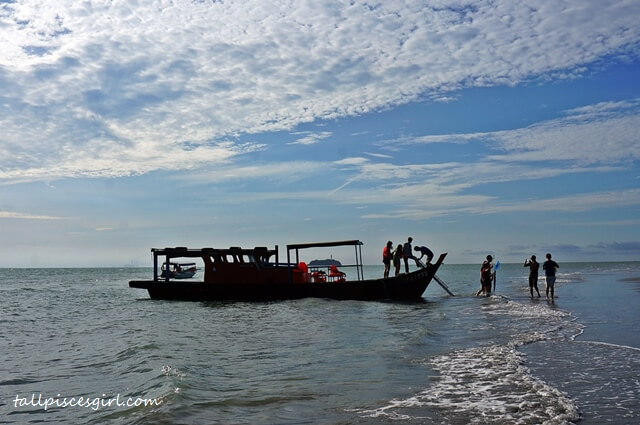 We finally arrived 天空之镜 (Sky Mirror) at
8.50 am
. The whole journey took us only 30 minutes.
Our Sasaran Beach 天空之镜 (Sky Mirror) Experience
Sasaran Beach is dubbed as Malaysia's version of Salar de Uyuni, a popular salt flat in Bolivia. But the difference is, you won't see salt lumps here. 天空之镜 (Sky Mirror) is not really a beach either although it is called Sasaran Beach. It is just a large area with lots of sand and sea water. That's it! There's no building, no toilet, because when the tide rises, you won't be able to see the sand anymore.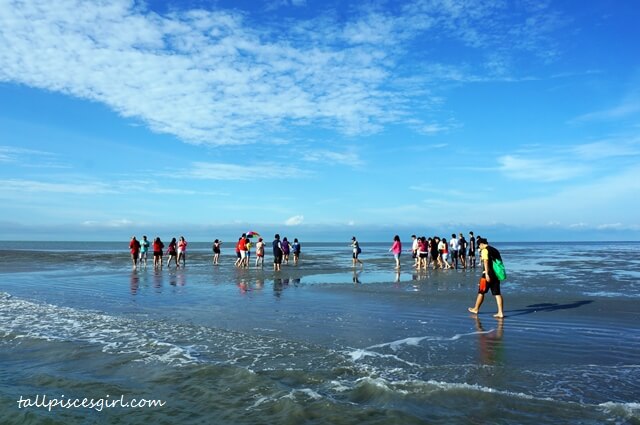 The people from previous boats were already there. It's our time to find the perfect spot for photography!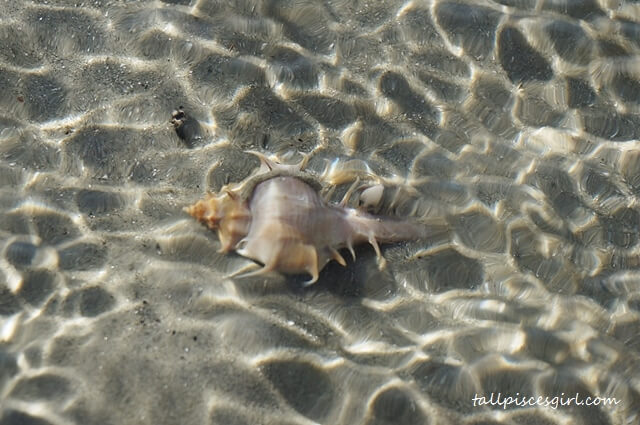 There are lots and lots of sea snails on the sand and some are just slightly poking out. You need to be very careful because if you stepped on it, it'll be very painful. The tour guide asked us to cover them with sand if we encounter any. Bie unfortunately stepped on it and her toes bled.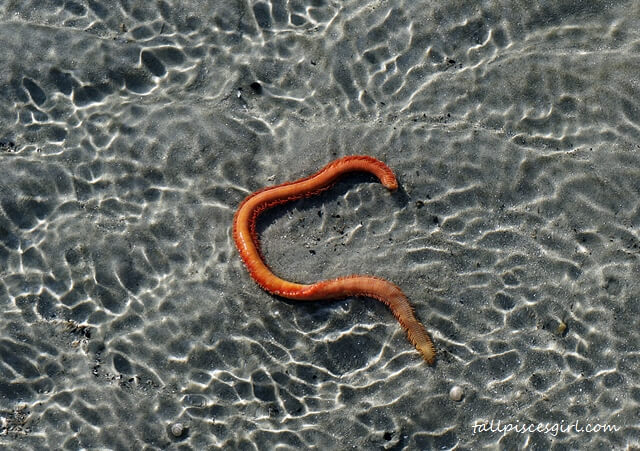 The most unexpected find ever… WORM!!! And it kept wiggling! EEKKKK…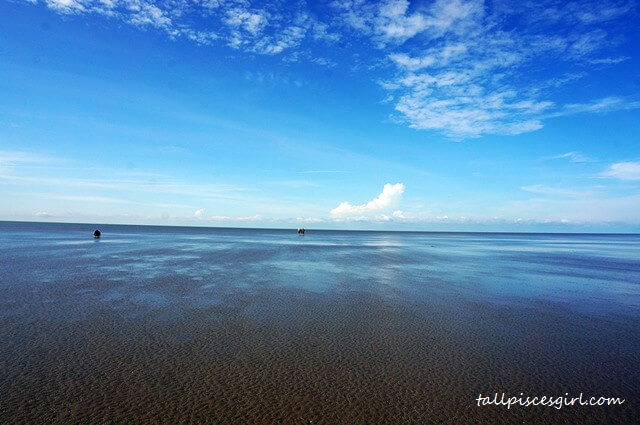 The area was really really huge. I have no idea where's the end of it. But the tour guide advised us not to walk too far because it could be dangerous. It is a sea after all.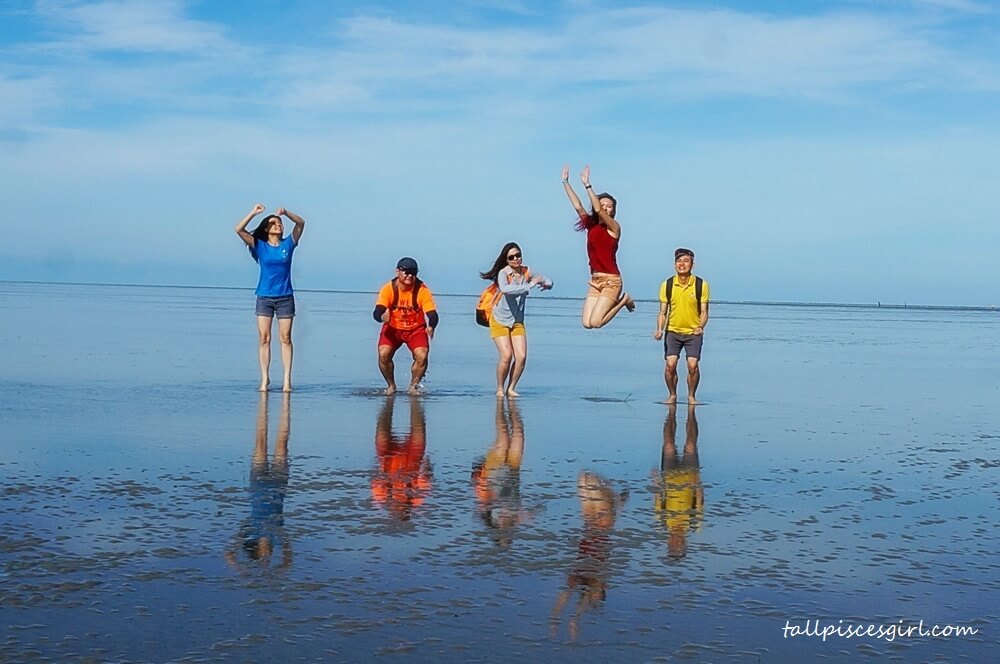 On the day we went, the wind was blowing really strong. Hence, our reflection wasn't clear enough to produce perfect photos. This really depends on luck. The weather must be good in order for the sky to look blue, the wind must be calm in order for the water to stay still, etc.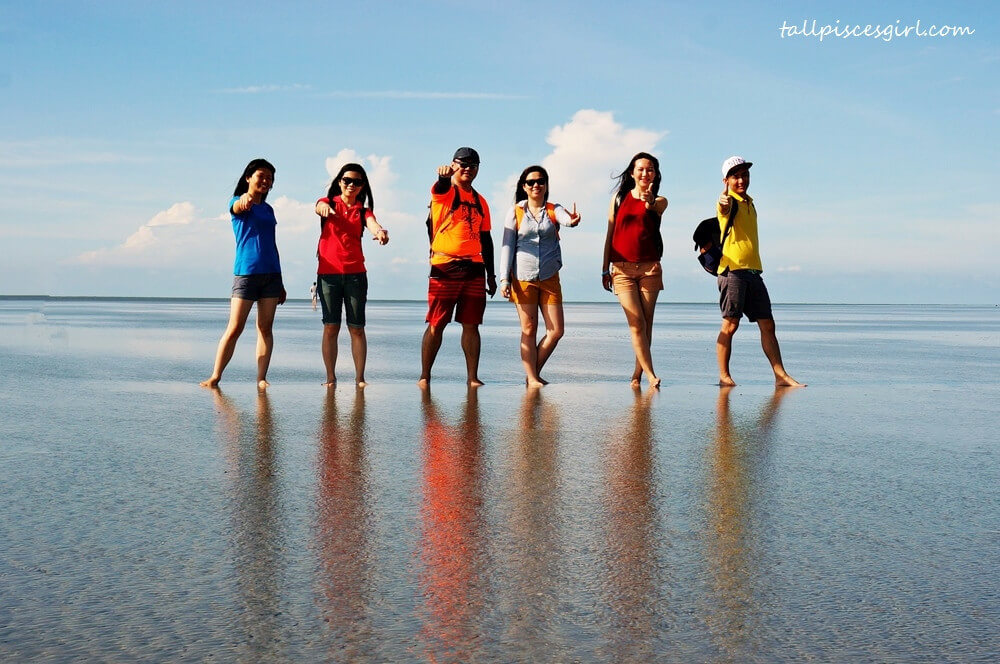 After playing around ourselves for some time, the tour guide directed and helped us to take photos. He's really professional in teaching us how to pose!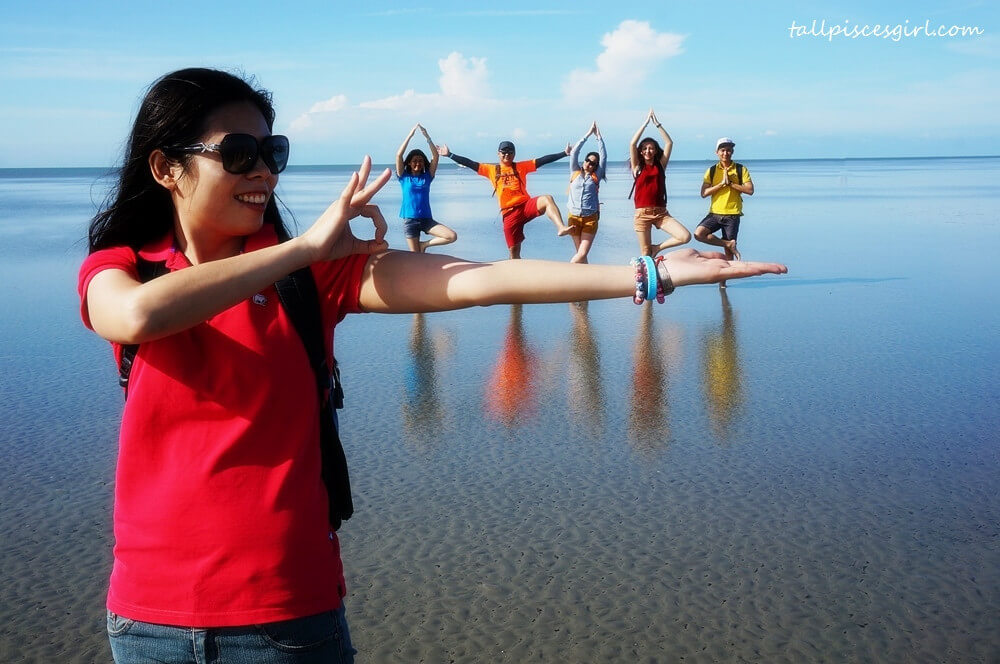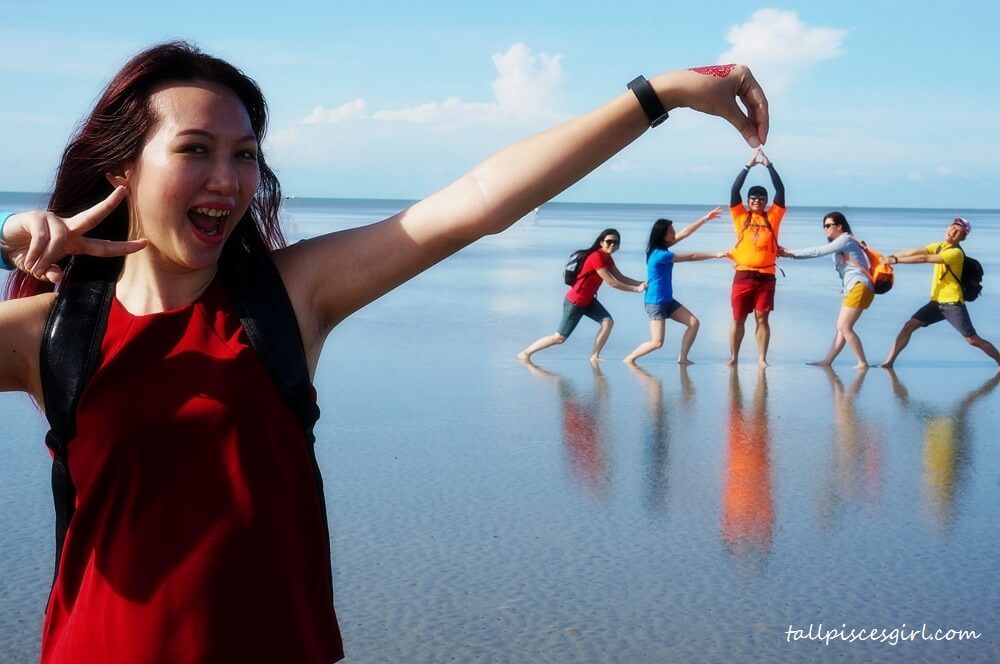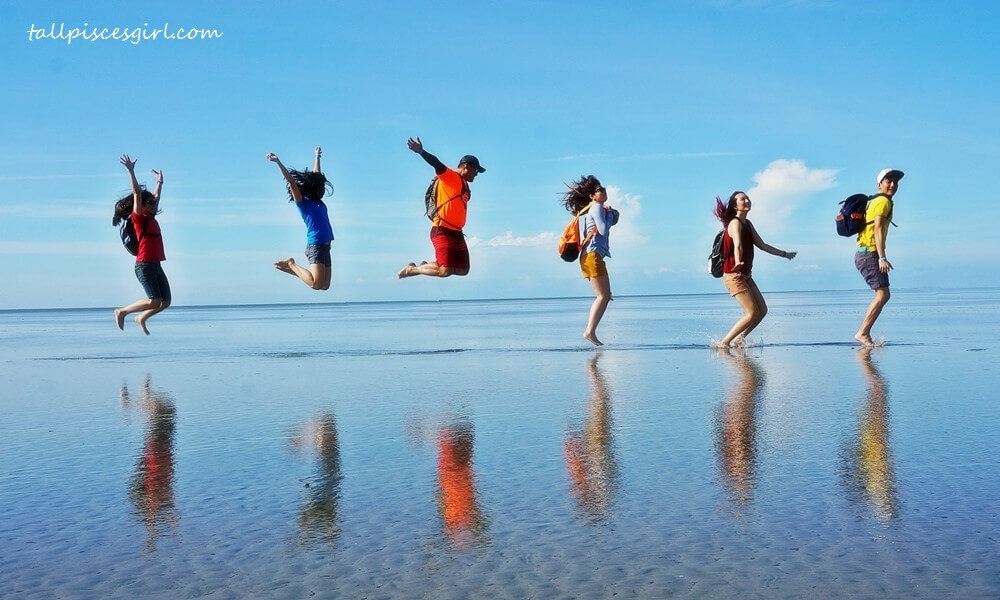 We attempted a few jump shots but to no avail. Oh wells, at least this shot turned out like we're doing a wave :p Although we failed to sync, but we can still be BFFs! That's life, isn't it? Embrace the differences!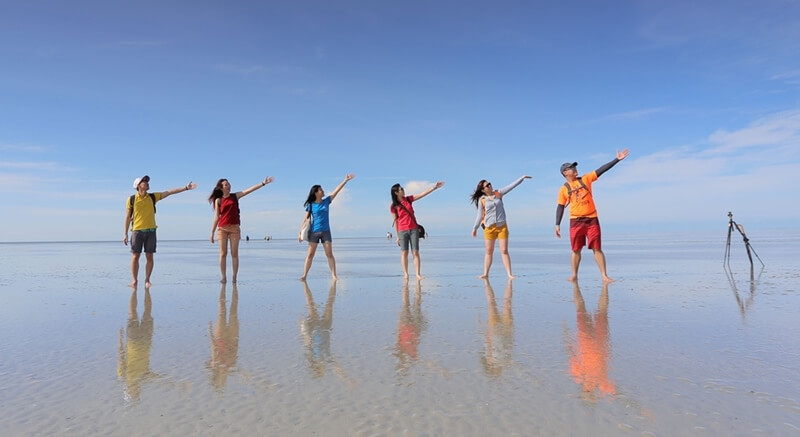 After the tour guide left, the professional photographer came to help us take some really nice pics! Glad that the tour included photo taking service cos not everyone knows how to pose and owns a good camera!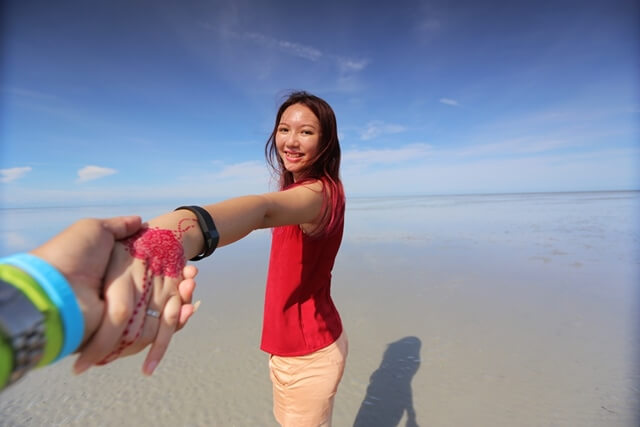 I love this shot! It was a coincidence that I had henna drawn on my hand few days before the trip. I had to sacrifice my hand, holding a stranger's hand though hahaha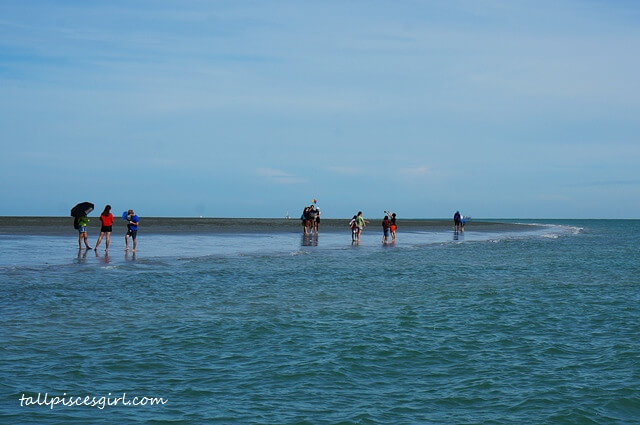 At
10.15 am
, we were all ready to depart. That's 1 hour 25 minutes of non-stop jumping, posing and taking photos.
While waiting for others to get into the boat, they provided us with some food. There are cakes, breads, some childhood snacks and water. I had a slice of cake and Snek Ku Mi-Mi. Do you remember this snack? This is so nostalgic!
The tour guide brought this up into the boat – a super huge conch! After we took photos, they just put it back into the sea. We're not supposed to leave nor take anything there. This is to preserve an untouched natural environment.
On the way back from Sasaran Beach 天空之境 (Sky Mirror), the tour guide showed us a lot things along the way. For example, he introduced the islands there and the story behind them. One of them is Pulau Angsa (天鹅岛), which is an abandoned resort project. He explained that the rocks are too slippery and the water level is not optimum to stop there.
Pulau Jemor
Hence, they brought us to visit
Pulau Jemor
instead, where the tour guides showed us how they harvest oysters. Due to sea pollution, the tour guide don't really encourage us to consume it. However, some of the visitors still tried after rinsing it with drinking water. I wondered they got diarrhea or not hahaha! By now, it's already
11 am
. The journey was quite rough and we had water splashed all over our face and hair.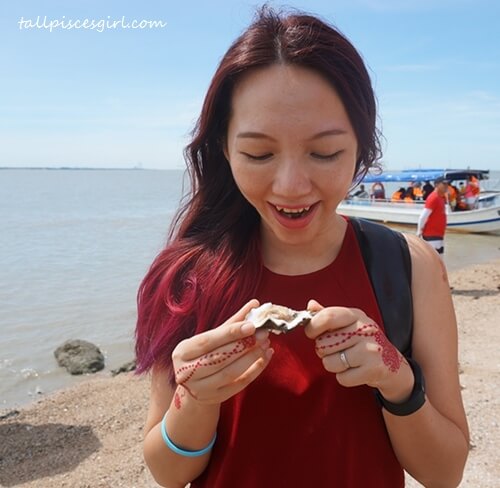 We were there until
12.15 pm
, waiting for the tide to be higher so our boat will not get stuck in the mud.
As we were closer to land, the stench turned stronger and the water turned darker. The tour guides mentioned that the water pollution came from the factories at Sungai Buloh. The authorities came to check the water quality every 2 years but nothing has been done. How sad!
We reached the shore at 12.50 pm sharp. This marks the end of our half day trip to Sasaran Beach 天空之镜 (Sky Mirror). I wished we could gather more often but deep down, I know that it'll only be harder than before.
The tour guide recommended us a place to have seafood for lunch after the trip. We followed their bikes to the restaurant since we're starving and had some seafood there. Too bad it doesn't meet our expectations.
Anyhow, we're thankful to the informative tour guides for a fun and knowledgeable trip!