Annyeonghaseyo~~ When it comes to introducing good food, I'm always get super excited!! I wouldn't say that
Kyung Joo Korean Restaurant
is a hidden gem because it's located at a visible prime area. Hence, I'd say that Kyung Joo is an
undiscovered gem in the heart of KL
. This is the second branch after their first one at Mid Valley.
Kyung Joo Korean Restaurant
Kyung Joo Korean Restaurant is strategically located at Federal Arcade, KL. Just in case you didn't know, Federal Arcade is not related to arcade games or anything like that. Federal Arcade is just opposite Plaza Lowyat. Now you know why I said it's a prime area.
How to Get to Kyung Joo Korean Restaurant
This guide will be very useful for first timers. You can park your car at Plaza Lowyat, head to the Ground Floor and go out from the exit near Sushi Zanmai. Look around and Kyung Joo should be in front of you!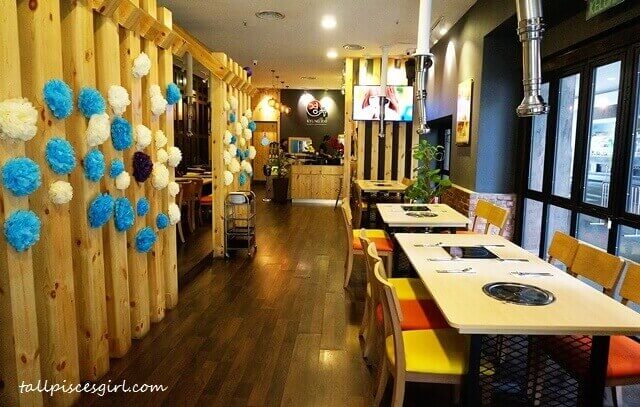 The interior of Kyung Joo has an inviting feeling; decorated in earthy tones as a base and enhanced with colorful furniture. The food we ordered arrived promptly as I was captivated by the Korean MVs shown on TV.
Kyung Joo Charcoal BBQ
I know you've been waiting for this… FOOD! We ordered
Mixed BBQ with Cheese Set A
which is suitable for 2-3 pax.
What you get in Mixed BBQ with Cheese Set A:
Cheese Dip
Rice Ball
Marinated Chicken Leg
Marinated Lamb Shoulder
Marinated Korean Snowflake Beef
Pork Belly with Kimchi (2 pcs)
Pork Belly with Enoki Mushroom (2 pcs)
I love having BBQ at Kyung Joo because it's hassle-free. The staff will cook everything and distribute for us. We can have more time chit-chatting while eating. No need to worry whether these premium food will get burnt.
Real barbeque should be cooked using charcoal! At least, that's what I believe. Reason is because charcoal can reach a high cooking temperature and gives the meat a smoky flavor.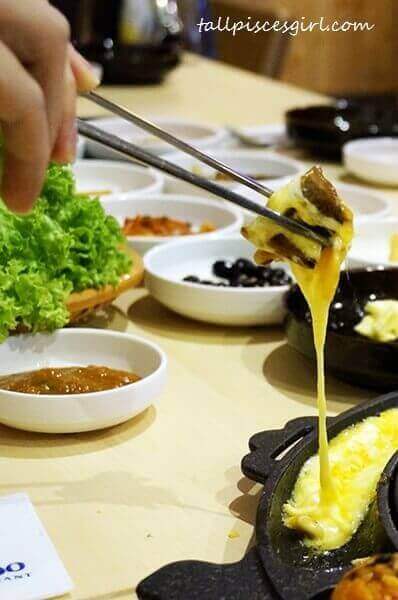 Indeed, as what I've expected, the meat was cooked to perfection. Tasting the tenderness and juiciness of these meats got me thinking, "This is how life should be!". The stretchy cheese dip is so sinful yet so addictive. We just can't get enough of it.
Fun fact: Pork neck is the best cut to BBQ because the fat content is higher than pork shoulder but lesser than pork belly! And yes, we pampered ourselves with
Pearl Pork Neck
!! Pearl Pork is considered as premium pork since it is produced in a cleaner and better environment to ensure the best quality.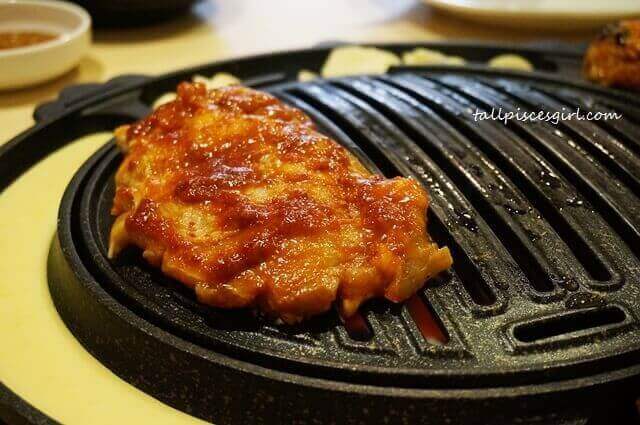 The Pearl Pork Neck tastes just perfect! It's juicy and tender, with the right amount of fats. Simply irresistible…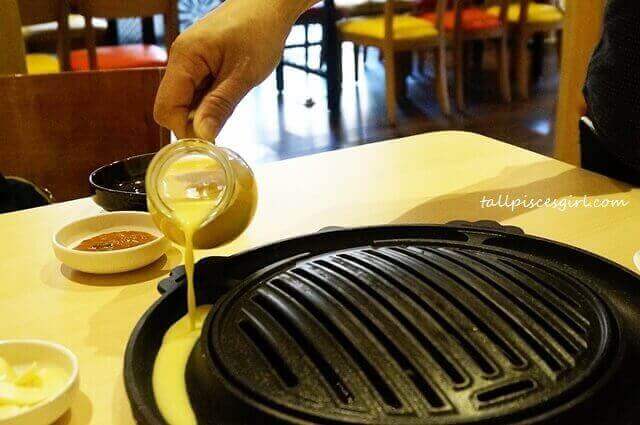 Another not to be missed item at Kyung Joo is their
Grilled Egg
. The staff helped us to pour the premixed egg solution onto the grill.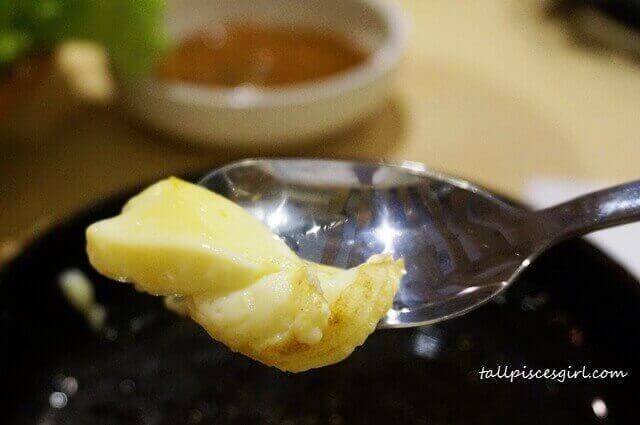 The result? Super duper soft and smooth egg which texture is just like solidified taufu fah!! I'm very curious how they did this but I couldn't figure it out. Guess I'll just have to keep coming for this.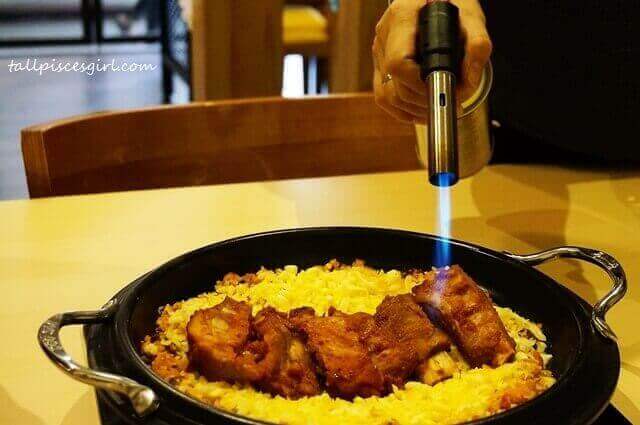 We went all out this time. Next on the menu is
Mozzarella Cheese Pork Ribs with Rice
. The helpful staff once again helped us to cook everything. We just need to enjoy it when it's ready! Kamsahamnida~~ By the way, the portion is for 2-3 pax too. It was very flavorful and the melted cheese just made everything taste better!
The meals ordered were accompanied by 8 Korean side dishes! So just in case if you were too hungry and the food is not prepared yet, you can have something to nibble on.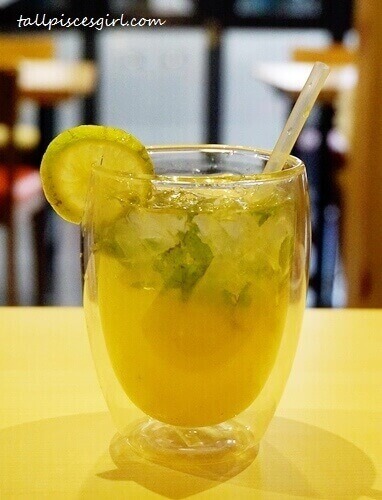 As for drinks, Kyung Joo has a wide variety of beverages to choose from. I'm so excited to try some of them which are not readily found in Malaysia. We started with 
Lime Mojito with Korean Soju
, a refreshing drink that immediately quenched our thirst upon arriving.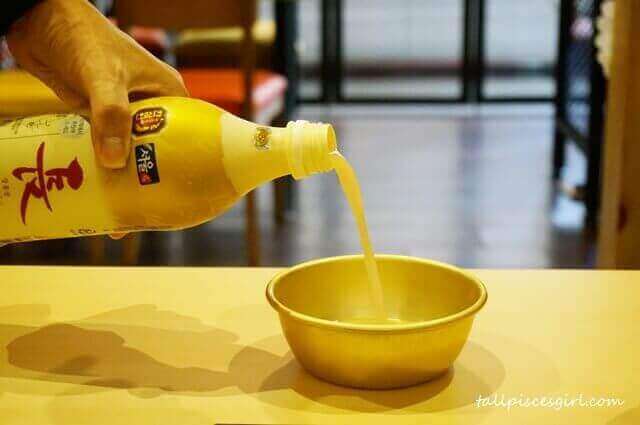 I love this
Korean Red Ginseng Makgeolli
to bits because it's so smooth and the taste of red ginseng is not too overpowering. This Makgeolli is made using 6 year old Korean Ginseng! Happy to be able to taste this and drink it like a true Korean with the bowl. GEONBAE!!!!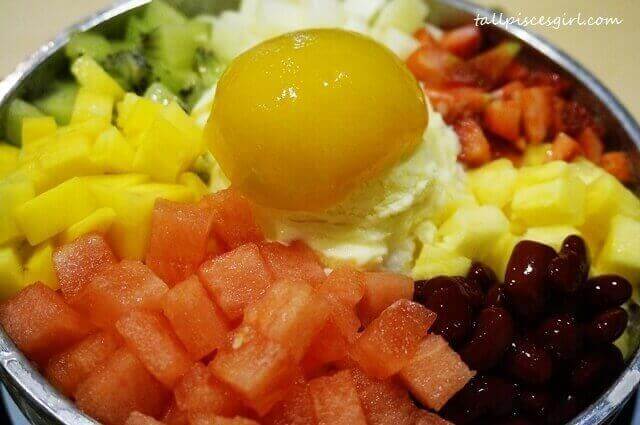 Last but not least, DESSERT!
Bibingsu
is perfect for sharing between 4-5 person. Smooth snowy ice that resembles cream instead of shaved ice really wow-ed us. Totally impressed by the texture! Fruit lovers will not stop digging in to this lovely ensemble of strawberry, mango, watermelon, papaya, pineapple, kiwi, peach, red bean, mixed nuts and ice cream!
Address
:
Kyung Joo @ Federal Arcade
Lot GF001, 001A & 001B, Ground Floor, Federal Arcade, Annex Federal Hotel, Jalan Bukit Bintang, 55100 Kuala Lumpur
Tel
: 03-21100392
Opening hours
: Daily 10 am – 11 pm
Map
:
Kyung Joo @ Mid Valley
T041A, 3rd Floor Mezzanine, Mid Valley Megamall, Jalan Lingkaran Syed Putra, 59200 Kuala Lumpur
Tel
: 012-2273913
Opening hours
: Sunday – Thursday 10 am – 10.30 pm Friday – Saturday 10 am – 11.30 pm
Map
:
Facebook Page
:
Kyung Joo Korean Restaurant