Everyone (including aunties and uncles) has a smartphone nowadays. But the question is – do you make full use of it? Aside from having a "smart phone", we as the consumers need to be smart too! And that is why I have smart apps like
Seeties
to discover deals to enjoy discounts and special promotions.
Swipe to Redeem @ Sunway Pyramid with Seeties
For the second half of 2016, Seeties is bringing the Online to Offline (O2O) experience by launching '
Swipe to Redeem
' in collaboration with Sunway Pyramid Shopping Mall.
If you're money savvy like me, you'll not miss the awesome deals from Seeties! With more than 100 deals from Sunway Pyramid merchants, we'll be spoilt for choice while the merchants will surely expect boosted traffic. I love the app because it's so easy to use and the candy colored user interface is so appealing!
Start securing the deals you like by saving them into
Voucher Wallet
 and swipe to redeem the deal at merchant's store.
During the launch, I was able to sample Monzeter Premium Fried Ice Cream for the first time. The one with Nutella tastes so awesome! It was topped with some chewy marshmallows too!!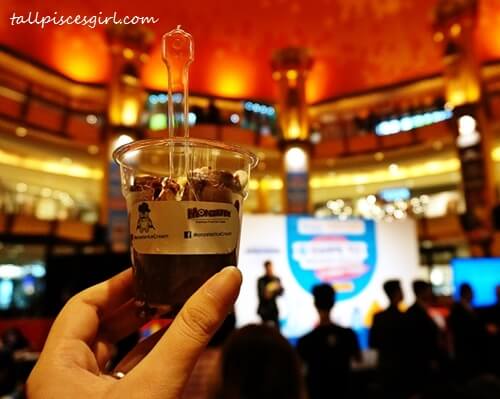 Here's a story that I wanna share, about how I met WeiWen. Just a day before this event, I had lunch with Fiona StreetLove and she asked me whether I had readers who recognize me out of nowhere since she had this experience before. Then I said, "Haiya, impossible la… it's not easy to reach this level LOL". Then while Tian Chad was helping me take a photo with my Jipangi, he asked me if I wanna borrow the leng chai beside me to shoot together. Wahlau, I actually don't dare cos I was shy but Tian Chad was already calling him but he couldn't hear it. So I was like "Leng chai, can I borrow you for a photo?". He caught me by surprise when he asked me if I'm Charmaine. Apparently, he had to check blogs and social media channels during his internship and that's how he got to know me. He might not be considered as my reader but close enough hahaha!
SPECIAL!
Remember to participate in One-derful Deals every weekday from 3-30th June 2016. You'll get to enjoy these yummylicious food at Sunway Pyramid for only
RM 1 at 1pm
:
Tuesday – Eggette Lab
Wednesday – Monzeter Premium Fried Ice Cream
Friday – Jipangi
Grab the deals from Seeties app on the specified weekday. Then, Swipe to Redeem at merchant's store between 1-2 pm on that day itself.
Seeties app
is available for free download on Apple App Store and Google Play Store.