Bangkok
is a shopping heaven for many (including me). Due to the large amount of tourists visiting Bangkok, scams are aplenty too. Who would have thought that we would nearly got conned in Bangkok? This incident happened back in 2014 when I first visited Bangkok but the memory of it is still fresh in mind.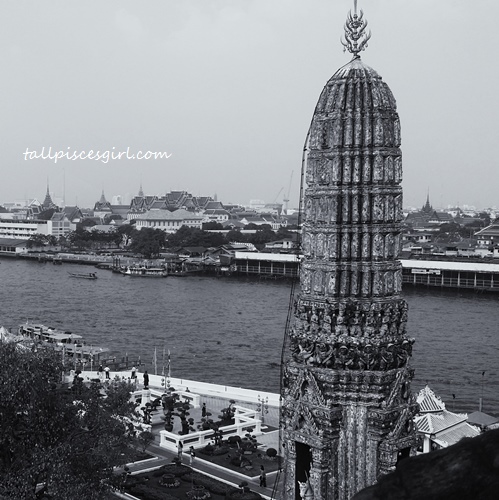 (Almost) Conned in Bangkok
After enjoying a hearty buffet breakfast at
Hotel de Bangkok
, we took the train to
BTS Siam
to shop at
MBK Center (Ma Boon Khrong Center)
. While at BTS Siam, my girl friends took some map from the information counter and was looking at it while walking towards MBK Centre. As they were walking quite fast, Clumsy Boy and I were at the back. Once we caught up with them, I saw that they were talking with a man! So this Thai man told us that MBK Center will not open so early today (around 12pm) because it's a special Buddhist festival and the Thais are having half day holiday to pray. He said he's a teacher but while waiting for the mall to open, he can bring us for a
tour to temples along Chao Phraya river on express boat
. In order to make himself more trustable, he even pointed to our map and showed us which piers are charging higher for boats and that Saphan Taksin boat pier is the best place to board express boat. Indeed, we were also planning to take a boat at Saphan Taksin pier but not the express boat because it's not economical for us. The most economical one would be "no flag" or "orange flag" boats. What's most suspicious is: Why would a teacher have work as a travel agent? If he's just a passerby, why would he take all the trouble to bring us to the pier? We can just go on our own. Sensing something was amiss, I told the man that we'll be going for breakfast first because we haven't eaten yet. He said "up to you" in a very dissatisfied tone but we just thanked him and walked away. Later on, my friend stopped nearby to buy Pomegranate juice. She asked the seller whether today is a special Buddhist festival. He just silently shook his head.
We headed to MBK Center anyway and it was already opened
! This proves that whatever the Thai man said just now were nothing but lies. Share this with your friends, family and loved ones. Anyone could have fall prey into such scams if not careful enough. If you're still planning your itinerary, check out my
4D3N Bangkok Itinerary
that has a balance of Shopping + Sightseeing + Great Food!