Twenty3
has been quite well known now thanks for their fashion forward designs and extensive online marketing. However, being a popular brand doesn't mean that the experience will be pleasant. If you're planning to buy from them, I hope you'll read my review of Twenty3 first. I have bought my bridesmaids dresses from Twenty3 last year and everything was smooth. Reason was because I didn't use any voucher code and I don't have to contact their support for after sales.
Shopping Experience with Twenty3
July this year, my bestie decided to order her bridesmaids dresses for her wedding from Twenty3. Coincidentally, my friend sent me a voucher code from them. So I thought it was such a great timing and shared the voucher code to my bestie. Normally, voucher codes cannot be used on discounted items and the dress that she wanted to buy was already on discount. But seeing that it only stated "RM 30 off for purchase RM 50 and above" and "simply key in the code upon checkout", we decided to give it a try. Imagine our joy when the voucher code was successfully applied for our purchase! We used 4 different accounts to order the dresses since they need to be shipped to different places respectively.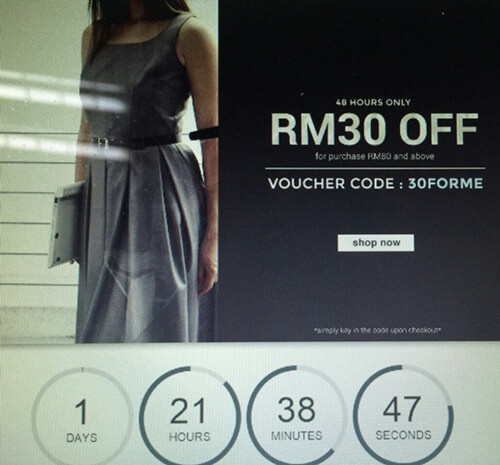 That's when disaster unfolds. The next morning, we received an email saying our orders were cancelled (except me) because the voucher code is only applicable on normal priced items. We were all very pissed. Why the system let us through if it's not applicable? I've previously bought from
Zalora
before and if the voucher code is not applicable, it will straight away let me know that I can't use it and won't let me proceed. According to the email that they received, it was due to "technical glitch". If it's a technical glitch, they should have just honored the transaction since it wasn't our fault. As an online seller for more than 8 years, there were times were I've misquoted the price that lead to a loss but I still sent out the item instead of asking my buyer for more money. Because it was my fault. I later found out that the voucher code was an image embedded in an email they sent to newsletter subscribers. There were terms and conditions outlined in tiny font but it was separated from the image. Anyway, if the system couldn't cope with these terms and conditions, might as well give discount for everything and let the customers happy. The customer service also can save a lot more time.
Since I didn't receive the email stating my order has been cancelled, I had to contact Twenty3's support to enquire about it. After waited for a few hours, I had to even contact them on their Facebook page. It's not that I'm impatient. It's just that if don't reorder them ASAP, the dresses might be sold out! What if my friends already reordered them and when I wanted to reorder them, they went out of stock? Then we'd be forced to order different color or if the sizes were out… OMG I don't wanna imagine that. The stress is very real. I'm not the bride also felt like that. At one point, I kinda regretted sharing the voucher code with my bestie. 😥 Lots of emails flew but long story cut short: My friend tried to ask for a discount due to all these inconveniences but it was conveniently ignored.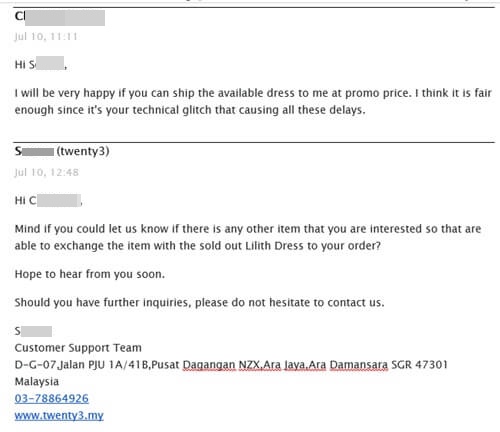 After ding dong ding dong (communicating back and forth) for 3 whole days, my order arrived – but it was for the first order (that they claimed has been cancelled)!! So I had to call them and ask because I have reordered the dresses already. What do I do with the extra dresses if it became double order? They let us to choose between refund via bank transfer or store credit. We thought since we're going to reorder, let's request for store credit so can deduct the amount straight. But guess what – the store credit can only be used for New Arrivals only. WTF?? Obviously the dresses we ordered are not in that category and that's why this whole situation happened right? Then why would they generate a code that can be used for New Arrivals only? And they didn't even inform us before that. What a joke! Wasted time for this and in the end, requested for refund via bank transfer instead.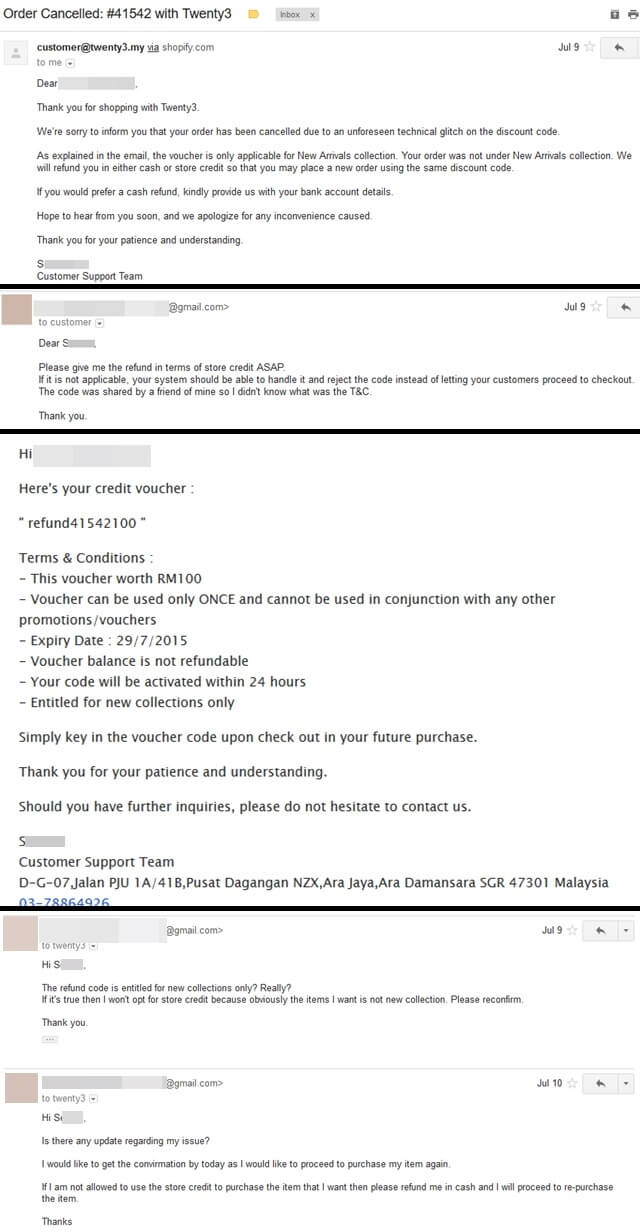 The next time I received Twenty3.my's newsletter regarding their promotions after this incident, I will think thrice. It's just not worth the trouble. There's been a lot of bad reviews and feedback online too!