I seldom visit Beauty Expo because I want to avoid spending on unnecessary items
*haha*
. This year, I was here with a meaningful purpose: To celebrate
CANMAKE Tokyo's 30th Anniversary
! There were many obstacles that almost prevented me from attending this event (like car battery died!) but luckily I was able to make it.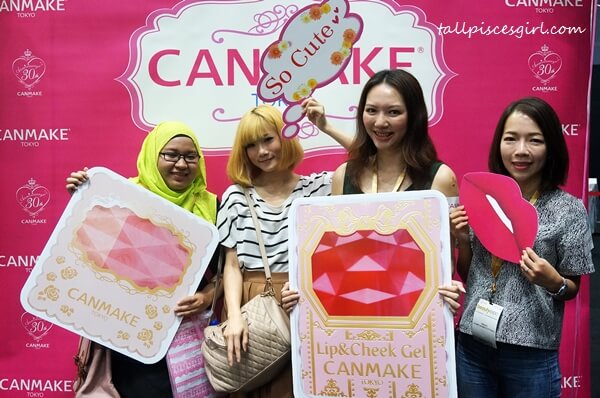 Beauty Expo 2015 with CANMAKE Malaysia
Here are some of Canmake's most popular cosmetics, though I must admit that they have a lot of best seller products up their sleeves. I became a fan of
Canmake cosmetics
for their
cute, princessy packaging and innovative design
.
CANMAKE Tokyo has been the leading brand of cosmetics in Japan and has brought the latest makeup trends that gave birth to the kawaii culture in Malaysia. According to
Ms. Kaori Anzai
, they are commited to bringing the latest makeup styles and trends at affordable prices with no compromise to the product quality that is created and manufactured in Japan. That's a great news for makeup addicts! We don't just care about the price but also the safety and quality of the makeup. It's our skin after all.
Tokyo latest makeup trends
In conjunction with CANMAKE's 30th Anniversary, they have launched some new makeup products to create Tokyo latest makeup trends!
One of the latest makeup trends for the coming party season is '
Glossy & Shiny
'. The aim is to create natural, light and translucent looking dewy skin. Further complement this look with glossy lips that accentuate natural lip colour. CANMAKE makeup products to create this look:
Juice Pure Eyes eyeshadow trios (Price: RM 39.90)
Your Lip Only Gloss (Price: RM 39.90)
Matte & Crystal Cheeks (Price: RM 49.90)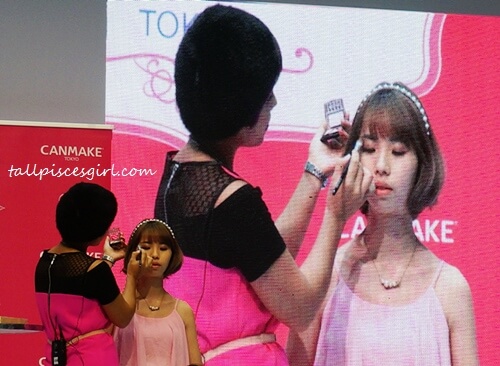 Another Tokyo latest makeup trends is '
Colour Coordinate
' where lips and cheeks are coordinated with the same colour. CANMAKE makeup products to create this look:
CANMAKE Lip & Cheek Gel (Price: RM 49.90) – Has a melting smooth gel texture that can be used on both lips and cheeks. For a cute kawaii look, blend it high on the cheek, just below the eyes like an oriental doll.
CANMAKE Secret Colour Eye (Price: RM 45.90) – An eyeshadow palette that features a red shadow to create a delicate tint on your lower lid to enhance kawaii-ness. Use the palette's shader and highlighter to deepen eye contours for a pair of focused eyes.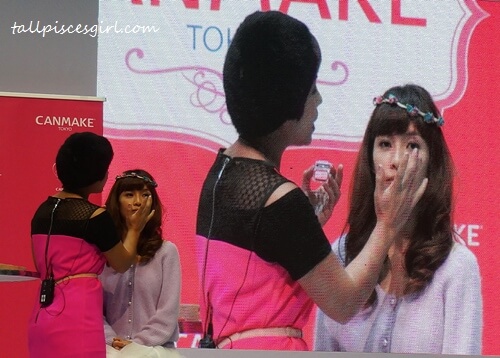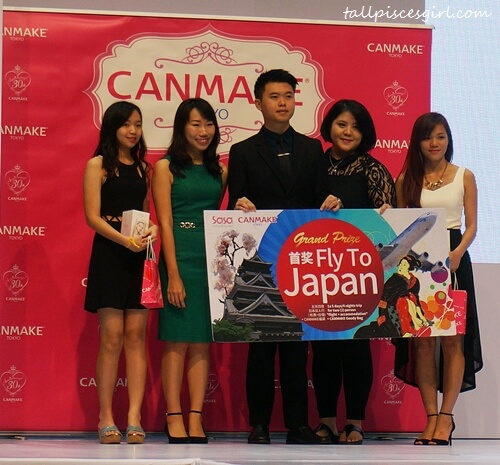 How I wish to travel to Japan too!! *green with envy*
The one thing I really really wanted to buy during this Beauty Expo was  
CANMAKE Cheek Brush
. It's only RM 35/6. But too bad I didn't buy… and I'm regretting big time! Guess I'll just drop by to the next Beauty Expo (2016?) to buy it T_T The
CANMAKE
Tokyo cosmetics is available at
selected SASA and AEON Wellness
outlets nationwide.