O'slee Pro Eye Medi Intensive Eye Serum
5 Intensive Repair Systems For Eyes
Reduces Fine Lines
Erases Dark Circles
Minimizes Eye Bags
Anti-aging
Moisturizing
Ingredients:
Matrixyl™ – Reduce Fine Lines
Boosts collagen reproduction and repair, restoring skin elasticity and minimizes the appearance of fine lines and eye bags.
Eyeseryl® – Erase Dark Circles
Stimulates micro-circulation around the eye area, promotes blood circulation and helps to even out dark-purple melanin and reduce dark circles.
Cafeisilane C – Minimize Under Eye Bags
Promotes blood circulation and the improves the functioning of the lymphatic system. It also minimizes eye bags caused by edema and fatty tissue.
Tinocare – Anti Aging
Active Epidermal Growth Factor (EGF) strengthens skin resistance to harmful effects of UV rays, effectively decelerating skin aging problems including fine lines and loss of elasticity.
Hydravance – Moisturizing
Boosts moisture around eye area and enhances moisture retention.
How to Use
: Apply around eye areas every day and night. Use fingertips to massage from inner to outer eye areas until it's absorbed.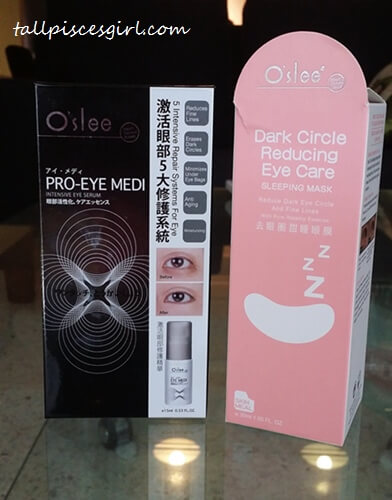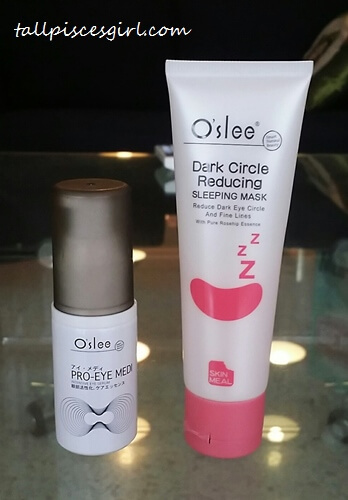 O'slee Dark Circle Reducing Eye Care Sleeping Mask
Reduce Dark Eye Circle
Dark Circle Reducing Sleeping Mask stimulates the blood circulation and neutralizes toxins around the eye areas, thus reducing the appearance of dark eye circles.
Reduce Fine Lines
Provides intensive moisturizing for the skin and as a result dryness and fine lines are reduced.
The Golden hours for Masks
When asleep, the body is recuperating and this is the best time for the skin to absorb nutrients. The optimum hours for self-recover of body cells are between 11pm – 4am, and thus one should fully utilize these precious hours to replenish the skin with liquids and nourishing ingredients. O'slee Dark Circle Reducing Eye Care Sleeping Mask is catered specifically for time-poor urbanites. It provides extra care to eye areas to reduce fine lines and dark eye circles as a result of long hours in front of the computer (that's exactly me!). Since I'm always working in front of the computer and slept late, I have a dark line under my eyes. Key operating ingredients will seep under the skin to stimulate the blood circulation.
How to Use
: Use 2-3 times per week. Apply a thin layer to the skin around the eye area after cleansing at night. Smooth and massage from the inner to the outer corner of the eye area. Rinse with warm water in the morning.
Review: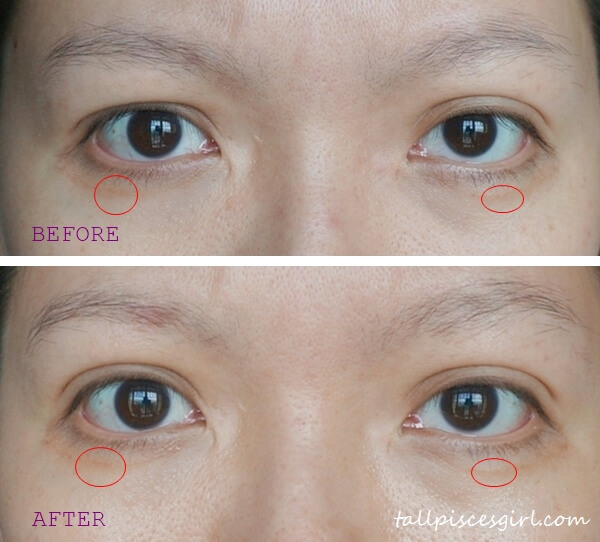 It seems that most girls are bothered by dark eye circle problem thanks to our hectic lifestyles which made us sleep deprived. Let's see if O'slee eye care products works for me. Both O'slee Pro Eye Medi Intensive Eye Serum and O'slee Dark Circle Reducing Eye Care Sleeping Mask are in clear color and has a gel-like texture but the mask has a thicker consistency. The eye serum comes in a pump bottle while the sleeping mask is in a soft tube. I honestly prefer the soft tube since I can control the amount better and avoid wastage. Plus, I can see how much product is left by putting it under sunlight. Every morning, I will apply O'slee Pro Eye Medi Intensive Eye Serum after cleansing my face. As for night care, I use O'slee Pro Eye Medi Intensive Eye Serum and O'slee Dark Circle Reducing Eye Care Sleeping Mask every alternate days. The amount I use is equivalent to a pea size for both eyes, patting them under my eyes with my pinky fingers. After using both these products for 3 weeks, I noticed that the dark eye circles has lighten slightly. I was not in my best condition that is, suffered from insomnia and sometimes couldn't sleep due to "someone" snoring loudly. To be honest, sleep quantity and quality is the most effective remedy to reduce dark eye circles. If you're not asleep by 12 am and didn't get to sleep at least 7 hours, chances are, no product is going to work just because your skin's absorption rate will decrease due to sleep deprivation.
Rating: ★★★☆☆ Price: RM 79.90 / 15 ml (O'slee Pro Eye Medi Intensive Eye Serum) RM 59.90 / 30 ml (O'slee Dark Circle Reducing Eye Care Sleeping Mask) Where to buy Guardian Malaysia & www.oslee.com.my