People often say, kecil kecil cili padi. Never judge something by its size because the power of it might just blow your away. It is also true for this tiny herb called "Kanchani", which means "Golden Goddess" in Sanskrit. Known to us as
turmeric
, it has been used for thousands of years in
Ayurveda
— the ancient healing art of India and has been revered throughout history as being more precious than gold.
Aveda Blue Oil
contains refreshing peppermint and soothing blue camomile that relieves the tension on my neck and the pressure from rollerball applicator makes me feel so syok!
Therefore, this time-honored herb has been selected as one of the star ingredients in Aveda invati™ solutions for thinning hair. More importantly, turmeric is one of the reasons that the Umbari villages of India now have
clean water, better nutrition and more self-empowerment for the women
.
Aveda Invati Range
Through their quest for the highest quality certified organic turmeric and their work with Nisarga, they learned that the Umbari villagers did not have access to clean water year-round. During the sweltering summer months the women of the village had to spend up to eight hours per day travelling to distant locales to collect drinking water, often finding once they arrived at the water source that it was contaminated and unfit for consumption.
Aveda joined forces with their Earth Month partner Global Greengrants Fund, a non-profit that channels high-impact grants to grassroots groups working to
solve environmental problems
, to supply a grant to AWARD (Action for Women and Rural Development) to improve the community's local water system. Now, the 800 Umbari villagers have easy access to clean water all the time, and the women do not need to trek to distant places during the summer to collect it. Instead they now spend their time with their families and developing Kitchen Gardens to better nourish the community. In addition, Umbari now operates a seed bank program where families can sell and exchange seeds for other goods and services so the entire village can benefit from it.
Invati™, Sanskrit for invigorate, is a system of 97% naturally-derived products that reduce hair loss by 33% to help you keep the hair you have longer. Densiplex™ – an invigorating blend of Ayurvedic herbs, including certified organic turmeric is powered by the wisdom of Ayurveda. The
Aveda invati™
solutions for thinning hair line-up includes:
Aveda invati Exfoliating Shampoo (Price: RM 112 / 200ml): removes build-up that can clog pores and renews the scalp with wintergreen-derived salicylic acid.
Aveda invati Thickening Conditioner (Price: RM 112/ 200ml): with soy protein and naturally derived amino acids mimics hair's building blocks to help weightlessly thicken hair from within.
Aveda invati Scalp Revitalizer (Price: RM 260 / 150ml): with ginseng and certified organic turmeric, helps you keep the hair you have longer.
Aveda invati™ solutions for thinning hair is available at
Aveda Experience Center
retail stores and
Aveda Salons
.
The bloggers who attended the event has a chance to make their own Kitchen Garden by planting Rosemary!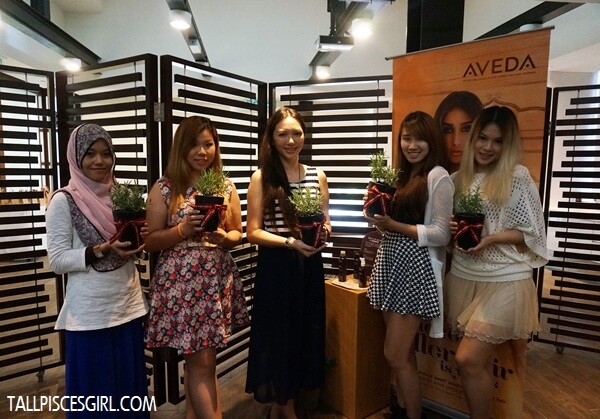 Did you know?
In 2006, Aveda became the first beauty company in the world to manufacture with 100% wind power.