When the weather is hot and hazy, I tend to feel lazy to work and all I'm looking forward to is tea time. Don't you feel the same too? In another 1 month or so, the Chinese will be celebrating
Mid Autumn festival
(a.k.a. Mooncake festival).
Gartien Pineapple Cake Mid Autumn Packaging
Gartien Mid Autumn Pineapple Cake Promotion 2014
I can see that most hypermarkets have started selling mooncakes but for those of you who prefer more variety and less conventional snacks for Mid Autumn festival, I'd recommend you to try
Gartien (小田佳園) Pineapple Cake
for a change.
Gartien Mid Autumn Pineapple Cake
Gartien Pineapple Cake's box design for Mid Autumn looks very traditional, just like a mooncake box. You wouldn't know it's not mooncake if you don't open up the box so they can blend in together!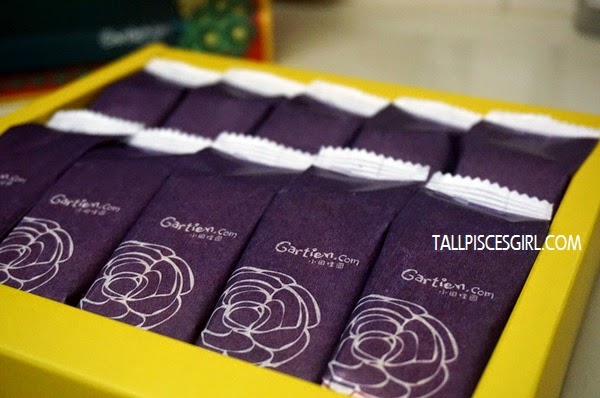 Gartien Pineapple Cakes in individual packing
I chose Gartien Pineapple Cakes because their pineapples are sourced from Nibong Tebal, Penang and then
handpicked
the best ones to be brunoised at Georgetown, Penang. This makes it fresher and higher quality compared to other alternatives in the market. The fact that they use brunoised pineapple as fillings made the texture better than just puree alone because you're able to taste
pure bites of pineapple
.
Delectable Gartien pineapple cake
Sink your teeth into the perfectly homemade pineapple cake pastry, savour the heavenly taste of pure pineapple without artificial flavoring and preservatives while enjoying a cup of warm, aromatic green tea!
Gartien pineapple cake paired with green tea
Gartien Promotion for Mid Autumn 2014
: – Booking order BEFORE 4 AUGUST 2014 for 5 boxes and above to be entitled to FREE 1 BOX – Booking order AFTER 4 AUGUST 2014 (upon availability) for 10 boxes and above to be entitled to FREE 1 BOX
Price per box
: RM 45 (self collect only). A fixed courier charge of RM 10 & RM 40 will be applicable to all deliveries within Peninsular Malaysia & East Malaysia respectively. P/S: Each box is fixed price throughout the year.
Gartien's new confectionery location
Address
:
Gartien 小田佳园
380, Jalan Penang, 10000 Penang, Malaysia (next to Kek Seng Coffee Shop 格成茶室)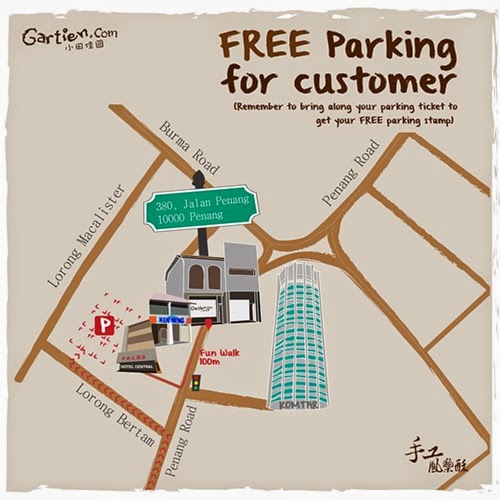 Free parking provided for Gartien customers just 100m away!
Tel
: 604-229 0068
Business Hours
: 9 am – 6 pm daily
GPS Coordinate
: 5.416298, 100.329380
Map
: