It was my honor for being invited as part of the media to Joey Yap's Feng Shui & Astrology Seminar 2014 at Plenary Hall, KLCC two weeks ago. Despite waking up to a severe sore throat, it didn't stop me from going because I've wanted to see Dato' Joey Yap in person for the longest time. I reached half an hour before the seminar start and I realized that the hall was already 90% full!
Many people are here to see what Joey Yap has got to say about the year of Wood Horse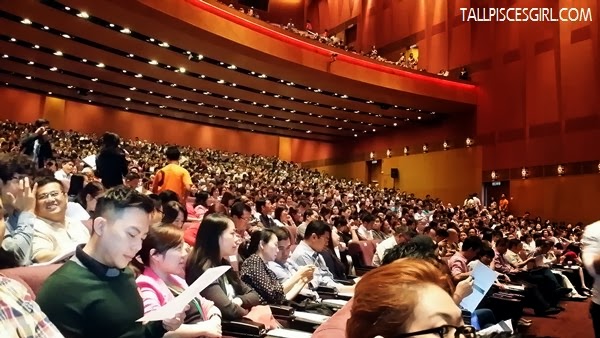 People mountain, people sea (人山人海)!
It was no surprise that there were so many attendees though, as Joey Yap has risen as an internationally renowned author, consultant and educator of Feng Shui. He was even presented with a Datoship title for his contributions in Chinese metaphysics field.
Media Pass for Joey Yap's Feng Shui & Astrology 2014 Seminar
Before starting the seminar, all attendees are required to plot their
Personal BaZi Chart
so you can refer and take note on what to expect and avoid in the year of
Wood Horse
. To plot your own BaZi Chart, click
here
.
According to the BaZi Chart for 2014, water and earth element are missing and this indicates that the year is not going to be pleasant. Based on the number of occurrences, fire element is the strongest in the year of Wood Horse followed by Wood and Metal element. If you have Fire, Wood or Metal element in your BaZi Chart, your year will not be too bad. It would be best if you have all three!
From career perspective, industries for fire element will prosper in year 2014. These industries include petrol/fuel, food, airlines, metaphysics, computers, military and promotion/services.
When we talk about astrology, many people will be curious to know whether the year will bring them good fortune or not. As money is related to business, Joey Yap has to touch a bit about business in his seminar too.
This is the typical flow of business and the element representing it:
Assets (Earth) -> Sales (Fire) -> Profits (Wood) -> Cash (Metal) -> Will power (Water)
Absence of Metal element in your Personal BaZi Chart indicates that you will be facing cashflow problem. This applies to other elements as well. Lacking a certain element means you will be facing problem in the area that is represented by that element. It is still possible to have Metal in your Personal BaZi Chart with the absence of Wood (got cash but no profits) because it just means that there will be people who will give you money. Who knows you might suddenly inherit a large sum of money? 😀
If the element appears in Month or Year pillar, it indicates that your luck in getting it will come from external factors like friends, colleagues and office. If the element appears in Hour or Day pillar, it indicates that your luck in getting it will come from internal factors like family, relationship and home.
Joey Yap has also mentioned a few things about
Mian Xiang, the Chinese art of Face Reading
. Here are a few things to take note in Face Fortune for 2014 based on elements:
Fire
Forehead – For male, you will have good fortune if your forehead's height is equivalent to 5 fingers being put horizontally. For female, 4 fingers will do. If it is too high, you will dominate your spouse and might result in relationship problems.
Eyes – The alertness and spirit of the eyes (眼神) are very important because it is supposed to act like a candle that can light up other candles without diminishing its own light. Eyes that are imbalanced in size indicates relationship problem. If a person has white of the eyes that is glossy, it indicates that there is a third party in his/her relationship.
Wood
Eyebrows – If you have no eyebrow, 2014 is not going to be profitable for you so ladies please take note! Don't shave off your eyebrows cos eyebrow tattoo doesn't count. Eyebrows are important as it signifies determination and drive in life.
Metal
Ears – People who have ears that are same height with the eyes are considered smart. The higher they are, the smarter you are!
Your Personal BaZi Chart is made up of 4 pillars namely Hour, Day, Month and Year. Here are some of the
astrological animals that represents good fortune
in certain areas. If these animals are in the Year pillar, it means your friends will get the luck instead of you. If it appears in Month pillar, it means your career or business will be doing good.
Wealth Star
Dog (National treasure)
Rooster (Moon / Great Yin)
Ox (Jade Hall)
Relationship
Rabbit (Sky Happiness) – Progressive and develop slowly
Rooster (Red matchmaker) – Immediate
Status, power and recognition
Ox (Emperor Star) – Always right
Horse (General star)
Helpful people
Goat (Sun / Great Yang) – Giving
Rabbit (Fortune virtue) – Receiving end
Solving problem
Dragon (Sky relief, relief god)
Academic
Snake (Intelligence)
Dog (Elegant seal)
If you need a certain astrological animals in your chart but you don't have them, don't fret! Here's a tip: Stick to friends who have them (LOL!) Time to check your friend's IC number and plot BaZi charts :p
Money
is a concern for many. There are 2 types,
smart money
and
dumb money
. Smart money is earned through hard work and skills while dumb money comes by chance i.e. lottery. If you want to know about your money fortune this year, here's how: Check the upper (Heavenly stems), lower (Earthly branches) and hidden (Hidden stems) formation on your BaZi chart. If the upper formation has Fire, Metal AND Wood, you have dumb money in 2014. If they appear in lower formation, you have smart money. If they appear in hidden formation, you will need to put in a lot of effort to get that fortune. Let's say you only have Fire and Wood but not Metal, then all you need to do is find Metal in the Month Pillar calendar and execute your plans during that duration.

Month Pillars Calendar for 2014 from seminar book
(click for larger view)
During the seminar, Joey Yap has also touched about
Qi Men Dun Jia
, China's premier metaphysical art which are used mainly to forecast or calculate the outcomes or luck in relation to the aspects of time and space (direction). Unfortunately, I was too sick because I developed fever during the seminar and had to leave early.
In the next part, I will be posting about
Chinese Astrology Forecast for 2014
according to Joey Yap which is something less technical and easier to digest. Stay tuned!
Update
: You can now refer here for
Chinese Astrology Forecast for 2014
!