Hello all! Everyone is still in
Christmas mood
isn't it? Just a few days more and we'll be ushering in the New Year! I'm sure all the girls will color their nails pretty pretty to get in the celebration mood. So did I!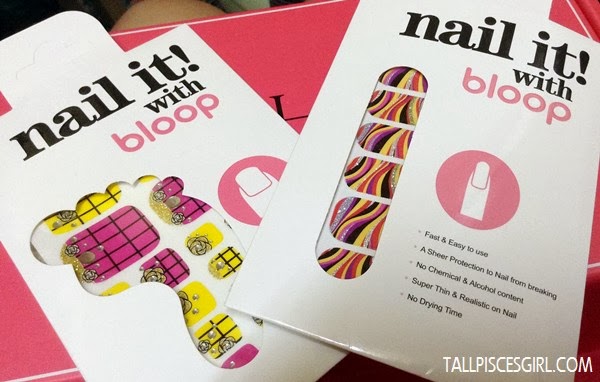 bloop Nail Strips
Thanks to HiShop, I got to try
bloop Nail Strips
a.k.a.
nail it! with bloop
and
bloop Nail Polish
to celebrate this festive season! I started with bloop Nail Strips for my left hand. As this was my first time using nail strips, I had to refer to the instructions behind the packaging.
Why nail it with bloop?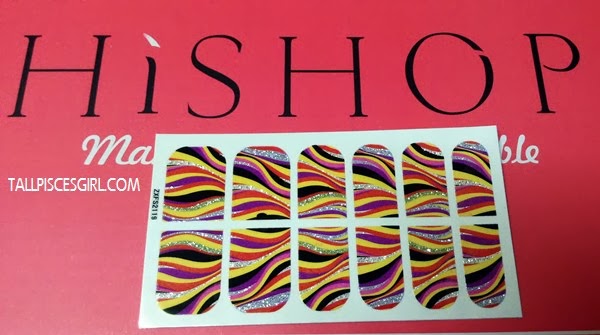 The nail strip design that I received
Here's how you should nail it with bloop
:
Make sure your nails are clean by removing any nail color or residues with nail polish remover.

Clean nails!



Choose the best strip size for each nail. You will need to cut out that particular piece and do a better measurement before you stick but make sure you leave a bit of gap (don't cut the exact shape out) when you cut or else it will be difficult to detach the strip. If it is really too big, cut the edge by using small scissors and make it fit to your finger nails.


Cut it out individually to measure



Remove the transparent protective layer and white layer at the back.


Removing nail strip from the white layer



Align and place the nail strip on to the nail. The rounded ends should be facing the cuticle.


Rub strip over the the nail starting from center working towards the sides. If you saw some uneven area, press or rub it gently to even it out.

Press the excess nail strip across the edges of the finger nail.

Using the nail file provided, file off the excess strip in a downward motion. Don't put too much force though or the thin nail strip that is supposed to let your nails breathe will break. Do it lightly and it will come off beautifully.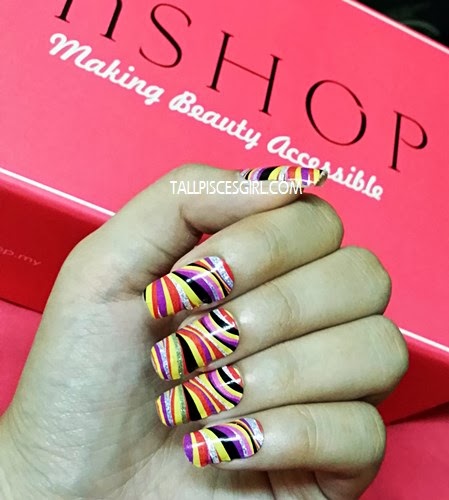 End result using nail it with bloop Nail Strip
So what do you think? Pretty or not? =p What I like about them is they're not too sticky thus making it
easy to readjust
for first timers like me. Besides, I don't need to wait too long in nail salon to get my nails done.
Time needed to draw nail art + drying time = lots of time wasted!
There's also no alcohol and chemical content, making it safe for my nails. For the nails on my right hand, I'll show you in a bit so stay tuned ya!
Rating
: ★★★☆☆
Price
: RM 38.00 for a set of 3 different designs
Where to buy
: a href="https://shopee.com.my/shop/259423108/search?shopCollection=36252084″ target="_blank">bloop's nail products on Shopee Remember to LIKE
HiShop's Facebook page
and
Bloop's Facebook page
for instant updates on promotions and flash sales!