A great weekend to me includes spending some girly time with friends. Thanks to Manoah, I was given the chance to attend Mary Quant's Makeup Workshop at
MUSE by Watsons
. I'd always want to learn new makeup skills to improve myself. I thought that I'd be the first to arrive but it turned out that most bloggers were very punctual that day!
Mary Quant
is the very person who invented the miniskirt in 1955. Hailed from London, she recognizes cosmetics as fashion and came up with Mary Quant Cosmetics because she wanted to bring fashion to faces. The brand signature is represented by a Black Daisy that symbolizes the freedom of women brought about by Mary Quant.
Mary Quant offers a wide range of cosmetics and skincare in their brand. I got to play with it for a while before the workshop starts.
Their powder eye shadow is called Eye Opener
Texture of Eye Opener is velvety and smooth and comes in many colors
Talkative Eyes Liquid Eyeliner that can last all day!
Dries in 5 seconds and waterproof.
Price: RM 99
Action Lashings Lengthening Mascara
Action Lashings Lengthening Mascara is available in 7 shades and has a two-sided Coil and Chip Brush, which features short raised bristles on one side, and the Oil Gel formula that gives the mascara its elasticity to create sharp, spectacularly long lashes together.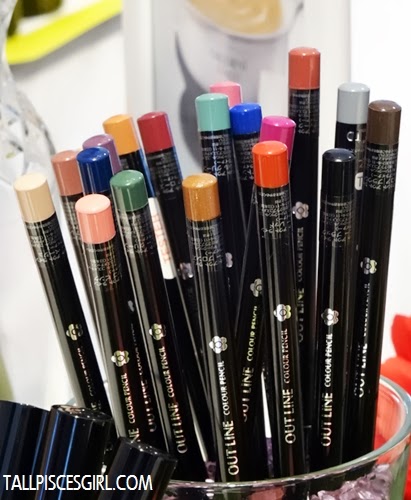 Out Line Colour Pencil in 20 vibrant shades.
Can be used as lip liner and eye liner!
Price: RM 59
Testing Out Line Colour Pencils on my hand
Not forgetting that Mary Quant has skincare line too! Code named as
Special Recipe
, it's a guaranteed pure range of products that are produced using natural essence such as chamomile, daisy, rosemary, wild thyme and honey. Expect well-moisturized and translucent skin after usage!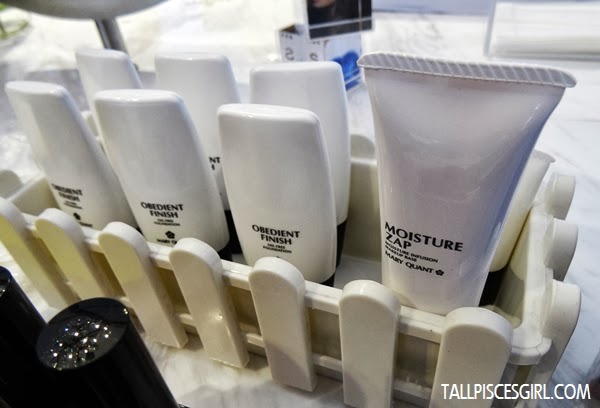 Obedient Finish is an oil free foundation available in 6 shades
and has SPF 20 PA++
Moisture Rich Lipstick
Mary Quant Colour Shine for Lips
I've always preferred using lip gloss over lipstick because it adds lustre and volume to my lips, giving it a sexier finish.
*pouts*
During the makeup demo,
Ms. Nobuko Tataki
from Japan has shown us how she mix and match the colors and the products she have used to achieve flawless and natural makeup.
Ms. Nobuko Tataki, the makeup artist from Japan explained in detail
to us on how to achieve natural look
Natural look
Kahmon and I before makeup
I purposely didn't put on any eye makeup and asked Ms. Nobuko Tataki to help me do an eye makeover with Mary Quant products. She applied pink eyeshadow and liquid eyeliner in brown to achieve this look. I like how natural it turned out. Defined eyes but not too heavily made up.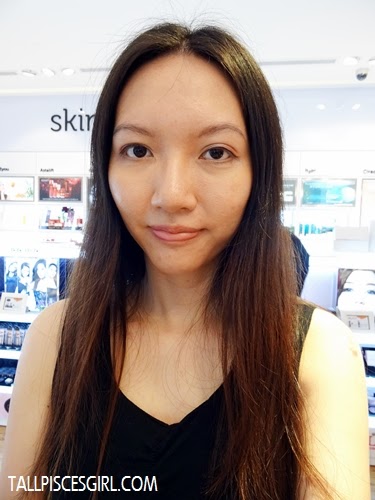 I actually thought that the eyeliner would
smudge
after few hours just like the usual eyeliners I've used previously but guess what? It doesn't budge even after I tried rubbing them with my fingers!
Very awesomely long lasting
. I guess I'll be purchasing this
Talkative Eyes Liquid Eyeliner
soon =)
Mary Quant Cosmetics corner at MUSE by Watsons
Mary Quant Cosmetics and Skincare are available at MUSE by Watsons, Sunway Pyramid.
For more information on Mary Quant brand, do head to
https://maryquant.co.uk/
.