I was so busy taking care of grandma in hospital last month that I don't even have the time and mood to apply moisturizer. Yes, I'm serious. But at the same time, I felt guilty for abandoning my skin like that so I decided to open a pack of O'slee Rosehip Whitening Mask to try.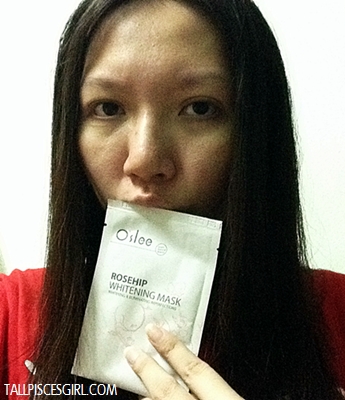 Sad and moody =(
I'm surprised that the mask is wider than those I've tried before, which is a plus point because my face is wider than most girls so now the mask can finally cover my whole face! Haha!
With Rosehip extracts and Papain which helps to whiten my skin and eliminate imperfections, my skin feels smoother and moisturized. The whitening effect is going to take some time and more frequent use though. The scent of it is not too overwhelming, just a mild and natural scent that helps me to destress.
O'slee Rosehip Whitening Mask
How to use:
Place O'slee Rosehip Whitening Mask over your face after thorough cleansing. Remove after 15 minutes, gently pat remaining serum into skin. Use 2 to 3 times a week for maximum result.
Price: RM 39.90 for a box (5 pcs)
BOO!!!
HAHAHAHA!!!