After trying
SAMPAR Glamour Shot Yeux
last year, I was very eager to sample other products from their range since the result was very satisfying. And my wish came true last month when they asked me to review
SAMPAR Skin Quenching Mist
.
SAMPAR Skin Quenching Mist
While I was in Penang to accompany le boyfie for work purpose, I noticed that the texture my face has gotten extremely dry like fish scale!! *horror* Just in case you're wondering why my skin turned to dry in Penang, it's because my skin is exposed to air conditioning day and night! Day, at the office and night, in bedroom. How not to dry like that? Normally in KL, the only time I'm exposed to air conditioning is when I go shopping centre :p
I was there for 5 days and so I use it continuously day and night, whenever my skin feels dry and after being out under the hot sun. My skin feels instantly refreshed and hydrated after using it. Moisturizer also absorbs better. Before using SAMPAR Skin Quenching Mist, my skin felt as if the moisture couldn't absorb into my skin and still feels dry. I love the mild scent because it indicates that the ingredients used are natural.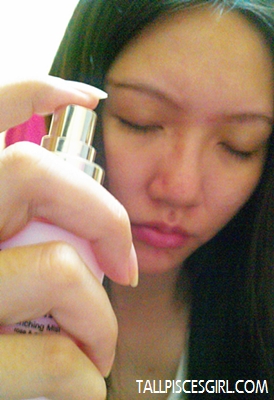 Spray, spray, spray all the way!
SAMPAR Skin Quenching Mist can also be used on eye area. Just spray it on a cotton and leave it on your tired eyes for a softer and more supple skin. Eyes need some spa time too!
Ingredients
:
Cornflower, lime-blossom and orange blossom waters tone the skin.
Lesser centaury extract soothes the skin and relieves pressure in the eye area.
Essential oil of geranium works synergistically with the Urban Advance Complex to optimally purify the skin and eliminate toxins with absolute precision.
Urban Advance Complex, a powerful alliance of 3 active ingredients (shea butter serum, mint endorphin and probiotic sugar), acts as an anti-oxidant shield, neutralizing any cutaneous imbalances linked to pollution, strengthens the skin's natural defenses and shocks the skin back to life on a cellular level.
SAMPAR Skin Quenching Mist
is priced at RM 76 for 100ml and RM 126 for 200ml. SAMPAR products are available at Robinsons The Gardens Mall, Parkson Sunway Pyramid and
Sampar's website
.