As you know, I like to write about food, so when
black caviar
and
Ikura eggs
were mentioned, what came through my mind was: Japanese meals! Yum! Little did I know that more than 100 years ago during the Meiji Era, Ryoshi fishermen unknowingly used the precious drops in the eggs (ikura) to heal wounds and ease the pain of burns without any inflammation or even signs of scarring. This has led Japanese scientists to research over the past 6 years to come out with soothing serums that will form the basis for
LUMINE® Japan
's breakthrough formula for smooth, pure and beautiful skin.
The luminous
Hannah Tan
was emceeing for the event. I was really curious to find out what
3D Skin Perfection Facial Dimensional Sculpting Technology
really is and how it works.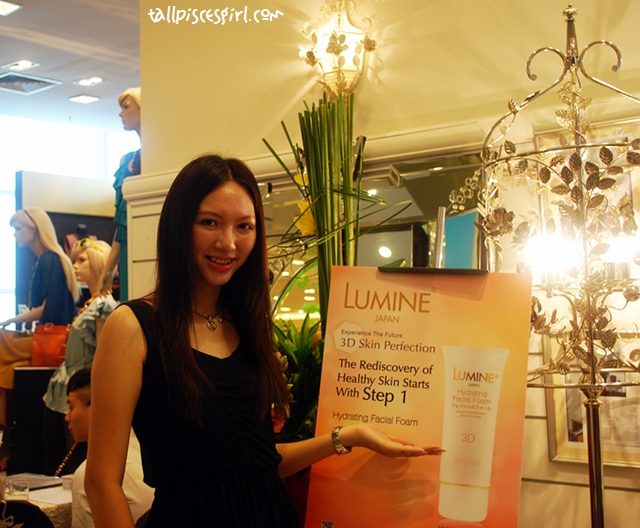 Introducing LUMINE® Japan
Some finger snacks while waiting for the event to start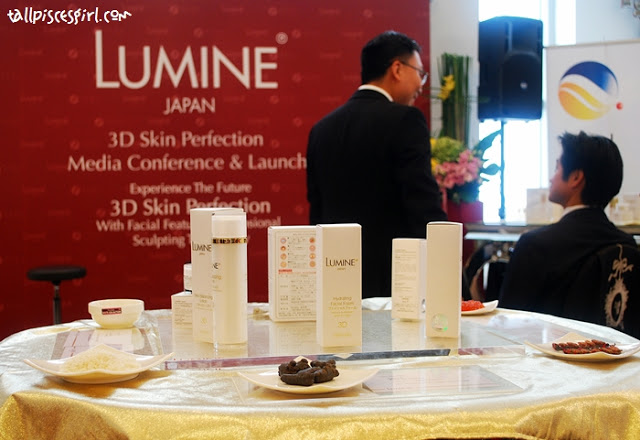 Full range of LUMINE products
LUMINE Japan has brought 6 products over 8 products from Japan that they deem as most suitable for Malaysian women's lifestyle and regime.
Hydrating Facial Foam
This remarkable cleanser from the LUMINE® 3D line contains a unique combination of active ingredients; Red Ginseng Extract, Japan Brown Seaweed Extract and Cordyceps Sinensis which works together to produce a natural formula that deeply purifies your skin. This cleanser also promotes cell regeneration that leaves your skin feeling clean and optimized for the next step of your beauty regime.
Price: RM 154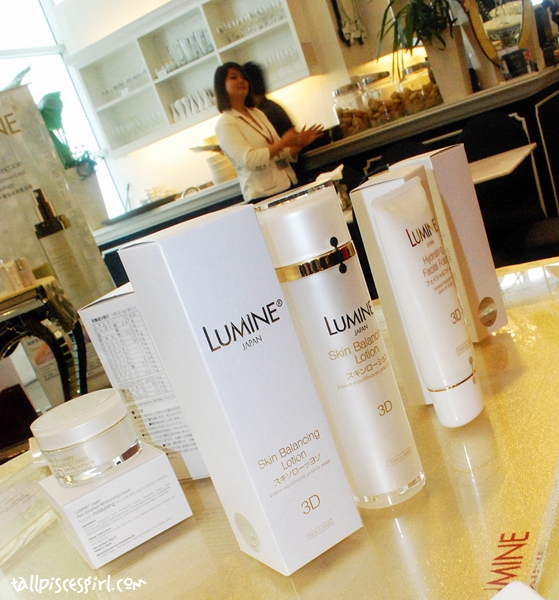 Skin Balancing Lotion
The fine silky texture of LUMINE® 3D Skin Balancing Lotion contains organic extract of Coix Lacryma Jobi and the anti-aging molecule of Coenzyme Q10 that is instantaneously absorbed and works its magic to reveal a younger looking skin. It is further enhanced with a natural and pure fragrance that helps you to relax your mind and leaves you in comfort for the next step of your beauty care regime.
Price: RM 154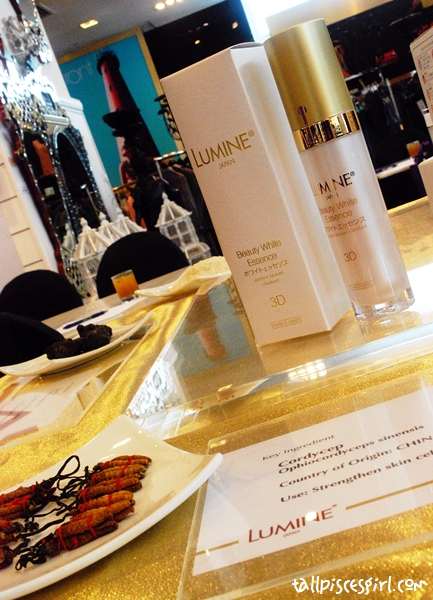 Beauty White Essence
Formulated with Placental Protein and Royal Jelly, LUMINE® 3D Beauty White Essence utilizes nano-technology to provide an extraordinary whitening solution which penetrates every inch of the skin to leave your skin soft as silk and a joy to touch. Radiant, bright, smooth, firm and endlessly silky skin can now be yours.
Price: RM 360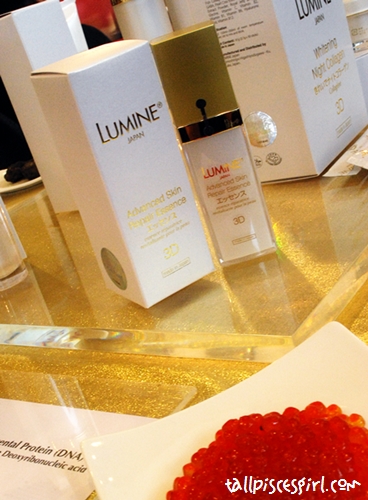 Advanced Skin Repair Essence
Delicate skin, get ready for a breakthrough with LUMINE® 3D Advanced Skin Repair Essence which captures the essence of beauty to regain healthy, beautiful skin which is the focus of our daily beauty regime. It is formulated with concentrated amounts of Caviar, Placenta extract and organic Japanese radish enzyme that helps the cells to rejuvenate, leaving skin mesmerizingly beautiful.
Price: RM 352
Rich Emollient Moisturizing Cream
LUMINE® 3D Rich Emollient Moisturizing Cream derives its superior efficacy effect from 24 different kinds of potent substances including Marine Collagen, Caviar, Placenta Protein and Coenzyme Q10. The formula works together to restore the natural luster of the skin for a more youthful appearance. This helps to eliminate signs of aging improving the overall condition of the skin.
Price: RM 286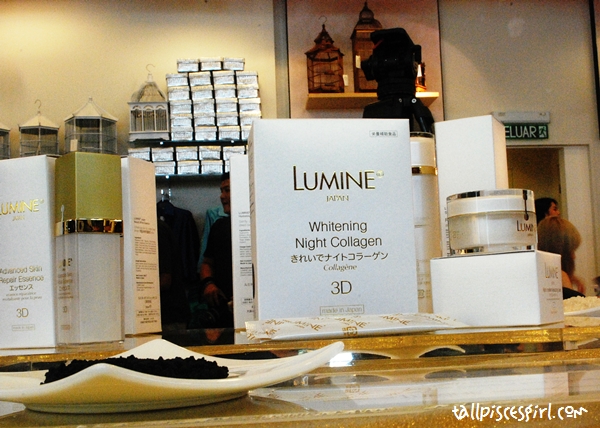 Whitening Night Collagen
Working from the inside out, LUMINE® 3D Whitening Night Collagen drink enhances the whitening process of the skin with a high degree of Vitamin C. After years of research and development by the experts in LUMINE® Japan, they came up with a technology to obtain an extract that contains a high purity of whitening products for oral consumption to achieve long lasting results for whitening which enhances and maintains fair and radiant skin! It is a best seller in Taiwan, Hong Kong and South Korea for its ability to reduce mental stress, enhance your sleep quality while the skin repairs at night.
Price: RM 340
Total for all the products is RM 1,646 but you will get a 10% discount if you purchase the whole range and you're entitled to 2 skin tests worth RM 250 each.
During the launch, there was a sit-down interview session with President of FINE (LUMINE® Japan) Co. Ltd, Nobutsuna Sasaki and CEO of LUMINE® Japan for South East Asia, Middle East and Africa (APMEA), Dr. Tommy Ong to brief us about their products and the technology used to produce these revolutionary products. According to Dr. Tommy, products of LUMINE® Japan targets on long term instead of short term solution to reverse aging and achieve natural fair skin. All the products are non-scented and do not contain any artificial preservatives, colorings or hormonal stimulants.
"We do not peddle miracle treatments and potions. We offer not only the skin care aspect, but more to recovering skin health for the optimal beauty that lies in you. Every application of our products has been proven to be effective on a long-term basis without risks of allergies or dependency. We want to offer the best because we know to a woman, beauty and brains don't have to be mutually exclusive neither should a healthy amount of vanity for self-confidence," says Mr. Sasaki.
LUMINE® Japan is very generous during the lucky draw whereby 3 lucky members of the media gets to bring home a full range of their products!
The event ended successfully with a group photography session with Mr. Sasaki and Dr. Tommy.
To get a hold of these exclusive skincare products, visit their Malaysia outlet here:
LUMINE Japan (HQ) Address:
The Curve, Unit 237B/C, 2nd Level Western Courtyard,
Mutiara Damansara, No. 6, Jalan PJU 7/3,
47800 Petaling Jaya,
Selangor, Malaysia.
Tel: +603 7710 9600
Fax: +603 7710 8700