As a Cheras resident, I feel so ashamed that I've never been to
1 Shamelin Shopping Mall
before. After 1 year opening, finally I have the chance to pay this place a visit and the purpose for being here is none other than finding great food!
Mikaku Ramen
has a special interior whereby there are many text bubbles all around the restaurant and their mascot is a cute chubby little girl that actually exists in reality! How I wish to meet her in person!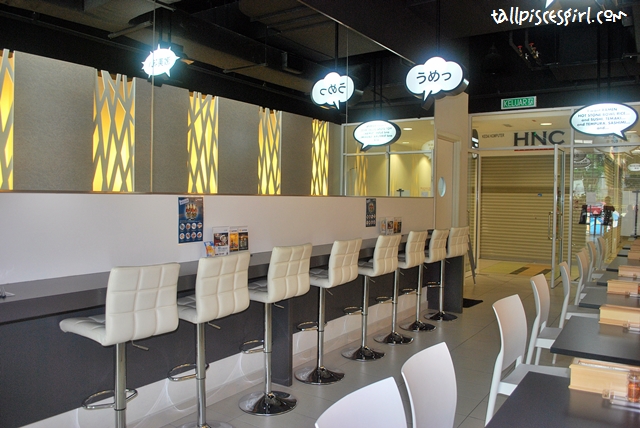 Menu wise, the choices are extensive ranging from ramen, sushi, hot stone bowl, sashimi and donburi so you can choose to eat whatever you want depending on your mood. I went there with an empty stomach to try all the yummy food!
The first main dish that we tried was
Gomoku Katayakisoba
. The name is really hard to pronounce but it doesn't really matter cos the ramen that was covered with thick egg gravy and filled with abundance of seafood and healthy vegetables tasted really good! I'd say that it's quite similar to Cantonese Style Noodle.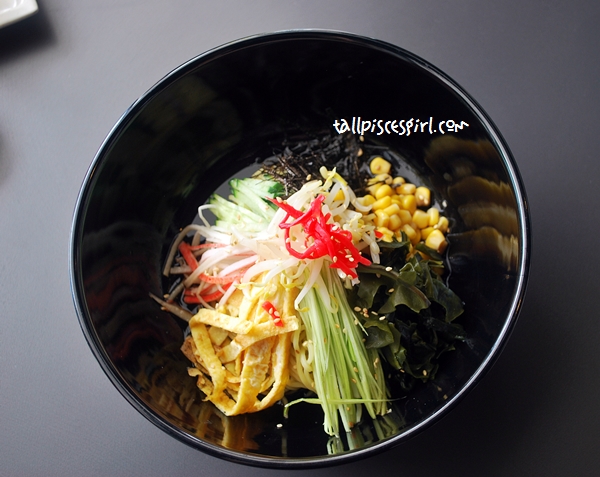 So far, I've only tried chilled soba but
Hiyashi Chuka
is a chilled ramen dish. It's my first time so I felt a little skeptical at first. It turned out to be quite appetising thanks to the sweetness of sweet corn and egg combined with crunchy assorted vegetables! Definitely a new kind of experience for me!
Shoyu Ramen
, being one of the signature dishes here, has unfortunately left me with disappointment as the soup is not flavorful enough and there's not enough fat on the slice of pork chir siu. Their ramen is imported from Japan and the soup base is cooked for 3-4 hours daily to ensure freshness.
There has been many Japanese restaurants that offer Kimchi ramen but for Mikaku Ramen, they decided to give it a twist by making it Szechuan style in
Gekikara
. The addictive hot and spicy ramen was garnished with a generous amount of seafood like prawns and squids and assorted vegetables, a great choice of food for rainy days.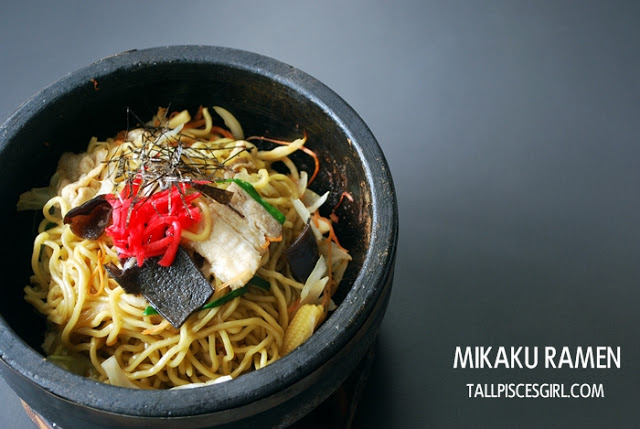 One of the dishes I recommend here would definitely be
Yakisoba
. Although the fried soba is dry but it is stirred with a special sweet and sour sauce, making it very flavorful and not too dry for my liking. The hot stone bowl is really useful in preserving the warmth of the delicious noodles!
For meat lovers, I suggest you go for
Tori Teriyaki No Onsen Tamago Chahan
. It's really fulling and the tender chicken meats marinated with Teriyaki sauce is yummy to be eaten with rice covered with Onsen Tamago.
Kanitama Chahan
is another great hot stone bowl dish with runny eggs and the delicious sweet and sour sauce enhances the flavor of the rice by a notch. I would order this for a meat-less diet!
If you fancy sashimi, don't miss this! I'm addicted to it after the first piece! Unlike the usual tuna that I've eaten before, Maguro Tataki was prepared by pan frying the tuna on only one side while leaving the other side raw. This made the texture very special as it is slightly hard on the outside but soft on the inside.
Whenever there's ramen, there's always Gyoza! These two dishes can't seem to separate from each other. I really enjoy this
Jikasei Gyoza
whereby juicy and tender pork meat, vegetables and marinated ginger are wrapped together with a thin piece of dough.
Onsen Tamago
!! Everyone went crazy when they saw that this is on the menu and immediately ordered it. In order to make Onsen Tamago, temperature control is very crucial to ensure that the egg white comes out milky and soft while the egg yolk must be firm but retains the color and creamy texture of an uncooked yolk.
Recommendations
: Onsen Tamago, Maguro Tataki, Yakisoba, Gekikara, Gomoku Katayakisoba
Promotions
: Set Lunch (Monday – Friday 12pm-3pm) from RM 14.90 onwards Set Dinner (Monday – Friday 6pm-10pm) from RM 17.90 onwards
Address
:
Mikaku Ramen
C-G-03, Ground Floor, 1 Shamelin Shopping Mall, 100, Jalan 4/91, Taman Shamelin Perkasa, 56100 Kuala Lumpur
Tel
: 603-9281 3385
Business Hours
: 11.30am – 10.00pm daily