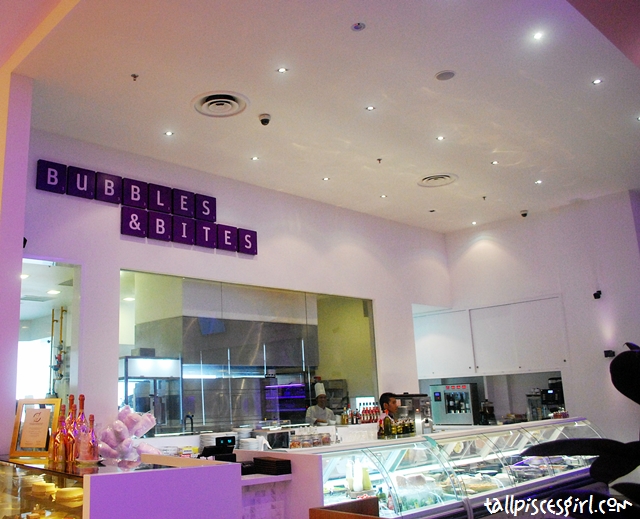 Bubbles & Bites @ Highlands Hotel
After a
mooncake feast
thanks to Nuffnang and Resorts World Genting, we were taken to Bubbles & Bites for lunch
. Bubbles & Bites
was officially launched 2 months ago in
Highlands Hotel
, bringing visitors of
Genting
a new place to chill and have great food at the same time. Bubbles & Bites serves continental cuisine and specialises in pizza and pasta. Targeting the younger generation, you'll be sure to hear some pop (especially K-pop) songs and also not to be missed is their vast variety of sparkling wines, alcoholic sodas, beers and wines that you can easy pick up from the beverage department.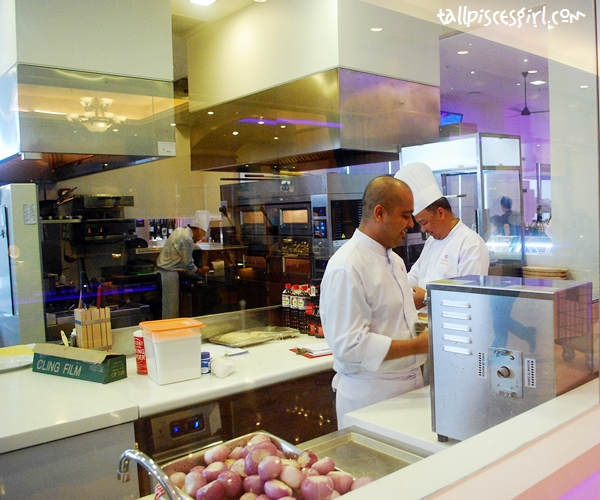 Open kitchen that lets you take a peek on how they handle the food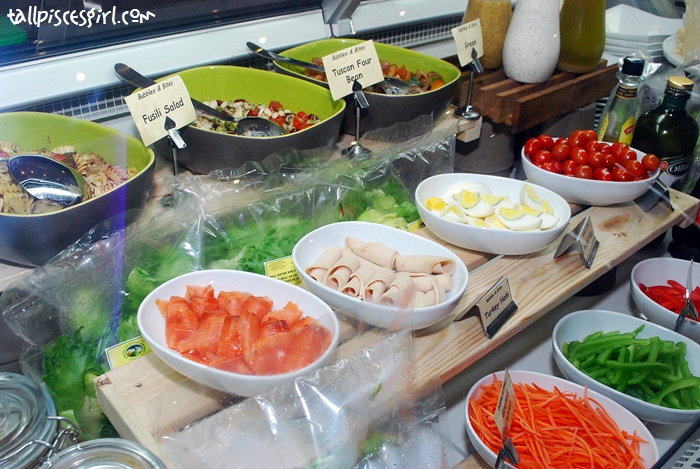 Fresh ingredients were on display too!
Beautiful ambience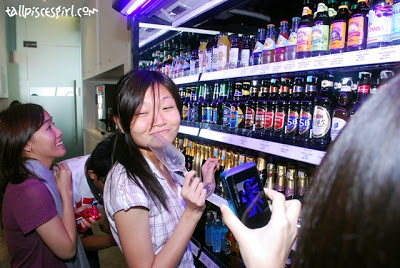 Already drunk before drinking?!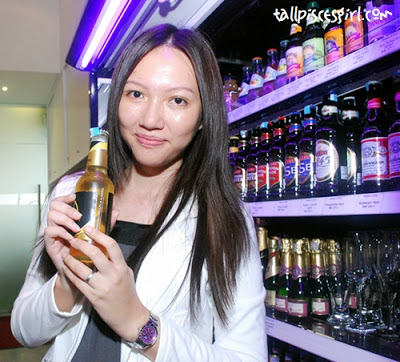 My Strongbow and I <3
And now, *drum rolls* it's time for
food porn
!
Caesar Salad (RM 15.00)
We started our meal with Caesar Salad, a healthy yet tasty selection with fresh lettuce, smoked salmon, egg, tomato, beef bacon and Caesar salad dressing.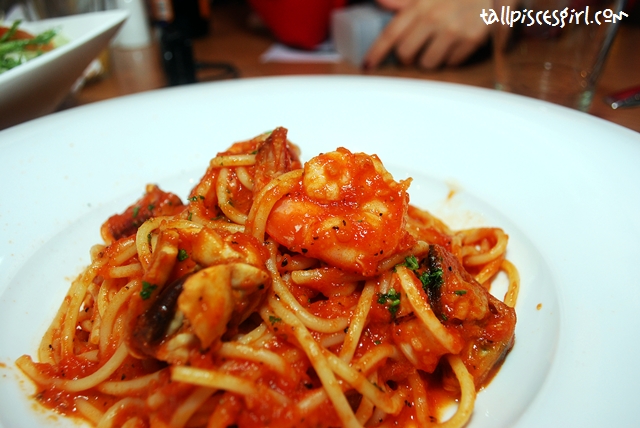 Al Dente Spaghetti (RM 19.00)
Spaghetti cooked with bolognese sauce topped with seafood aplenty, it definitely made my mouth water!
Home-style Macaroni & Cheese (RM 15.00)
You can never go wrong with Macaroni and Cheese! The creamy macaroni tastes so sinful as it's covered with so much cheese our plate finished so quickly. Definitely a must-try!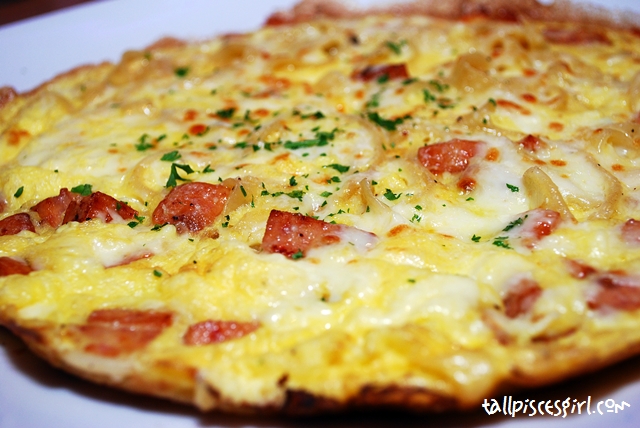 Pizza Carbonara (RM 21.00)
I've tried many Spaghetti Carbonara previously but this is the first time I tried Pizza Carbonara. I really like the taste of chicken ham and button mushrooms with lots of parmesan cheese; it's oh-so-heavenly!
Isle of Capri Pizza (RM 21.00)
Rich tomato base pizza with lots of toppings: sliced turkey ham, mushrooms, spanish red onion, cherry tomatoes, mozzarella, grilled red capsicum and plump anchovies. The taste is not bad but unfortunately it was a bit too salty at certain parts of the pizza.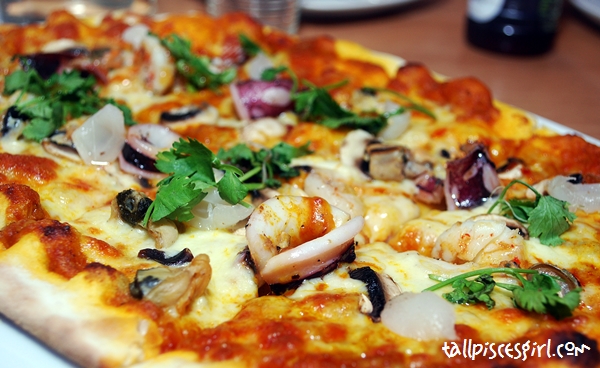 Thai Red Curry Seafood Pizza (RM 21.00)
Spicy food lovers, this pizza with thai red curry sauce base, fresh tiger prawns, marinated calamari, mussels, mushrooms & lychees with mozzarella is for you! Your taste buds will be waken up for sure.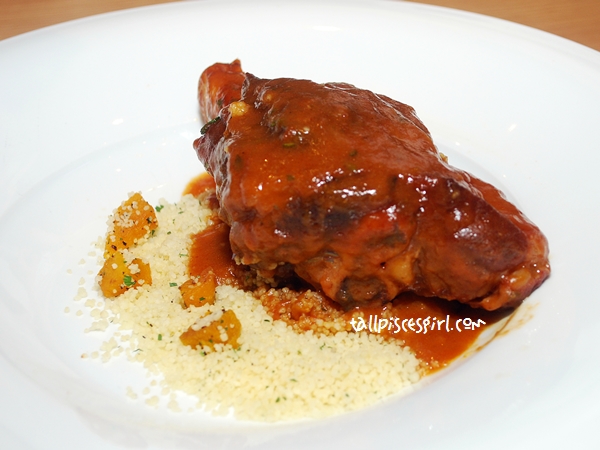 8 hour Slow Braised Lamb Shank (RM 23.00)
The best dish for the whole evening is this 8 hour Slow Braised Lamb Shank served on
couscous
. The lamb meat is so tender and full of flavor due to the long hours of braising! I'd definitely order this again next time!
Peri Peri Chicken Wings (RM 16.00)
Hold your saliva! Hot Peri Peri Chicken Wings was very hot selling that day, we can't help but to ask for more! The Peri Peri sauce on golden brown chicken wings is really irresistible!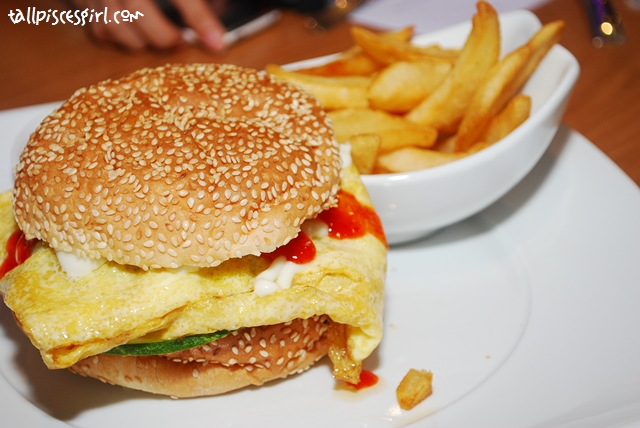 Lam Lee Burger (RM 20.00)
LOL at the name of this burger: Lam Lee! Ramly burger is well known for their tastiness so how does Lam Lee burger score? I'd say it's up to standard with their juicy meat and yummy egg! It comes with a bowl of french fries too.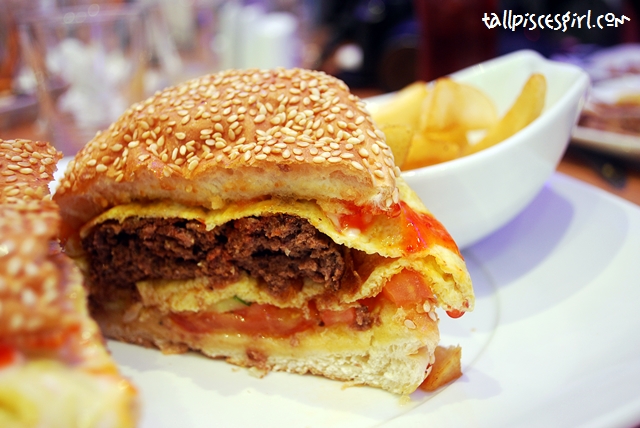 Juicy Lam Lee Burger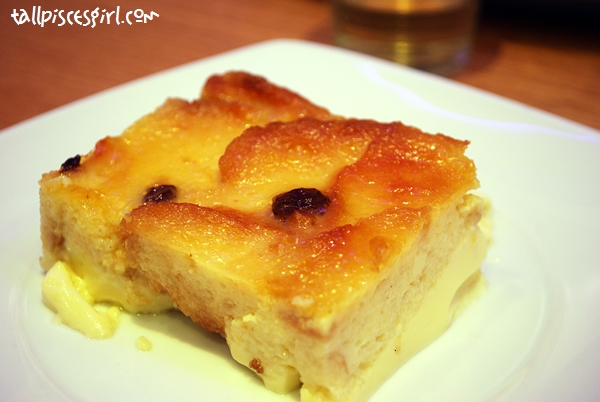 Bread & Butter Pudding (RM 6.00)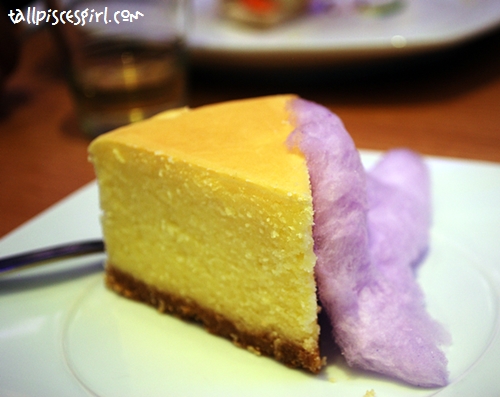 Cheesecake (RM 7.00)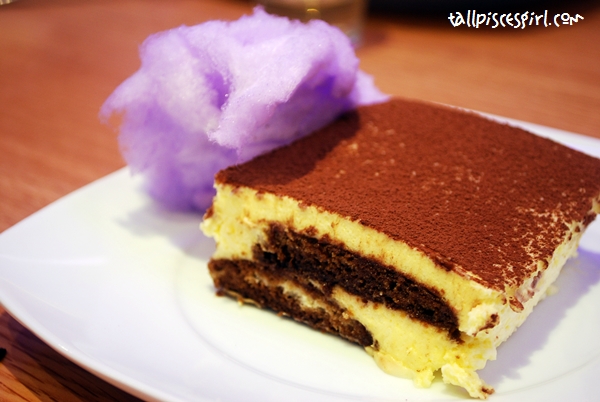 Traditional Tiramisu (RM 9.00)
To me, all desserts taste great! After all, desserts spelled backwards is stressed right? :p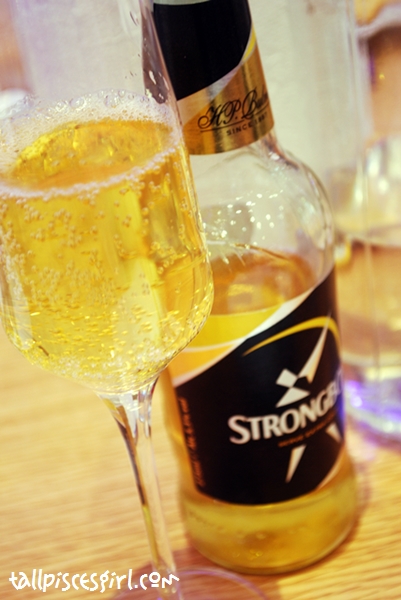 Strongbow Apple Cider
We've tried a few cocktails too! The best is Strawberry Cocktail so make sure you go there and give it a try.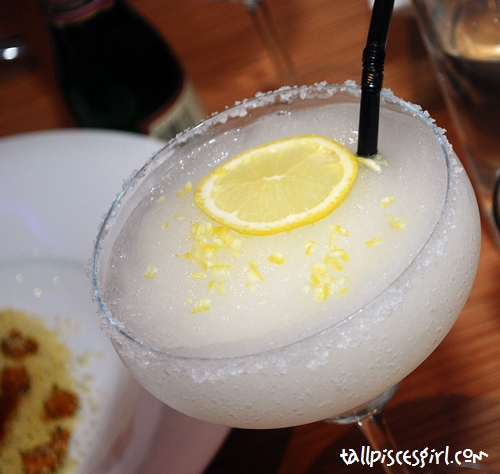 Lemon Cocktail
Orange Cocktail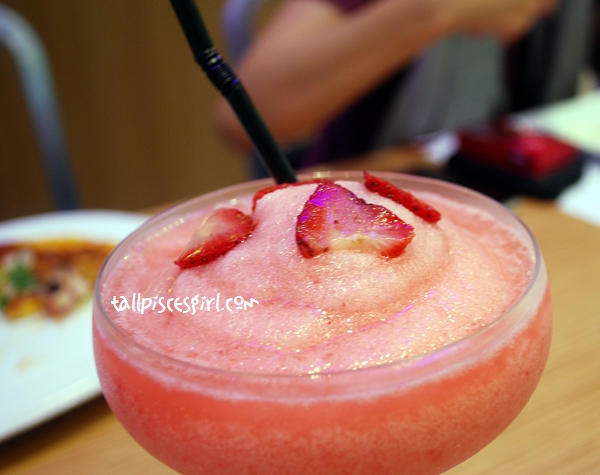 Strawberry Cocktail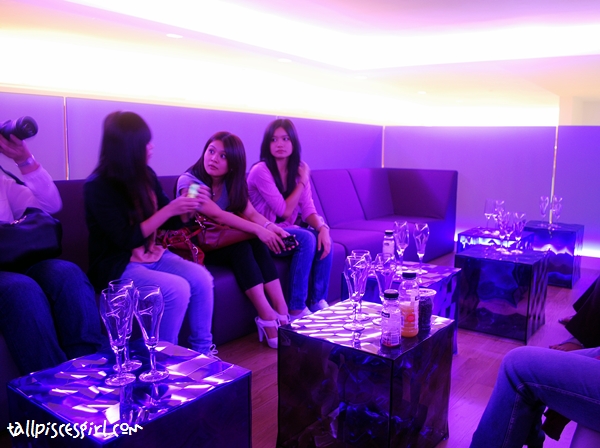 Second level of Bubbles & Bites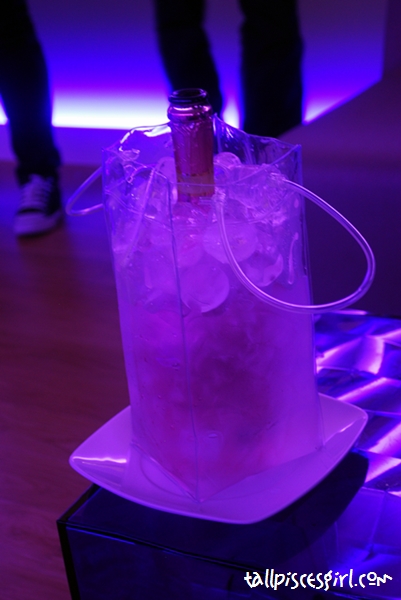 Chilled sparkling wine ready to be served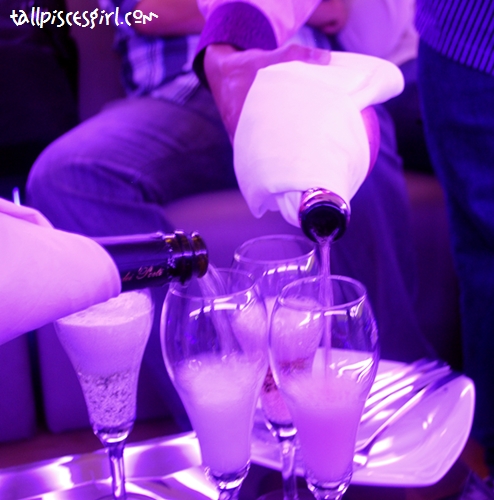 Pour those sparkling wines! Pour!
Recommendations:
Home-style Macaroni & Cheese, Pizza Carbonara, Pei-peri Chicken Wings, 8 hour Slow Braised Lamb Shank, Traditional Tiramisu, Strawberry Cocktail
Address
:
Bubbles & Bites
Level 2, Highlands Hotel
Opening Hours
:
Mon – Thurs (11am – 12am), Fri – Sun/Eve of Public Holiday/Public Holiday (11am – 2am)