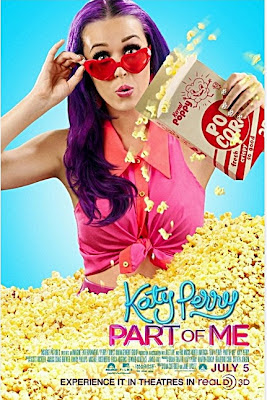 Katy Perry: Part of Me 3D is a 3D documentary concert film that tells the story of Katy Perry's struggle from a gospel singer to a superstar and her bitter relationship road from single to married and finally divorced.
During the beginning of this movie, they intro-ed the key people in her life; those who transformed her to what she is today. I wasn't really interested in this part but I guess I have no choice since this is a part of her.
What interests me is the concert, where 3D effects can be clearly seen. 3D bubbles, foam, entertaining magic shows in her concert and her interesting attires are the parts I really enjoy. Not to mention, her funny grandma too!
Check her grandma out!
I'd say that her image is really positive. She teaches everyone to get real and be themselves. Don't be afraid to express yourself! I actually feel like crying while watching this movie, thinking of my dream that has been suppressed =(