With all the hype about K-drama and K-pop, let's not forget K-food too!! oK? Alright I know it's lame but let me introduce you to this K-restaurant called Oiso.
Oiso
means "Welcome" in Korean dialect. This café is located at
The Sphere Bangsar South
and owned by a Korean. Aiming to provide good traditional food with warm hospitality to their guests, they uphold the spirit: "
The Best Recipe Comes From Our Heart
".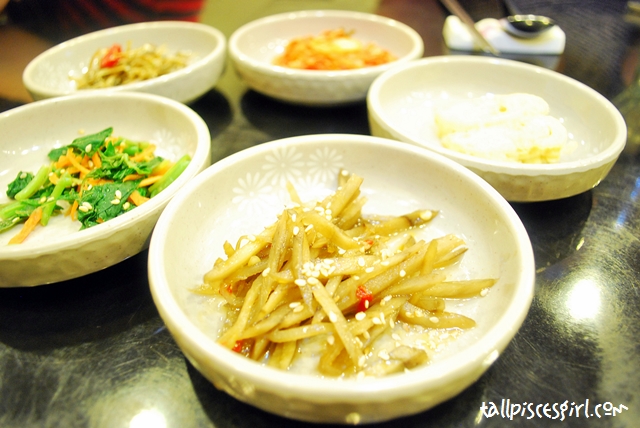 Various snacks
Oiso served us 5 different snacks as starters: Fried anchovies, egg rolls, spinach, lotus roots and kimchi.
Kochi Pancake
Price: RM 10.90
Kochi Pancake was the first main dish of the night. It's thin and crispy, tastes slightly salty I feel like eating snack. Pancake is one of the famous food in Korea. If you order more than two main dishes during dinner, Oiso is generous enough to serve it for free!
Japchae (잡채)
Price: RM 10.90 (lunch) / RM 13.90 (dinner)
This dish that looks like glass noodle is not made of glass noodle! Upon tasting it, it is actually made from sweet potato noodles stir fried with thin slices of chilli, carrot, onion, mushroom and garnished with sesame seeds. Love it!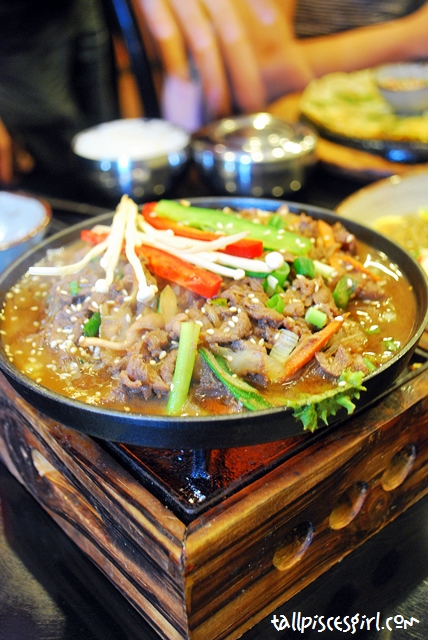 Bulgogi (불고기)
Price: RM 15.90 (lunch) / RM 18.90 (dinner)
Their Bulgogi's beef was marinated just nice and barbecued on a hot plate. A bite on the beef and it tastes very juicy and tender. The beef and vegetables have absorbed the essence of the sauce in hot plate!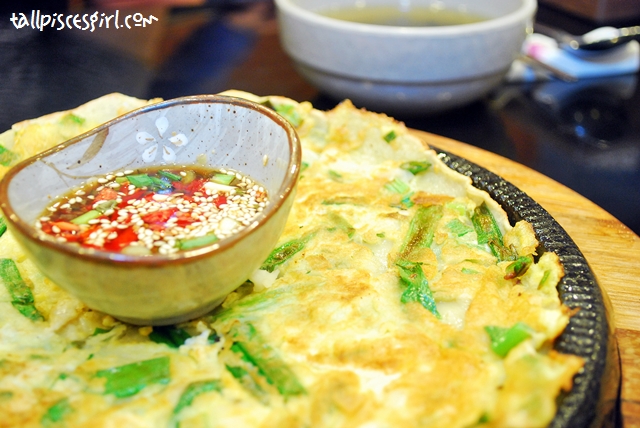 Pajeon
Price: RM 10.90
Pajeon is a variety of jeon (pancake-like dish) and it is not made from a dough. As Pa means green/spring onion in Korean, this dish is made from batter of eggs, rice flour, wheat flour and green/spring onions. The sauce that accompanied Pajeon further enhances its taste.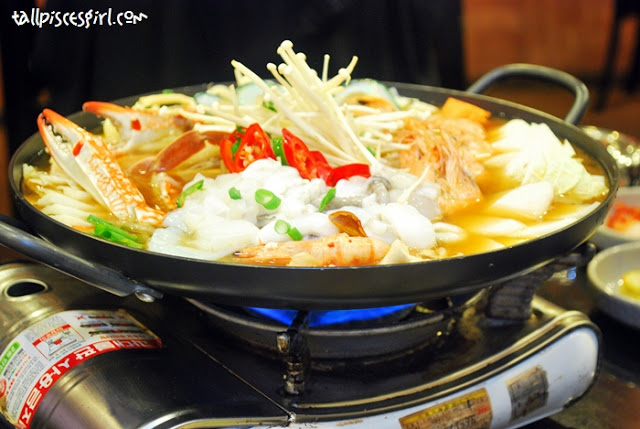 Seafood Steamboat
Price: RM 39.90
If you're a seafood lover, here's a seafood galore for you! With over 15 vegetables and fresh seafood including octopus, squid, crab, shell, mussel and prawn, you're gonna be spoilt with choice. Be sure to drink up the sweet and flavorful soup boiled from the seafood and vegetables! Seafood steamboat is definitely the
highlight of the night
!
Stir Octopus
Price: RM 29.90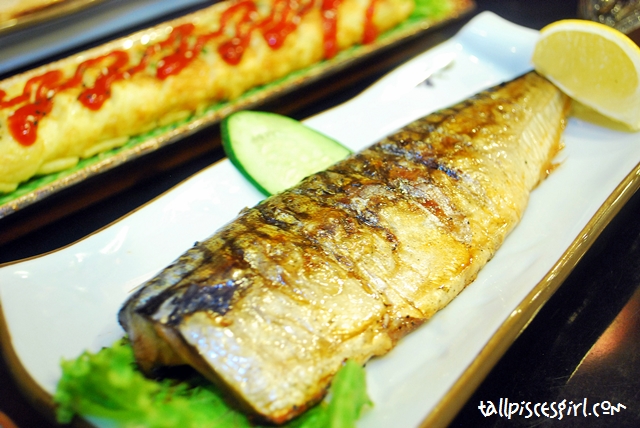 Grilled Blue Mackerel
Price: RM 14.90 (lunch) / RM 17.90 (dinner)
Until this point, I was already quite full but it won't stop me from checking out more delicious food. That's when Grilled Blue Mackerel came in, the skin is golden brown and barbecued to perfection. Oh yums!!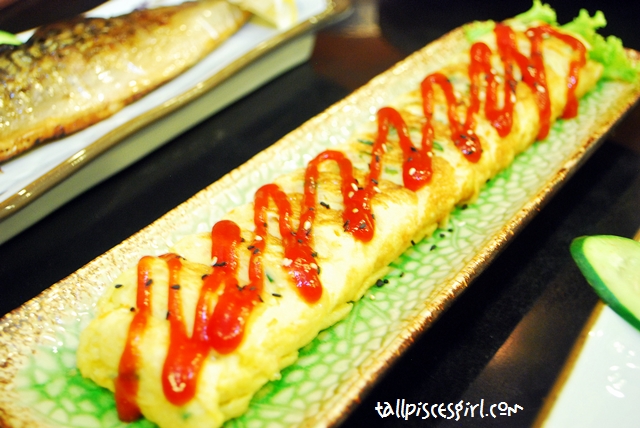 Egg Roll Cake
Price: RM 10.90
After some heavy meal, here's a lighter selection. The egg roll cake has a soft texture while the grated carrots and spring onion gives me something to chew on. There's also crab meat inside that gives the egg a rich taste. A perfect combination indeed!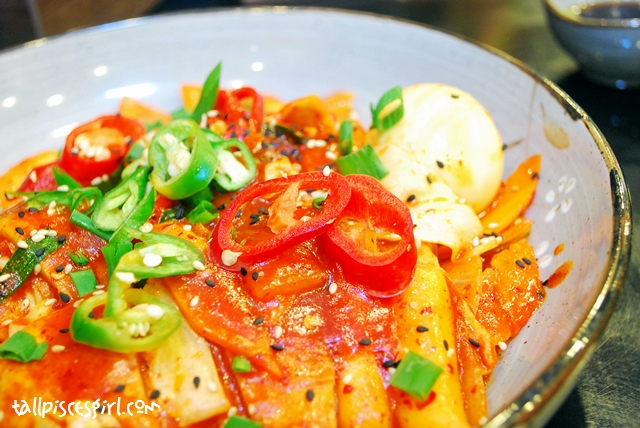 Spicy Rice Cake
Price: RM 10.90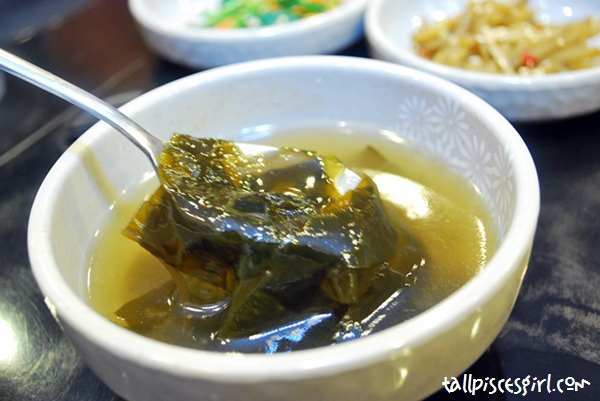 Seaweed soup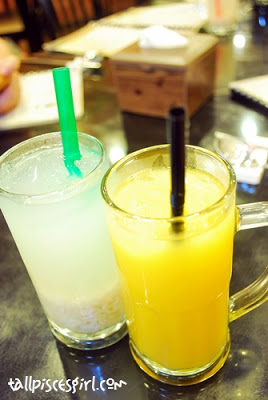 Homemade Korean Rice Nectar (RM 4.90) &
Jeju Island Tangerine Juice (RM 5.90)
Aloe Vera Juice (very refreshing!)
Exterior of Oiso
Here's a good new for you! Like
Bangsar South Facebook Page
and stand a chance to win RM 50 food voucher!
Address
:
Oiso Korean Traditional Cuisine & Café
Unit G-3, Ground Floor, The Sphere,
No. 1, Avenue 1 Bangsar South,
No. 8, Jalan Kerinchi,
59200 Kuala Lumpur
Tel
: 03-2242 1349
Business Hours
: Mon – Fri: 4 pm – 10.30 pm, Sat – Sun: 10 am – 10.30 pm (including public holidays)
Map
:
View Larger Map