Puzzini Swedish Pizza is a tiny cosy Swedish restaurant located at Damansara Uptown, a few shops away from Pappa Rich.
The design is down-to-earth and minimalistic, nothing too fancy here. They have a lot of varieties in the menu but most of the names are in Swedish, making it very difficult to pronounce. Nevertheless, I'm glad they did include some descriptions in their menu 🙂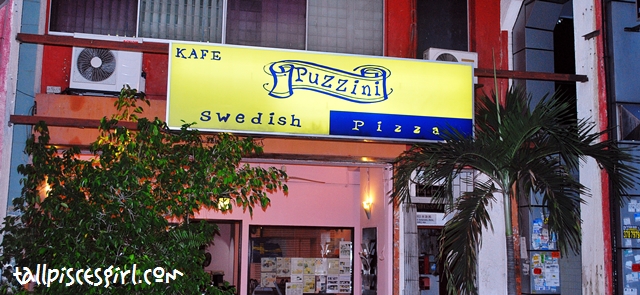 Puzzini Swedish Pizza
Puzzini
Price: RM 19 (regular), RM 25 (large)
A mix of different fresh vegetables (pineapples, onions, tomatoes, mushroom and capsicum) with chicken chunk/beef pepperoni. Very mouth watering!
Smaka
Price: RM 19 (regular), RM 25 (large)
Shredded chicken, fresh chilies, onions and parsley oil. Not my "slice of pizza" (adapted from "cup of tea") cos it's too hottttt!!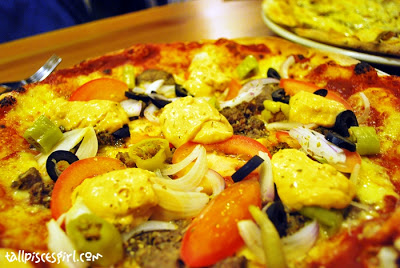 Pizza Karl Gustav
Price: RM 21.80 (regular), RM 27.80 (large)
Pizza with beef kebab, lots of cheese topped with a slightly spicy kebab sauce, fresh tomatoes, thinly sliced fresh raw onions and black olives. It's Sweden top selling pizza for the past decade! Must try!
Fiskgratang med skaldjur
Price: RM 23.50
White fish, shrimps, baked together in dill sauce and topped with lots of cheese. Served with baked mashed potatoes and coleslaw. I personally like this a lot because the combination of smooth fish meat and cheese goes very well together!
Potatis Gratang
Price: RM 15.90
Potatoes slices and onions baked in cream, cheeze and herbs topped with extra layer of cheese.
Address
:
Puzzini Swedish Pizza
58, Jln. SS 21/58,
Damansara Utama,
47400 Selangor
Tel
: 03-7727 8600
FB Page
:
Puzzini Swedish Pizza
Business Hours
:
Monday – Friday 11.00 am – 3.00 pm, 5.00 pm – 10.00 pm
Sat, Sun & Public Holiday 11.00am – 10.00pm
Map
:
View Larger Map