Kanebo LUNASOL
is not a new name in the cosmetics scene. LUNASOL is derived from Latin words, Luna (moon) and Sol (sun). Founded in 1999, it has been growing strong ever since. As for me, I got to know about LUNASOL when I watched
女人我最大
few years back. The ease of application captured my attention and I remembered this brand until now.
LUNASOL Starter Kit 2012
I've got myself a LUNASOL Starter Kit 2012 for Spring/Summer; a limited-edition kit that features Lunasol's legendary
Skin Modeling Eyes in 01 Beige Beige
eyeshadow quad, 
Full Glamour Gloss in EX20
(Soft Orange Coral), 
Cream Cheek in EX08
(Soft Orange Coral) and a beautiful cosmetics
pouch
.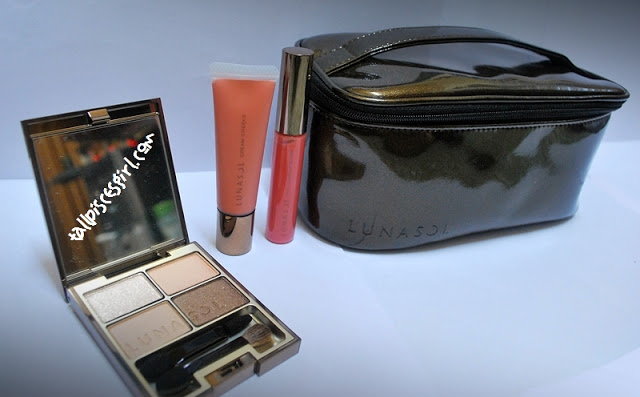 LUNASOL Starter Kit 2012 for Spring/Summer (Limited Edition)
A closer look of the eyeshadow palette, cream blusher and lip gloss
The palette
: Upper Left: A highlighter shade in light champagne color with shimmery gold flecks Upper Right: A follow-up color in bronzy gold-toned beige Bottom Left: A main color in beige taupe with slight silver shimmer Bottom Right: A shade color in dark brown with beautiful gold shimmer
Review
:
Skin Modeling Eyes in 01 Beige Beige
As nude looks are very well received now, this kit is the perfect tool you'll need to create your own nude makeup. A
neutral
palette, it gives my eyes the definition that it needs and yet doesn't look too made up. But for those who have darker skin tones, it is recommended that you apply a base on your eyes first before applying the eyeshadow in order for it to show up well. I found these tips to apply Skin Modeling Eyes eyeshadow from Lunasol's website. I hope you'll find it useful =)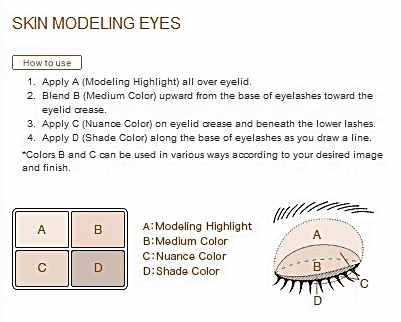 How to use Skin Modeling Eyes palette
Cream Cheek in EX08 (Soft Orange Coral)
Blusher is very important to ensure our face doesn't look pale like a ghost LOL! At the same time, I wouldn't want to look like a Chinese opera singer too! So I proceed with caution and apply bit by bit on the apples of my cheek. Luckily enough, it was easy to blend so I can just push it away if it looks overdone.
Full Glamour Gloss in EX20 (Soft Orange Coral)
Just looking on the packaging, I thought it would be a very pinkish color so I was kinda worried of the outcome. Upon applying it, it doesn't look so pink. In fact, it blends with the natural color of your lips with some fine shimmer, leaving it glossy and kissable!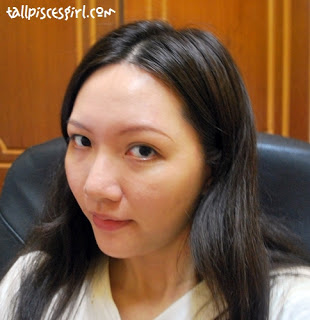 Before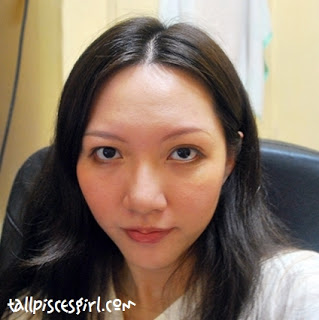 After Color wasn't so obvious on the eye part but defined the eyes more and there were some shimmer on the brow bone.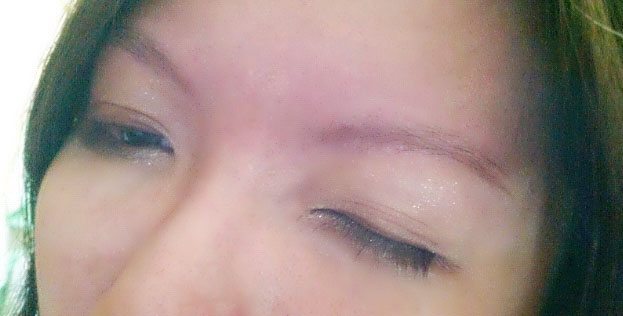 OK! Maybe a close up! :p See the 'stars' on my eyelids?
LUNASOL is well known for their long lasting cosmetics and thus is suitable for everyday office or college makeup without looking too dolled up. If you're interested, do head to Kanebo's counter at all major shopping centres and grab this LUNASOL Starter Kit 2012 as soon as possible because it's
limited edition
and only
available in May and June 2012
!