Last week, I was at Chef Lim Organic Kitchen at The Scott Garden, Old Klang Road for dinner with other bloggers. Upon arriving, we were ushered into the VIP section by friendly staffs. The whole restaurant furnished in white with a simple yet modern concept, just like how I wanted for my future house.
It's a pure vegetarian restaurant as they do not serve meat and egg. I think it's also perfect for people who are health conscious because living in the city, eating unhealthy food is sometimes unavoidable.
Surrounded by cozy environment
Prefer eating healthier at home? They have a wide range of selections.
"You don't have to cook fancy or complicated masterpieces, just good food from fresh ingredients."
– Julia Child-
Fruits Tea (???)
Price: RM 14.90 (S), RM 17.90 (L)
This Fruits Tea has received a lot of good feedback from the crowd. Mixing green apple, red apple, mango slice, orange slice, passion fruit and honey with tea, it's no wonder the tea is so flavorful! It's not too sweet nor too sour, just perfect for my liking.
Feel Good Tea (???)
Price: RM 14.90
Brewed from a teabag that consists of more than 5 herbs including American Ginseng, Chrysanthemum, Ting Fa Chou, Dong Guai and Xiong Chi, it has a slight bitter taste but very good in promoting vitality.
Crystal Jade Roll (???)
Price: RM 14.90 (S), RM 18.90 (L)
This dish made by deep frying bean curd (tao kan) wrapped with seaweed tasted awesome with Chef Lim's home made sweet and sour sauce. A very appetizing dish indeed!
Coconut Tom Yam (????)
Price: RM 17.90
A must try when you visit Chef Lim Organic Kitchen is this Coconut Tom Yam. Instead of using milk, they replaced it with coconut milk instead. Such a creative idea. Taste wise, it is as good as tom yam outside with meat also this one is cooked without meat.
Kapitan Fish ????
Price: RM 14.90 (S), RM 18.90 (L)
When I heard of the name Kapitan Fish, I immediately searched for the fish but it was nowhere to be found. Later on, I remembered it's a vegetarian dish! They've replaced fish with bean curd (fu zuk and fu pei) instead and their home made Kapitan sauce is made with yogurt! The curry is thick and it goes very well with the brown rice although it's a tad spicy for me.
Brown Rice
Price: RM 2 per bowl
Shiitake Mushroom Stew Herbal (????)
Price: RM 14.90 (S), RM 18.90 (L)
A healthy yet tasty dish, Shiitake mushroom and black fungus is stewed and the clear sauce produced is very sweet with the goodness of mushroom essence.
Yam Ring Basket (??)
Price: RM 18.90
My favorite dish of all times, Yam Ring Basket looks vibrantly decorated with sauteed mixed veggie like baby corns, snow peas, black fungus and cashew nuts inside the crispy yam basket. However, the portion is a little too small. I only get to taste a mouthful and then when I wanted to get a second serving, it's already finished! T.T
Basil Leaf Mushroom (????)
Price: RM 13.90 (S), RM 17.90 (L)
Fresh Basil Leaf stir fried with Fresh Shimeji Mushroom and Fresh Whole Button Mushroom is a very healthy vegetarian dish I'm sure most Chinese had it during family gatherings.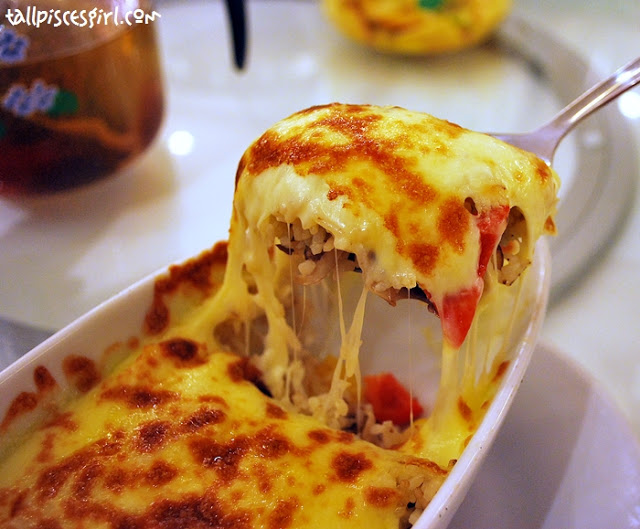 Mixed Veggie Baked Rice (????)
Price: RM 14.90
As a frequenter of Hong Kong cafes, cheese baked rice has became a familiar food to me. But this time, it's vegetarian style! The tempting organic cheese was imported from Australia which is without animal rennet.
Lo Han Chai (???)
Price: RM 15.90 (S), RM 19.90 (L)
Stir fried mixed mushroom, broccoli and cauliflower in a tantalizing sauce, I'm sure you won't be able to stop eating!
Fruit Pizza (????)
Price: RM 19.90
I know, combining fruits and pizza sounds weird but the combination of apple and strawberry with egg-less mayonnaise in this cheesy pizza brings a surprisingly new taste! You gotta taste it to believe it. I've never tasted anything like this before.
(Psst…. I have a secret to tell… This is actually my first time eating strawberry. OK stop laughing now >.<)
Ah finally it's dessert time!!!
Mango Pudding (????)
Price: RM 5.90
Passion Fruit Pudding (?????)
Price: RM 5.90
Coconut Pudding (????)
Price: RM 5.90
Coconut pudding is my favorite dessert because the taste of coconut is very strong and the pudding is as soft as soy custard (tau fu fa). I will believe if you tell me it's tau fu fa 🙂
Mr. Koo, General Manager of TheJas Sdn. Bhd. who also owns Overtime explained to us the concept of the restaurant
Our happy family group photo!! 😀
Address
:
Chef Lim Organic Kitchen
Lot 2-47, 2-48 & 2-49,
The Scott Garden, 4 1/2 Miles,
Jalan Klang Lama,
58100 Kuala Lumpur
Tel
: +603-7982 3395 / +6017-6534565
Business Hours
: 10am – 10pm Daily
FB Page
:
Chef Lim Organic Kitchen