This is a story that takes place in two cities, Taipei and Beijing, about eight lonely souls searching for contentment. A romantic comedy where everything that happens and where every sacrifice is made for LOVE. The movie started with Hebe Tien (田馥甄)'s song entitled 'Love!' in the background, perfect for the storyline of the movie.
Ni (Amber KUO 郭采潔) comes from a wealthy family. As the captain of a college sport team, everything seems perfect until the day she finds out her best friend Yi Jia (CHEN Yi-Han 陳意涵) is pregnant by her own boyfriend Kai (PENG Yu-Yan 彭于晏) after a one night stand. Betrayed by both her boyfriend and best friend, Ni's life spirals out of control. She needs answers.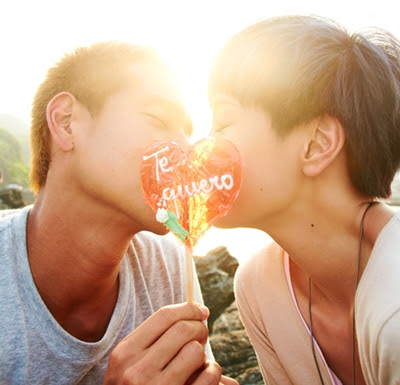 Kai and Ni
Meanwhile, Kai realizes that he has made the biggest mistake of his life and that he is in love with Ni. He must have her back. All the while, Yi Jia is torn by the situation and decides the best option is an abortion. But it doesn't take long for Ni to realize that she is not the only victim in this situation and admits that she can't afford to lose either of them. In the middle of the story, Chen Han Dian 陳漢典 from a popular Taiwanese show (康熙来了) made a guest appearance to inform Yi Jia's brother that she has went to the women's clinic.
Lu (Doze NIU Chen Zer 鈕承澤 who is also the director), Ni's father, is a successful middle-aged businessman living a glamorous lifestyle with his charming movie star girlfriend Zoe (SHU Qi 舒淇) by his side. However when Lu is ready for marriage, he finds out that Zoe no longer wants to be with him. In fact, Zoe is a lonely woman who needs waking from the vanity that engulfs her. When she meets waiter Kuan (Ethan RUAN 阮經天), Yi Jia's brother, she is attracted by his sweet personality and wisdom. Between Lu and Kuan, Zoe faces the biggest choice of her life.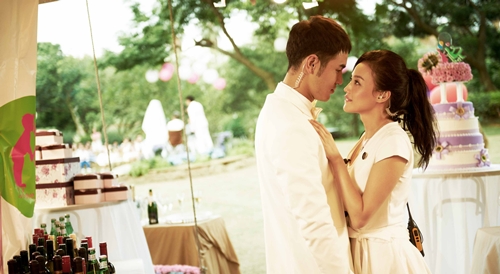 Kuan and Zoe
Lu's business partner, Mark (Mark JAU 趙又廷), is a ladies' man who only dates young and beautiful women. His fondest memories are of living with his deceased father in Taipei, in a traditional Chinese courtyard home. His dream is to use his wealth to buy a similar home in Beijing. Xiao Ye (Vicki ZHAO 趙薇) is a single mother working in Beijing as a real estate agent. She is not young, nor is she stylish. She spends most of her time and energy taking care of her five-year-old son. One day, Mark meets Xiao Ye while looking for a place to buy and he starts to develop feelings for her and her son.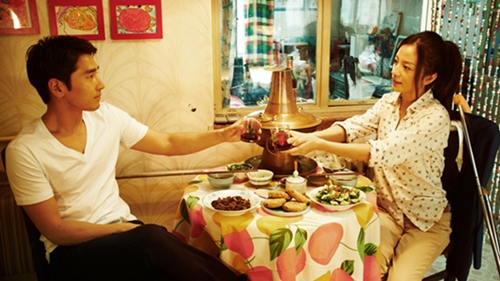 Mark and Xiao Ye
Quotes from every character:
Zoe (SHU Qi 舒淇): "What you have, are not the things that you want."
Xiao Ye (Vicki ZHAO 趙薇): "I heard that inside every jerks' body, resides a wounded heart."
Kuan (Ethan RUAN 阮經天): "Your future, is all on me."
Mark (Mark JAU 趙又廷): "You don't need to own women, conquered them would be enough."
Kai (PENG Yu-Yan 彭于晏): "I'm very afraid of losing you, and also afraid of losing my dream."
Yi Jia (CHEN Yi-Han 陳意涵): "In this world, if there is a person who will record a film like this for me, I…"
Ni (Amber KUO 郭采潔): "Just because I'm not that great, then I'm not eligible to love, and I don't deserve to be loved?"
Lu (Doze NIU Chen Zer 鈕承澤): "Although sleeping beside you, that person might turn into a stranger in just one night."
This is a highly recommended movie by me as it portrays the most common conflicts we face in the journey of love. Will you forgive the person who have wronged you because of love? Will you sacrifice wealth and glamour life for love? Will you open your heart to love again after you've been hurt? Will you still trust love?
It's something everyone seems to understand but can't seem to grasp
Love: the most natural and complex emotion in the world.
Is there anything or anybody in the world that is capable of curing us?
If love is the answer, what is it? Where is it?
Don't forget to find LOVE in cinemas from
22nd March
onwards!