Honestly, I'm not a person who likes eating salad and raw vegetables cos I can't bear the taste of "raw-ness". It's hard to explain this kind of feeling to my friends since most of my friends are female and they love salad because it's healthy and… that's what you're supposed to eat when you're dieting LOL! Well, I am health concious but I love food a lot so I'm not really ready to give up yummy food for that.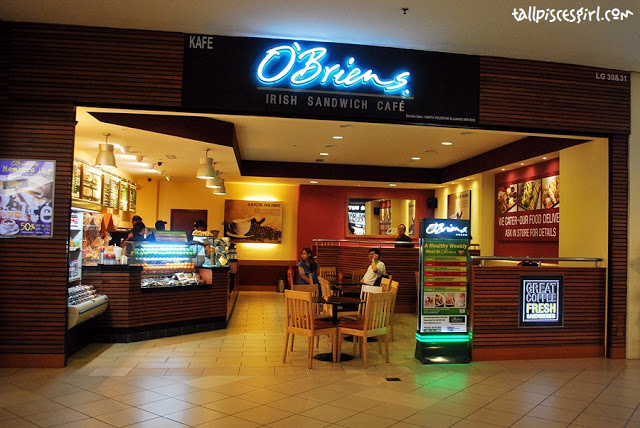 O'Briens Irish Sandwich Cafe @ Mid Valley Megamall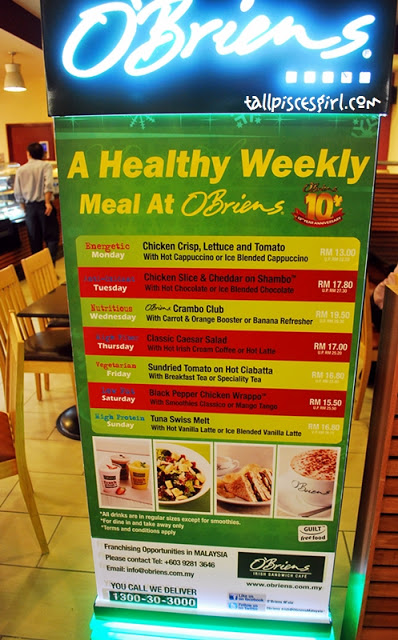 Meals at discounted price daily!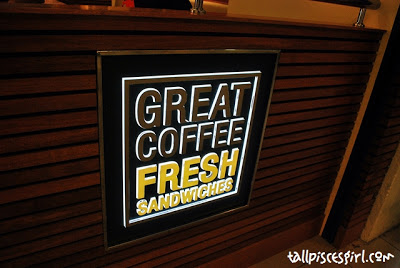 Great coffee is what I need *coffee addict*
To my surprise though,
O'Briens Irish Sandwich Cafe
that is originated from Ireland
has changed my perception completely about healthy food.
Healthy food
doesn't necessarily have to taste awful if you're creative like them and know what ingredients to add in order to make it delicious!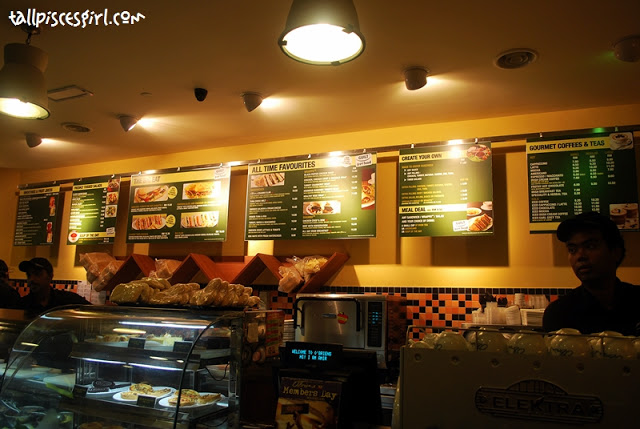 Order your food from the bar
Fresh fruits to blend your juice!
Customize your sandwich as you like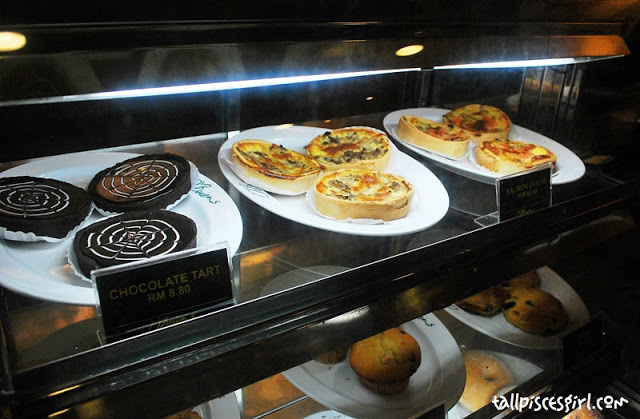 They have tarts, muffins, quiche and pies too!
Mmm… what should I drink?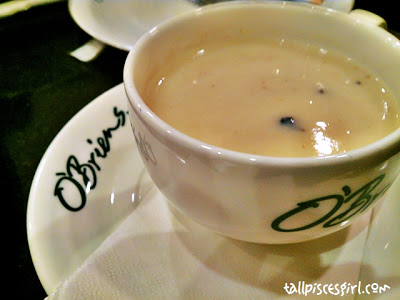 Soup of The Day (RM 6.50)
This mushroom soup is homemade by them.
Thickness is just nice but I'd like to eat more mushroom 🙂
Our first dish was
Classic Caesar Salad
with Parmesan, chicken, chicken crisp, crouton, olive, mixed leaves and caesar dressing. It was really impressive as they are using freshest premium ingredients. What's the difference between other Caesar salad I've tasted and this caesar salad is it has chicken crisp! Something crispy and salty to chew has transformed my thoughts. I don't feel so depressed anymore hahaha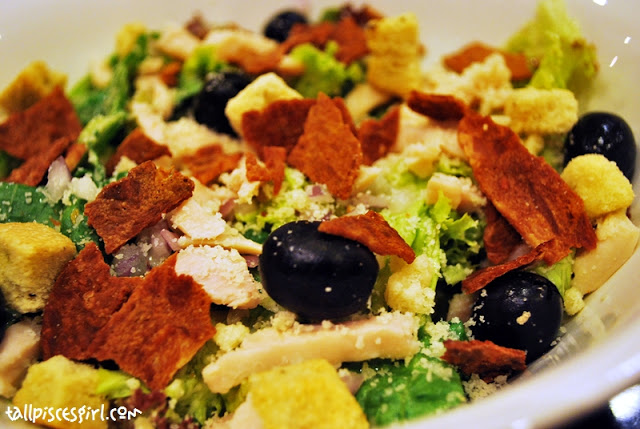 Classic Caesar Salad (RM 16)
Next up was
O'Briens Chicken Tripledecker Sandwich
, one of the best sellers in O'Briens. The combination of Chicken and Chicken Crisp, Lettuce, Cheddar Cheese, Red Onion, Coleslaw & Tomato certainly makes it appetizing. As a small eater, I think I wouldn't be able to finish the whole portion. I'd better bring someone to share my meal during the next visit here.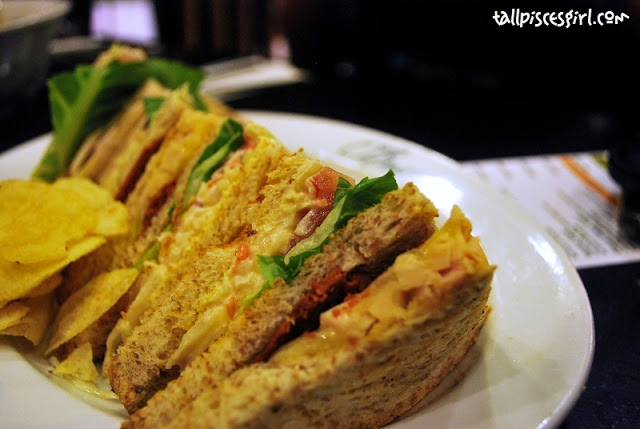 O'Briens Chicken Tripledecker (RM 18.80)
We also tried
Chicken Slice & Cheddar Cheese Hot Shambo
. The ingredients are almost the same as the Tripledecker Sandwich but this one has Honey Mustard Mayonnaise in it. The taste is just nice as it's not too sour, a hint of sweetness will linger in your mouth. The shape of this Shambo is rather interesting. It's the shape of a
shamrock
, stupid me thought that shamrock is a rock (OK stop laughing now >.<) but a search from Wikipedia tells me that it's a
three-leafed old white clover
known as a symbol of Ireland. This food also comes with crispy potato chips (my favorite!), tastes a little like Pringles but less salty and noticeably thinner!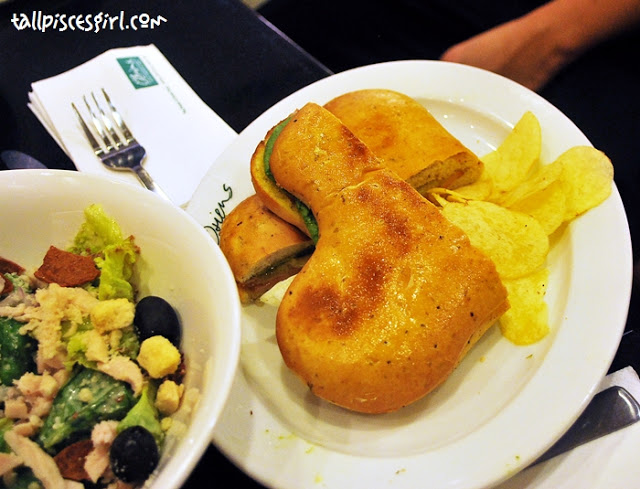 Chicken Slice & Cheddar Cheese Hot Shambo (RM 15.80)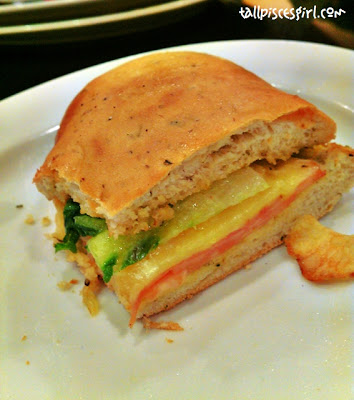 Chicken Slice & Cheddar Cheese Hot Shambo
If you like wraps, I'd recommend
Chicken, Chicken Crisp & Cheddar Wrappo
. Besides lean chicken meat, chicken crisp and cheddar cheese, red onion, mixed peppers and tomato are also inside this thin tortilla wrap.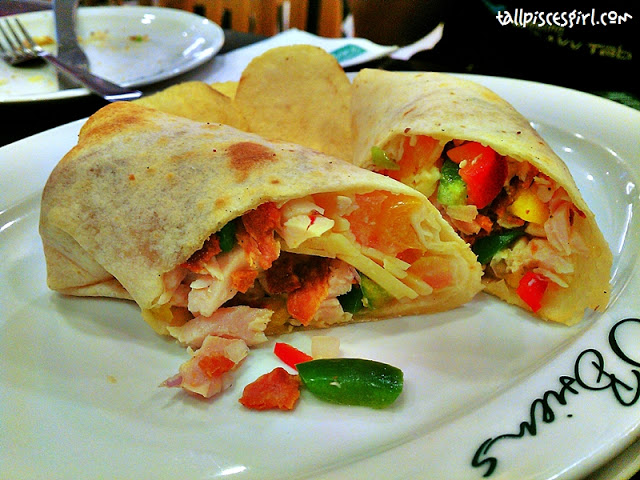 Chicken, Chicken Crisp & Cheddar Wrappo (RM 16.50)
While writing this food review, I realized that a healthy diet mustn't just revolve around vegetables and fruits. Our body needs food with complete nutrition in order to function properly and that's why the food in O'briens combines vegetables with chicken meat and cheese.
Frothy Hot Chocolate with Marshmallows (RM 9)
I was so attracted by it! Too bad it wasn't mine 🙁
Iced Chocolate (RM 11.50)
A little tasteless probably because of the ice. I should have ordered the hot chocolate instead.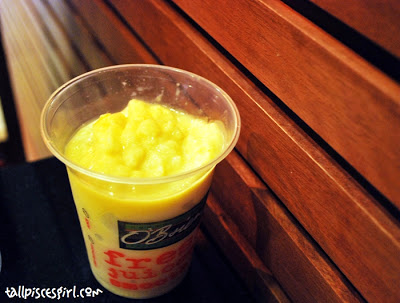 Metabolism Booster (RM 12)
A blend of papaya, pineapple juice, frozen yoghurt and crushed ice perfect for girls on diet.
Oh by the way, they do provide
delivery service
for a minimal charge of
RM 4
provided that your place is within
10km radius
from their branch. Just call
1300-30-3000
for delivery service!
Address:
O'Briens Irish Sandwich Cafe
LG-030 & 031,
Mid Valley Megamall,
Lingkaran Syed Putra,
59200 Kuala Lumpur.
Tel:
603-2282 5423
Delivery Hotline:
1300-30-3000
Website:
https://www.obriens.com.sg/asia/malaysia.html
Map:
View Larger Map
Branches
also available at: Great Eastern Mall, Suria KLCC, The Curve, One Utama Shopping Centre, Empire Shopping Gallery, Publika Shopping Gallery, Menara Prudential, Menara OCBC, KLIA Satellite Tower, Wisma UOA Damansara II