Envision a realm where personal well-being seamlessly merges with ecological stewardship, a domain where each product is a meticulously curated blend of sustainably sourced, high-quality ingredients.
Originating from the essence of balance and environmental reverence, Singaporean wellness and beauty brand Omno initiated its venture into the Malaysian market on 9 November 2023, with a launch event hosted at Else Hotel, Kuala Lumpur.
Omno
Omno transcends being just a brand; it embodies a lifestyle, a testament to the exquisite fusion of beauty and sustainability in personal care. At its core lies an exclusive selection of premium products, shunning sulfates, parabens, and silicones while elevating certified sustainable ingredients from ECOcert, Nordic Swan ECOlabel, and COSMO.
Omno takes pride in embracing Southeast Asian roots, formulating products intricately tailored to our tropical climates, ranging from hair cleansers infused with hydrolyzed pea protein to hand and body cleansers crafted with skin-friendly ingredients like sugar cane, coconut oil, and beetroot, along with Ecocert-certified soothing plant extracts—each a love letter to your skin and the planet.
Currently, the brand features three signature scents: Solace, boasting a zesty profile with citrus and ginger; Moonatic, blending sage and cypress for a woody aroma; and Odyssey, featuring an exotic combination of rose and spices. Meticulously curated to capture the essence of the brand's Southeast Asian heritage with a modern twist, these aromas encapsulate the spirit of the tropics, reflecting lush landscapes, mystical moonlit nights, and the endless odyssey of discovery that this region embodies. More than personal care, it's an immersive journey through the heart of our origins, where nature and nurture dance in harmony, leaving a fragrant trail of transformation and well-being.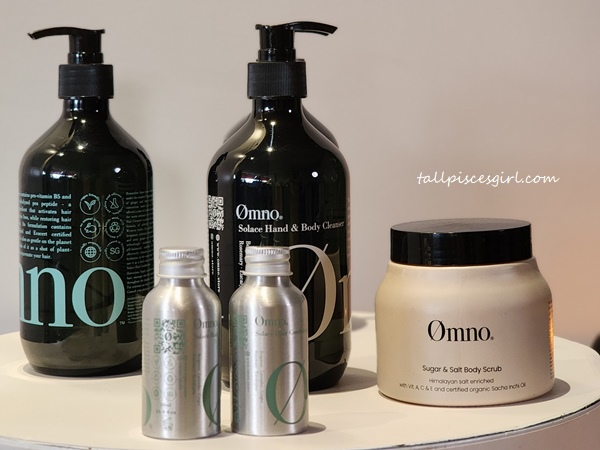 Omno's commitment to sustainability extends beyond product formulation; it's ingrained in the brand's eco-conscious ethos reflected in their innovative approach to packaging. Crafted from 70% Post Consumer Resin (PCR) and 30% recyclable polyethylene terephthalate (rPET), these bottles not only reduce the brand's ecological footprint but also offer consumers guilt-free indulgence. By breathing new life into used plastics and encouraging recycling, Omno's packaging envisions a future where beauty and environmental responsibility coexist harmoniously. Each bottle becomes a potent statement, urging consumers to partake in a transformative journey towards a greener, more conscientious world, aligning luxury with environmental stewardship.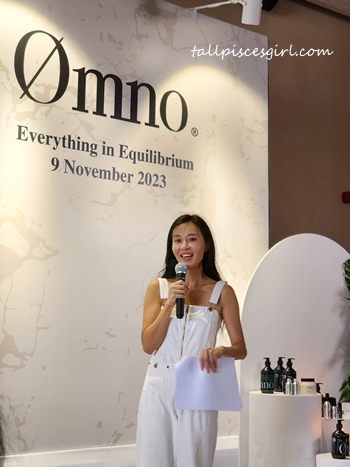 Omno's grand debut commenced at 1.30 PM, featuring an info-sharing session and hands-on product demonstrations, marking the onset of a thrilling chapter in Malaysia's wellness and beauty industry. A quick workout session with Tribe Malaysia added a fun twist to the event, allowing guests to revitalize their muscles.
As Omno establishes itself within the Malaysian market, providing amenities to establishments like Else Hotel and Tribe Fitness, it also seeks to forge strategic partnerships with more businesses, offering all stakeholders an elevated personal care experience. Beyond its products, Omno weaves a narrative of connection and authenticity, envisioning a world where beauty knows no bounds, innovation is boundless, and sustainability is not merely a choice but a way of life.
Customers can sign up for Omno's newsletter on their website (https://omno.store/) and enjoy a 10% welcome discount on all single items storewide. Omno also presents a full-size rollerball perfume during your birthday month.