Tissue products, such as toilet paper, facial tissue, and paper towels are an important part of our daily routine and are essential for maintaining good personal hygiene and cleanliness in our homes and workplaces.
Carina Tissue Products
My choice of tissue products has to be from Carina. Carina is Malaysia's first tissue manufacturer. Aside from providing convenience to consumers, they made sure to maintain the highest standards of quality. Hence, Carina tissues were made using only 100% virgin pulp and 100% natural pure cotton. It is mild and gentle on skin due to its zero percent recycling component, yet the strongest for usage. Carina tissue is also environmentally friendly as it is soluble in water.
Carina products are produced in Klang Valley and distributed across Malaysia directly to consumers. This explains why they are priced so affordably.
4 Main Series in Carina Tissue Products
1. Beauty Care
Carina Dry Tissue series is produced using 100% PURE VIRGIN PULP to ensure ultimate hygiene. It is gentle and safe to use on skin, including sensitive areas. Meanwhile, Carina Cotton Series are made from 100% PURE COTTON. Since it is hypoallergenic, it is very suitable for beauty usage as it will not cause skin irritation.
2. Toiletries Care
Carina Bathroom Tissues are made of 3-ply so it is more durable, yet soft to use.
3. Kitchenware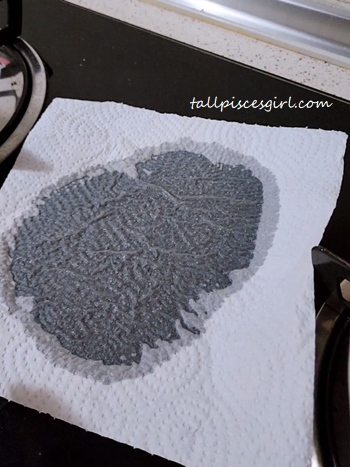 Carina Kitchen Tissue series makes it convenient to clean kitchen surface and appliances without scratching them. Fluid spills can be quickly cleaned thanks to the strong absorption power.
4. Health Care
Carina Health Care Series include Carina Antibacterial Wipes with gives us 99.9% antibacterial protection and Wet Wipes that contains 99% pure water. Both are alcohol-free, paraben-free and contains aloe vera for moisturizing purpose.
Where to Purchase Carina Tissue Products?
Offline Channel
Aeon Big
Aeon Wellness
Econsave
Mydin
NSK
Ascen+ Pharmacy
MiX Store
PotBoy Groceries
C-Mart Penang, Kedah, Perlis
Ceria 99 Penang, Kedah, Perak
Family Stores, Seremban
Family Stores, Melaka
Oppa Mart Melaka & Seremban
Nirwana Maju Johor, Pahang, Terengganu, Kelantan
Target Supermarket, Johor
Song Mart Malaysia, Johor
Pasaraya Hwa Thai, Johor
Online Channel
Carina "We Care, We Love" 2023
This 2023, Carina plans to move forward with the progress of time and the advancement after the pandemic. The new concept is designed around the theme, "We Care, We Love".
With this theme, Carina aims to:
Promote hygiene awareness, create a healthy environment, and reduce pollution
Care for consumer's skin by providing 100% natural pure cotton that is skin-friendly
Boost economic recovery through local production
Specialize to fit the needs and wants of Southeast Asian people
4 series to meet market demand
Through "We Care, We Love", Carina will be producing high-quality products that can influence and provide better care and love for your family. #CarinaCares for you and your family.
Carina Gift Box
A very value-for-money Carina gift box has been introduced at a special price of only RM29.90! In the gift box, you will get:
Carina Facial Cotton 160's
Carina Box Tissue 90's
Carina Handkerchief Tissue
Carina Cotton Buds 400 tips
Carina Wallet Tissue
Carina Antibacterial Wipes 70's
Carina Cotton Buds 480's
Carina Wet Wipes 30's
Aside from these, you will also get:
Shop online voucher RM 5 voucher (Valid until 31st March 2023 and only applicable for online purchase via Shopee Carina Official Store with min. spend RM 30 & above)
Review & Win campaign flyer
Carina LUCKY Ang-Pao up to RM 88 cash – Transfer via Touch 'n Go e-wallet (Redemption valid until 30th April 2023)
Where to get Carina Gift Box?
Aeon Big selected outlet
Mix selected outlet @ IOI City Mall
Hot Market @ Berjaya Times Square
Melaka – Tong Hup Trading
Carina Review & Win Contest (*T&Cs apply)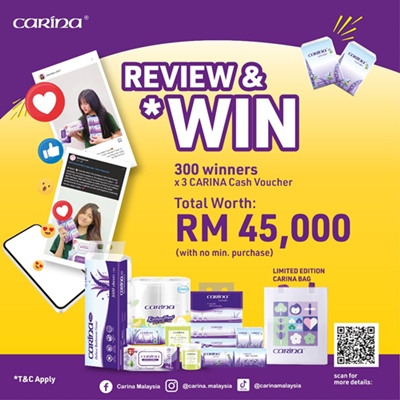 A total of 100 winners will get to win 3 months of Household Supplies every month (total worth RM 150 / winner) in Carina Review & Win Contest!
How to Join
Upload a Photo/Video Review of your experience with ANY CARINA series product on Facebook / Instagram / TikTok
Tell them why you would recommend it & tag CARINA official Facebook / Instagram / TikTok
Hashtags #MYCarina #WeCareWeLove (remember to set post to public).
*Terms & Conditions
Campaign period: NOW- 30th April 2023
300 Best Reviewers will be selected to WIN 3 Months Carina Household Supplies worth RM150. Carina will screenshot the winner's post and re-post on their Facebook page starting from Feb 2023.
The gift is non-exchangeable, non-transferable, and is not redeemable for cash or other prizes.
Receipts MUST be shown in order to claim the prizes.
Each winner is only eligible to claim once. Same name & purchase receipt are not allowed.
Only purchase receipt from 1st Jan 2023 – 31st April 2023 is eligible for this contest.
The cash voucher worth RM150 is for purchasing Carina products only, each RM50 cash voucher only valid for 1 month.
Carina reserves the right to modify and amend the terms and conditions without prior notice.
Connect with CARINA via Social Media
CARINA MY Facebook: https://www.facebook.com/profile.php?id=100086976432740
CARINA MY Instagram: https://www.instagram.com/carina.malaysia
CARINA MY TikTok: https://www.tiktok.com/@carinamalaysia