Me-time is an important part of my life so I can recharge after a tiring and stressful day. That's why I value the quality of my me-time. One of the things that affect my mood and the quality of my self-pampering time is the products I use.
Parrot Botanicals Shower Cream & Bar Soap
Shower time is my everyday activity to rejuvenate myself after a hectic day. To make sure my shower time is relaxing to the max, I use Parrot Botanicals Shower Cream which gives me No.1 AUTHENTIC THAI BOTANICALS FRESHNESS. So glad that The Pride of Thais product is finally available in Malaysia! It makes me felt like I have been transported back to Thailand for a vacation!
Parrot Botanicals has a long history in Thailand and widely known for their high-quality body care products. Back then, it is called the "Popinjay soap". With its uniqueness, Parrot Botanicals is now even a symbol of Thai identity. They have been awarded the "Premium Products of Thailand: The Pride of Thais" by the Ministry of Industry, Thailand.
Parrot Botanicals is designed to bring a refreshing experience with a distinctive unique Thai Botanical Fragrance with Traditional Herb Oil. It promises a long lasting fragrance of up to 8 hours!
Parrot Botanicals Shower Cream
The Parrot Botanicals Shower Cream has a light, creamy consistency that will not leave my skin feeling dry and tight. I'm sure you know how uncomfortable it feels when you came out of the shower with even drier skin. It doesn't happen with Parrot Botanicals Shower Cream. Its pump bottle is convenient to dispense out the shower cream effortlessly. Personally, I feel that it is pretty economical as half a pump is enough for my whole body. Skin feels soft and smooth after rinsing thanks to the botanical herb oil! My favorite scent is the Thai Botanical & Herbs as it has the unique exquisite scent of rare Thai botanicals.
Parrot Botanicals Shower Cream Variants
Thai Botanical & Herbs: Parrot's Signature scent created from the combination of rare Thai botanicals for a fresher and rejuvenated skin
White Sakura: A sweet scent of refreshing White Sakura infused with nourishing properties for a brighter and natural pinkish skin
White Thanaka: Made using ground bark which is rich in vitamin E to help protect the skin from pollutants and anti-bacterial
Parrot Botanicals Bar Soap Variants
Thai Botanical & Herbs: The variant that remains as the Best Seller for many years as it delivers a Unique Thai Botanical Fragrance with Clove oil and Citronella oil
Sweet Pink Roses: Indulge in a sweet romance with the romantic scent of Pink Roses and soothing Aloe Vera
White Sakura: Gentle yet fresh scent with White Sakura for radiant and naturally pinkish, healthy skin
Thai White Jasmine: Ultimate shower indulgence with the sweet scent of Thai Jasmine and nourishing Tamarind extract
White Thanaka: Soft scent of "Thanaka" (aka ground bark) for a refreshed and bright skin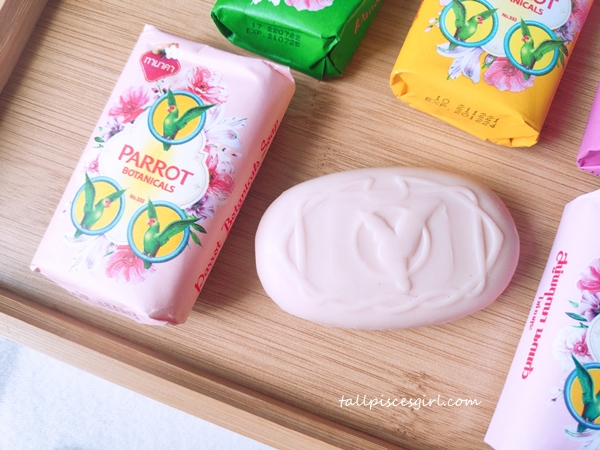 Try Parrot Botanicals out for a relaxing shower experience with long lasting fragrance!
Where to Buy PARROT Botanicals Shower Cream & Bar Soap
You can get your hands on Parrot Botanicals products from hypermarkets, supermarkets, convenient stores and mini markets in Malaysia.
Alternatively, they're also available for online purchase.
Parrot Botanicals Shower Cream: https://shope.ee/8pBjJy60XJ
Parrot Botanicals Bar Soap: https://shope.ee/LDBCFaFkG
Click on the play button below to watch my video review!
@tallpiscesgirl Have you heard of the legendary Popinjay soap? It is now known as Parrot Botanicals! I use Parrot Botanicals Shower Cream which gives me No.1 AUTHENTIC THAI BOTANICALS FRESHNESS. They have been awarded the "Premium Products of Thailand: The Pride of Thais" by the Ministry of Industry, Thailand. Parrot Botanicals is designed to bring a refreshing experience with a distinctive unique Thai Botanical Fragrance with Traditional Herb Oil. It promises a long lasting fragrance of up to 8 hours! Try Parrot Botanicals out for a relaxing shower experience with long lasting fragrance. You can get your hands on Parrot Botanicals products from hypermarkets, supermarkets, convenience stores and mini markets in Malaysia. #ParrotNatural #ParrotNaturalMalaysia #ShowerCream #Soap #BarSoap #Imported #Thailand #VITAMEDIA ♬ Pieces (Solo Piano Version) – Danilo Stankovic
Follow them for more!
Instagram: https://www.instagram.com/parrot.natural
Facebook: https://www.facebook.com/ParrotNaturalMY