Taiwan Excellence, an initiative by the Taiwan Bureau of Foreign Trade and managed by the Taiwan External Trade Development Council (TAITRA), has set up an exclusive exhibition pavilion at The International Greentech & Eco Products Exhibition & Conference Malaysia (IGEM 2022) with the theme "A Green Future" to spark business opportunities between Malaysia and Taiwan in sustainability. The venue for IGEM this year is at Kuala Lumpur Convention Centre and will be happening from 12th October to 14th October 2022.
Taiwan Excellence @ IGEM 2022
IGEM is the most influential exhibition and conference for green technologies and eco-solutions in Malaysia. Taiwan Excellence is showcasing 45 selected products that brings continual innovation and value creation that is at the heart of many Taiwanese corporations. Among the products include:
Eco-friendly biodegradable materials by 100% ZHI and AVATACK
These environmentally friendly products are made using agricultural waste as raw material in order to be sustainable. They will not soften in water and can withstand high temperature.
These ecofriendly products have received numerous food container safety certifications. The raw materials used also meet the European NF T51-800:2015 standard for home composting, and received the certifications from TUV Rheinland and ABA.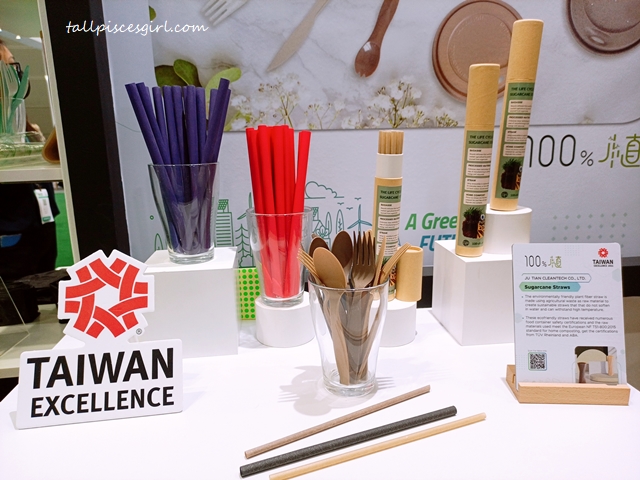 High precision pumps from Walrus Pump and HCP Pump
Walrus Pump's HQ series pumps are designed for water supply and pressure boosting in residential, commercial and light industrial applications where there is low or inadequate water pressure. It is suitable for boosting pressure from underground or surface water supply.
The internal casting for the Submersible Dewatering Pump by HCP is treated with high solids Epoxy coating, which helps to prevent corrosion and extend the product lifetime. The water-cooled motor ensures a long life in continuous and intermittent operation, with high efficiency and energy saving.
Pure plant-based shampoo free from harmful chemical by AROMASE & juliArt
AROMASE is the result of scalp care experience accumulated from three generations. This all-herbal anti-halr loss shampoo is crafted to reduce hair loss from the root through improving scalp health. This holistic approach to hair loss provides a natural and sustainable way to address this vexing problem affecting many, especially those with dermatitis.
The official opening of the Taiwan Excellence Pavilion at IGEM 2022 was graced by Dato' Seri Ir. Dr. Zaini bin Ujang, Secretary General of Ministry of Environment and Water (KASA) and Dato' Iskandar Abdul Samad, Chairman of Malaysian Green Technology and Climate Change Corporation (MGTC) as a gesture of support.
Eva Peng, Director of Taiwan Trade Center, Kuala Lumpur Representative Office, said in her opening address that Taiwan Excellence is the globally respected symbol of innovation, and many Taiwanese enterprises are market leaders in carbon reduction and net-zero emission. Their green-focused achievements are recognized around the world and their eco-friendly products are highly sought after. She commended that Taiwanese exhibitors are not only participating in IGEM for commercial purposes, but have also arranged for exchanges and dialogues with local environmental groups to deepen the understanding of how Taiwanese products can help to achieve environmental protection objectives and become green partners for Malaysia.
Taiwan Excellence has also held two highly educational webinars during the IGEM physical exhibition. Representatives from AROMASE, CircuWell, AVATACK and HCP Pump shared their respective company's sustainable philosophy and experiences with the participants. The full recording of the webinars are available at https://fb.watch/fSajE9BKvS/ and https://fb.watch/fYE1sh7Hvx/.
Besides the product exhibition, Taiwan Excellence is also focusing on ESG (Environmental, Social, and Governance) ideology. Taiwan Excellence has joined the Eco Schools Malaysia initiative as a partner with the aim of sowing the seeds of green economy. Ir. Ts. Dr. Mahadi Mohamad, Executive Director of Green Growth Asia Foundation, the organization behind the Eco Schools Malaysia effort, believes that Taiwan Excellence award-winning products will inspire the students to be more eco-focused and think about the possibilities that product innovation can bring in protecting the environment.
Well-known Malaysian actress, Dayang Nurfaizah is the brand ambassador for Taiwan Excellence ESG initiative. She will be participating in an environmental protection workshop in a high school in Perak on the 27th of October. During the workshop, she will lead the students in planting Malaysia's national flower, the hibiscus. The seedlings will be planted in biodegradable seedling bags from Taiwan. The idea behind is to green the campus while reducing waste and nurture the love for environmental protection in the next generation.
Taiwan Excellence has also prepared a series of exciting programs for the IGEM physical exhibition. Trade visitors who participated in business matching, experiential activities and questionnaires can stand a chance to win a Johnson Fitness treadmill and pave the way for a healthy future filled with positive energy!
Taiwan Excellence Pavilion is located in Hall 1 (Booth 1075) at Kuala Lumpur Convention Centre. For more information about Taiwan Excellence in IGEM 2022, please visit the event website: https://www.taiwanexcellence.org/en/2022iGEM.