Living in Malaysia, we only get to experience the tropical climate with 2 seasons: Summer and Monsoon. How awesome it is to experience a different season like winter in Switzerland! Switzerland in Winter can be very fun and enjoyable. Just imagine fresh mountain breeze touching your face and the view of snow-covered mountains appearing before your eyes!
Since Malaysians are not too familiar with winter, here are some suggestions on the activities you can do when you travel to Switzerland in winter. If you feel that skiing and snowboarding are too adventurous for you, fret not. I have also included other non-ski and non-snowboarding activities that could be fun but not too energy taxing.
5 Fun Things to Do in Switzerland in Winter
1. Enjoy Winter Sports (Ski and Snowboard)
Skiing and snowboarding are popular winter sports in Switzerland. The Swiss Alps are a popular destination for ski and snowboard enthusiasts. They are home to some of the most scenic slopes in the world. The Swiss Alps offer a variety of slopes for beginners and experts alike, with a variety of different terrains to explore. Do check out Grindelwald and Zermatt regions.
Grindelwald-First Ski Resort
Grindelwald is the sunniest ski region in Jungfrau region of Bernese Oberland. Hence, Grindelwald-First would be the perfect ski area for Malaysians who are not accustomed to winter. The best way to get to Grindelwald-First is via a gondola (cable car) from Grindelwald to First. Grindelwald-First offers 56 km of pistes and not-to-be-missed Snowpark Grindelwald-First with a 130-metre half-pipe (super-pipe) for freestyle skiers. Perfect place to satisfy your thirst for adrenalin! There are also some activities for non-skiers like First Cliff Walk by Tissot, First Flyer Zipline, and many more.
2. Take the Panoramic Trains in Switzerland
One of the best ways to see Switzerland is by train. The panoramic trains in Switzerland are a unique form of transportation. It is the most scenic way to explore the Swiss Alps and other breathtaking scenery. Imagine the captivating views of snow-covered mountains and frozen lakes during the winter!
Glacier Express (GEX)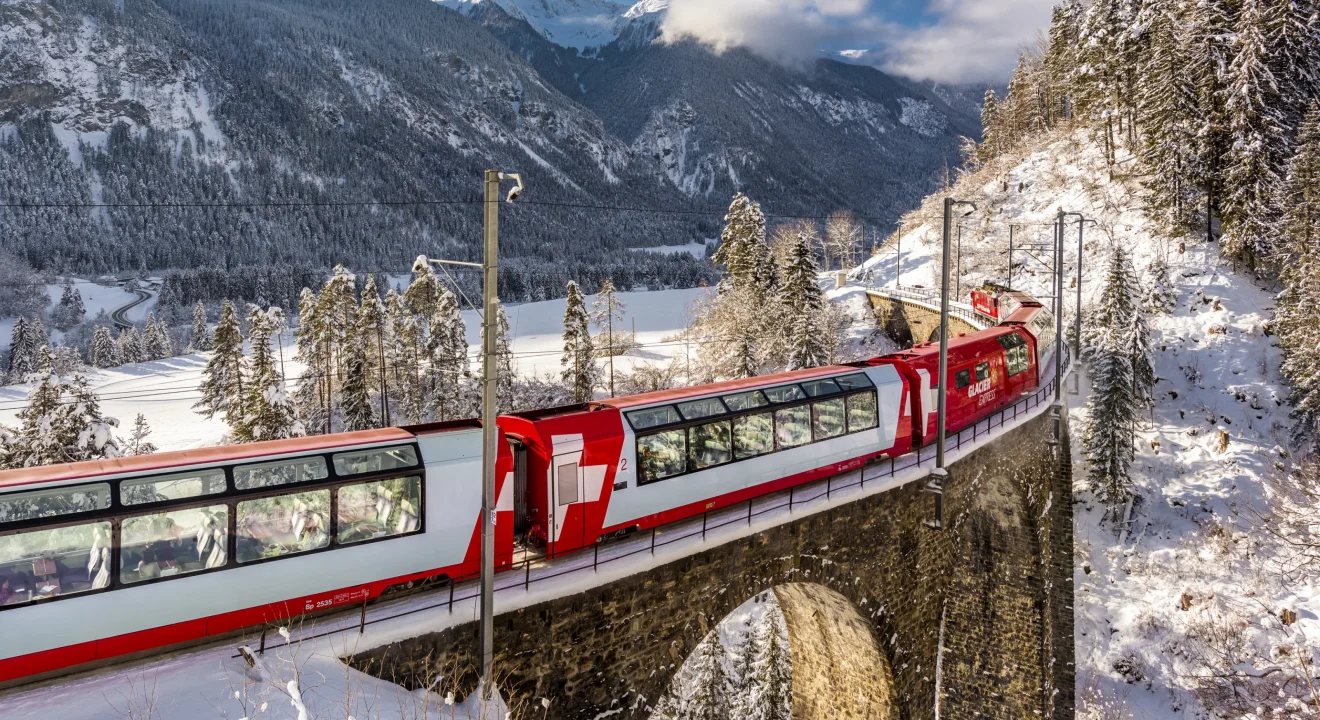 Well-known as being "the slowest express train in the world", the Glacier Express have been running on the same scenic routes that passes through 91 tunnels and over 291 bridges for over 92 years, providing tourists with a breathtaking view of Switzerland's natural beauty in comfort. It is called express train due to it being the direct train connecting Zermatt, Valais to St. Moritz, Graubündennot and not for its speed.
Journey distance: 291 km
Duration: 8 hours, 3 minutes
Average speed: 36 km/h
Areas covered: Brig, Zermatt (Mount Matterhorn), Fiesch, Andermatt, Disentis/Mustér, Chur, Thusis, Tiefencastel, Filisur, Bergün/Bravuogn, Samedan, Celerina, St. Moritz (Mount Piz Bernina) / Davos (change in Filisur), Chur Best section: Andermatt – Chur
Best seat: Right side
Covered by Swiss Travel Pass: Yes
Covered by GA Travel Card: Yes
Book your ticket here: https://www.glacierexpress.ch/en/
Bernina Express
The Bernina Express lets you travel through 55 tunnels and over 196 bridges from northern to southern part of Europe with the most picturesque scenery, spanning different languages and cultures. Getting on the Bernina Express is the best way to cross the Alps as it climbs up to 3 glaciers; namely the Ospizio Bernina glacier, Morteratsch glacier and Palü glacier. Along the journey, the train passes through the railway line at Thusis – Valposchiavo – Tirano which has been declared as UNESCO World Heritage Sites.
Journey distance: 144 km
Duration: 4 hours
Average speed: 36 km/h
Areas covered: Chur or Davos (Switzerland) – Poschiavo (Switzerland) – Tirano (Italy)
Best seat: Right side
Covered by Swiss Travel Pass: Yes
Covered by GA Travel Card: Yes
Pro-tip: When you reach Tirano, hop into Bernina Express Bus to Lugano. It will pass through the Valtelline valley, Lake Como and Lake Lugano. To get the best view of the lakes, sit at the left side of the bus. The whole journey of 90km will take 3 hours.
Book your ticket here: https://shop.rhb.ch/en/catalog/product/view/id/18
3. Discover the Enchanted Swiss Parks
"Swiss Parks" is a very big thing in Switzerland. The Swiss people have been preserving the stunning natural beauty of untouched nature, diverse habitats and rich tradition for centuries and it is now time to share it with the world.
There are a total of 19 Swiss Parks in Switzerland. Each parks have something unique about them and they can be visited at any time of the year.
During the winter, there are a lot of activities that can be done depending on the respective Swiss Park.
Among the facilities for winter activities:
Skating rink
Winter hiking path
Snowshoe route
Ski resort
Cross-country ski route
Sledging trail
Recommended Swiss Parks: UNESCO Biosphere Entlebuch @ Lucerne, Swiss National Park @ Graubünden
Learn more about the Swiss Parks in Switzerland here: https://www.parks.swiss/en/
Learn more about the winter activities at Swiss Parks in Switzerland here: https://www.parks.swiss/en/discover_the_parks/winter_activities.php
4. Chill at Schilthorn Piz Gloria
Start your day by having top-notch food and drinks as brunch at James Bond Brunch, a 360-degree revolving restaurant. While you're at it, admire the spectacular view of Eiger, Mönch and Jungfrau before your eyes.
Schilthorn Piz Gloria is also known as Schilthorn 007 or Schilthorn Bond due to it being the location where the first James Bond movie, "On Her Majesty's Secret Service" was filmed back in 1969.
Other than restaurants, there's also Bond Museum where you can enjoy interactive exhibition, 007 Walk of Fame, Skyline Walk, Thrill Walk, view lounges and more. You can easily spend half a day here!
Pro-tip: You can visit the different villages where the cable car stops on your way up (or down). Highly recommended to walk from Mürren to Gimmelwald.
5. Unwind at a Spa & Sauna
After a full day of winter activities and excursions, it would be awesome to relax your muscles, let loose and warm up with spa treatment and sauna while enjoying breathtaking winter landscapes.
Mountain Ashram Spa at CERVO Mountain Resort (5*)
Mountain Ashram Spa by CERVO offers a complete wellness experience for guests which includes Bhutanese herbal bath, outdoor Japanese onsen, Alpine herbs body treatment, Tibetan honey treatment, body massages, facial treatments, yoga, pilates, meditation and many others. Imagine yourself soaking in the outdoor Japanese hot spring, overlooking the majestic Matterhorn mountain.
Day spa pass available.
Spa @ The Cambrian Hotel (4*)
Located in the heart of Adelboden, The Cambrian's spa is well-equipped with a wide variety of amenities for guests to enjoy like indoor pool with waterfall, outdoor pool, Finnish sauna, steam bath, rain shower and gym. Be mesmerized by the scenic view of Engstligen Falls and snow-covered Swiss mountains in every direction while enjoying your relaxing treatments.
Day spa and evening spa pass available.
Hope this simple guide helps! If you're too busy to plan for your holiday in Switzerland, check out Sedunia Travel at https://seduniatravel.com/country/holidays/switzerland/ or reach out to them for custom itinerary.
* Photo credits: Switzerland Tourism of Malaysia