The skin is the largest organ of the human body and it is also the most visible. It is important for us to take care of it in order to avoid any skin problems.
Dark spots are a common skin condition that can be caused by many factors such as aging, sun exposure, and hormonal changes. When the skin is exposed to these conditions it can lead to the darkening of patches on the skin.
Murad Rapid Dark Spot Correcting Serum
Few years ago, I've discovered the appearance of dark spots on my face. Fast forward to today, I'm finally doing something about these dark spots and it doesn't require a doctor's visit. I found Rapid Dark Spot Correcting Serum by Murad! Rapid Dark Spot Correcting Serum is a skin care product that is designed to correct dark spots and hyperpigmentation by promoting surface cell turnover to reveal brighter, more even skin tone. This serum contains a mixture of ingredients that are clinically proven to work in the fight against dark spots and hyperpigmentation in just 14 days of usage!
Dr. Murad's Powerhouse Brightening Ingredients
Patented resorcinol technology: Reduces the intensity of dark spots and uneven skin tone
Tranexamic acid: Soothes, brightens, and revives dull skin
Glycolic acid: Exfoliates to help remove dull skin cells and improve skin texture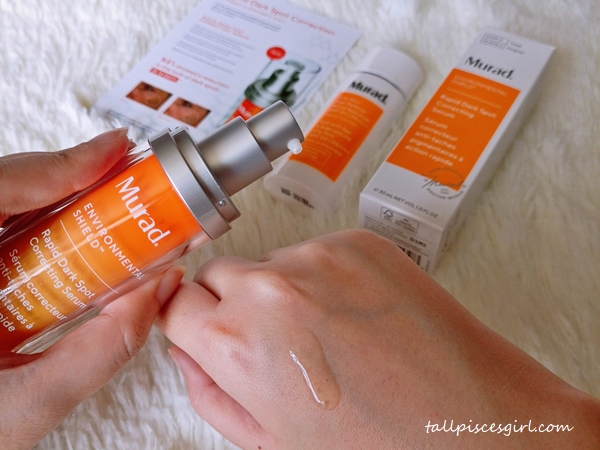 I'm so glad to know that Murad Rapid Dark Spot Correcting Serum is suitable for normal, oily, dry and combination skin type as I was initially worried that it might not be suitable for my oily skin.
Murad Rapid Dark Spot Correcting Serum Review
I love the texture of this clear colored Rapid Dark Spot Correcting Serum. It's gel-like but it is also light-weight and easy to spread across my face. After using it for 14 days, my skin is noticeably more radiant and dark spots are slightly lighter.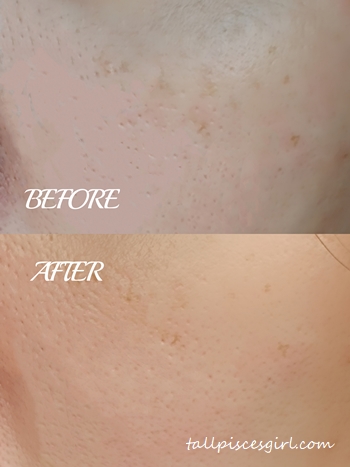 How I use Rapid Dark Spot Correcting Serum
Cleanse with my regular cleanser (you can also use Essential-C Cleanser of the same range).
Apply 1 pump and spread evenly on face, another 1 pump on neck and décolletage.
Apply my regular moisturizer.
Repeat these steps day and night. During the day, I also use Murad City Skin Age Defense Broad Spectrum SPF50 PA++++ to protect my skin from harmful UV rays.
Murad City Skin Age Defense Broad Spectrum SPF50 PA++++
If you go outdoors, remember not to leave your home without sunblock! Even if you stay indoors, you should still use a sunblock because blue light from screen and home lighting can also contribute to skin damage and aging.
Once I squeezed it out, I can smell the scent of fresh orange as it contains Vitamin C as one of the ingredients. This 100% mineral sunscreen is ultra-light and slightly tinted to help color correct uneven skin tone. Not only did it not leave white residue on the face, my face also looks glowing instantly.
Get your hands on Murad products at www.murad.com.my or at any of their Exclusive Facial stores: https://facial.murad.com.my/store-locator/.