You may need to go to a party and want a custom-made suit that will be perfect for the occasion. Fortunately, a tailor shop in New York can take care of everything for you. From the measurements, choice of fabrics, sewing, fittings, designs, patterns, and a lot more, the experts have your back.
Some people may think that "custom-made" means unnecessary and expensive. However, this is not the case at all. When you go with The Tailory NYC Bespoke, know that the suits will last for a very long time, and they will retain their quality over the years. Furthermore, you don't just get any ready-to-wear clothes from the racks, you have something that's made exclusively for you, and you can take a step further above others in an event.
When you compare the bespoke suits from off-the-rack and normal pieces, know that there will be a massive difference. The looks for a tailored tuxedo are sharper and more luxurious.
Advantages of Getting Custom Clothing and Suits
Some of the reasons why you'll look better in custom made suits are the following:
1. You Have a Better Fit
Men who want to look good know that the fit of their clothes means everything. This is the garment flattering your body and showing your muscles and other assets. The fit matters a lot to healthier men because their bodies can be a natural attraction and it shows some signs that they are an excellent potential mate.
This is one of the primary goals of custom clothing. Everything is well-adjusted to your size and personal measurements. Along with the perfect fit, you'll also have enough comfort and ease to move around. You'll be more confident without the extreme looseness and tightness that ready-to-wear clothes will give you.
Over several fittings, some areas like the length of the sleeves or neck areas are adjusted accordingly. The best tailors know your body type, and everything will depend on the size of your body NOW, not the one that you're projecting after you finish that diet plan that you've signed up into after a month. If you're currently not in your best shape, the tailors are there to highlight your more flattering features and divert attention from your unappealing attributes.
2. High-Quality Fabrics are Used
Off-the-rack clothes don't prioritize quality because they are mass-produced. Industrial machines are responsible for them, and they are a cost-effective way of producing many suits in less time. Read more about the suits on this page here.
The fabrics don't have to go through the hands of professionals. Instead, quality control analysts will inspect their threads and decide if they are ready to be sold. Professionals do not scrutinize them, but this is not applicable for tailored outfits.
The tailors in trustworthy shops value accuracy and precision. They do measurements twice or thrice to make sure that everything fits. They are on the lookout for inconsistencies and make adjustments whenever applicable. They are adhering to the number of stitches required per inch of fabric which makes everything more durable.
You can choose silk, cotton, wool, blended natural fibers, or artificial ones, and they will work on them with accuracy. You'll have a bigger advantage, and you can wear something that will fit the event you're going into.
If you are in an area with a colder climate, you'll have the option to choose the heavyweights, so you'll stay warm. The weaves and blends are tighter, but you can still move around comfortably. The textures are also considered, and the way they wrinkle gives you more breathing space.
3. Highlight Your Style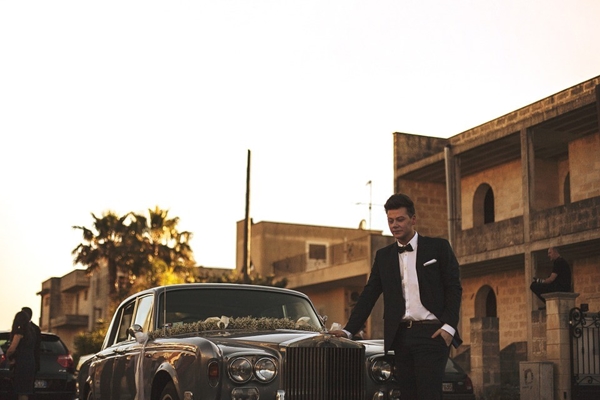 Your style and how you highlight yourself can be limited when you choose suits that are at the racks. However, you can show more of your individuality with custom-made suits.
Some manufacturers will work with you to choose multiple designs and fabrics. A good amount of collaboration and measurements can have a huge influence on the final clothes. You can be creative with what you want and choose the colors to make your personality appear more masculine and confident.
There will be alterations in the design as these are the first things that most people will notice at a party. The first impressions that you can make may depend on the color of the suit you're wearing. There are also collar designs that are part of the shirts. They can enhance your upper body and facial features. You can choose among button-downs, spreads, conventional points, tab collars, or pins.
Other styles for you are cuff shapes that can either have rounded corners or squared off for more masculinity. The pockets may be added to the chest, or you can remove them entirely for a cleaner look and matching stripes for a more stylized suit.
4. More Time and Effort are Saved
If you're shopping for a new tux, you may have to go through a lot of shops and racks to find a perfect fit for you. On the other hand, there's the custom-made that's straightforward and controllable. If you're not into shopping, the process can be time-consuming, and you need to make a lot of effort going through shops or browsing online platforms.
However, when you work directly with a tailor, know that you will be pretty much guaranteed to get something that will perfectly fit your personality and body. You are guaranteed to get something that's satisfying, and you don't have to spend time looking at unavailable or sold-out clothes.
If you have a party that calls for proper dressing, a custom-made suit can be worth investing in. You can always grab this for company parties, birthdays, weddings, and more. You won't also have to look for rentals in the dead of the night because your boss has suddenly decided that you need to wear a suit for a meeting the following day.
Call a tailor in your area and be clear with your preferences. Listen to their suggestions and go to the fitting appointments. These suits will last longer, considered a long-term investment, and they are so worth it.