0Guardian Malaysia has taken the extra mile to curate and bring in the latest beauty trends from around the world, so that customers' needs in the new normal are served.
We used to be able to travel the world and shop for the latest health and beauty products that are not yet available in Malaysia but the COVID-19 pandemic has effectively put a stop to this lifestyle for now.
True to its reputation as a beauty destination, Guardian Malaysia has adapted to the unprecedented changes sweeping through modern retail. They are to stage a first-of-its kind Global Beauty Sale (GBS) to give their customers continued easy access to great beauty products with good value from around the world.
Guardian Global Beauty Sale Promotion
Happening from 3 Nov until 2 December 2020, Guardian Global Beauty Sale showcases beauty products that are setting the trends around the world. The amazing selection represents the best of all global brands and reflects Guardian's commitment to the trust placed in them to ensure their customers get high quality products at great value.
The GBS initiative follows Guardian's recent re-launch of Guardian's state-of-the-art flagship store at Suria KLCC that features the latest health and beauty products and new display technology. The transformation of the store was based on feedback from customers on their product needs, quality and pricing.
Commenting on the GBS, Anna Ng, Retail Marketing Director, Guardian Health And Beauty, Malaysia and Singapore said, "On top of the wide selection of brands and products, we are offering customers a discount of up to 50% during this period. The selection includes top beauty brands from Korea and Japan, the best of natural beauty products, newly arrived brands at Guardian and daily essentials from 26 countries including Malaysia."
You can get the best beauty products that gives you that beauty radiance from Thailand, that lovely Korea drama look that is so outstanding and the everyday beauty look from Japan dramas, make-up that gives you that classic western European glam and many, many, more for personal care, hair care, skin care and daily essentials.
Other highlights of the Guardian Global Beauty Sale include:
BUY 1 FREE 1 offers for more than 190 personal care products
Over 100 Skincare items at RM11
Everyday BEST value – over 1,300 daily essential products at reduced prices everyday
Get a FREE Bluetooth Smart Digital Weighing scale with a minimum RM220 purchase of any Health Care product in a single receipt (while stocks last)
FREE Silicon Kitchen Utensil (3 pcs set) with a minimum spend of RM88 on any Personal Care products in a single receipt
A BRAND NEW Honda Civic to be won in the SHOP, WAVE & WIN Contest. Just spend a minimum of RM30 and pay with your MyDebit ATM card, take a photo of your transaction slip, send in your photo and stand a chance to win the Grand Prize of a brand new car.
Check out my haul from Guardian Global Beauty Sale!
I've got:
Summerie Instant Moisturizing Hand Sanitizer from Malaysia
Lucido-L Argan Rich Oil Hair Treatment Oil from Japan
Senka Perfect Aqua Bouncy Moist Mask from Japan
Kundal Antibacterial Hand Wash Cherry Blossom from Korea
Palmer's Cocoa Butter Formula Scar Serum from USA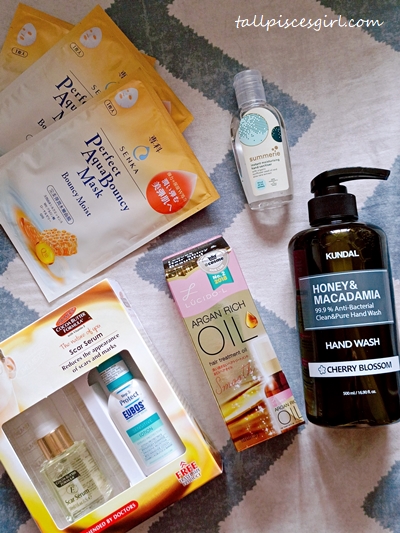 So, instead of flying around the world for your Health and Beauty products, let Guardian Malaysia bring the products from around the world to you. Don't miss this great opportunity to buy and even stock up on your daily essentials!

GIVEAWAY Guardian RM 50 e-voucher: https://www.instagram.com/p/CH7e-fGpNxD/
For more information on the amazing discounts during this Global Beauty Sale, kindly visit www.guardian.com.my.