With 134 years of expertise up its sleeve, Triumph, the renowned German lingerie brand wants you to know that fit is everything. It is the most effective way to improve how you look and most importantly, how you feel.
Triumph Autumn Winter 2020 Collection
Known for its dedication to craft, innovate and passion for detail, Triumph Malaysia revealed their gorgeous Autumn Winter 2020 Collection. It features styles for the season that cater to women's need for well-fitting, comfortable and stylish lingerie.
New Fit Smart 2.0
The new Fit Smart 2.0 features feminine touches like bespoke lace and knit that supports and adapts to your body. The signature innovative 4D technology remains to ensure that perfect yet comfortable fit. For extra comfort and flexibility, 4D stretch foam cups are also used.
This non-wired bra uses a special technology to support and centralize the bust for the perfect shape. With a special clasp on the strap, this bra can be converted to cross-back style for a fashionable look. Sizes available: S, M, L, XL Colors available: Dusty pink, twilight grey, black (with matching mini briefs) Price: RM249 (top), RM79.90 (brief)  
The Aqua Collection
In conjunction with its 20th anniversary, the bestselling Aqua collection introduces two new iconic Aqua products, Aqua Finesse and Aqua Rosie.
Aqua Finesse
The Aqua Finesse is designed with a deep V neckline for a flattering look. The high stretch mesh wings create a smooth finish with added support. Wired push up and non-wired push up options are available.
Colors available: Shadow Grey, Black, Grey (with matching mini or hipster briefs) Price: RM249 (top), RM 79.90 – RM89.90 (brief)
Aqua Rosie
The Aqua Rosie features feminine embroidery and delicate rose details. The rose design was nspired by the thousand-year-old rose, which grows in Germany and is thought to be the oldest in the world. This push up bra is extra comfortable with integrated lightweight Aqua padding and super soft modal. Mock hem wings also give it a light and comfortable fit. Colors available: Feather Grey, Mauve (with matching hipster briefs) Price: RM249 (top), RM 79.90 – RM89.90 (brief)
Sculpt Rosanne & Astra Embroidery
Created to sculpt and flatter, the Sculpt Rosanne and Astra Embroidery feature supportive yet smooth design.
Sculpt Rosanne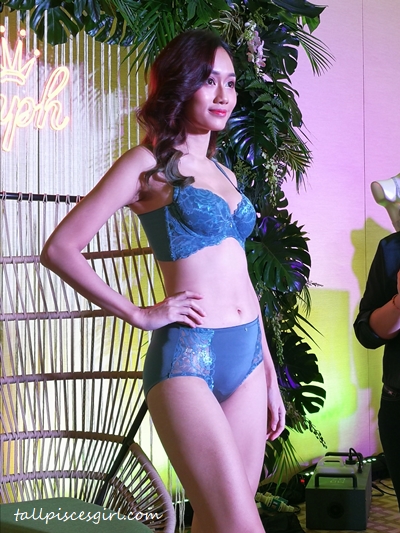 Sculpt Rosanne features ornate lace on the cup, creating an eye-catching and decorative look. Straps are made from subtle jacquard elastic and the pretty design is finished with a delicate diamante pendant. With inner and outer slings and strong mesh side wings, the Sculpt Roseanne delivers excellent support and a smooth finish. Available as a wired half cup padded bra or a wired push up butterfly design.
Colors available: Grey, Wild Raspberry (with matching hipster briefs) Price: RM279 – RM299 (top), RM 89.90 – RM99.90 (brief)
Astra Embroidery
The Astra Embroidery is a sophisticated style inspired by the fullness of roses in bloom. The best-selling padded wired bra creates a flattering, feminine shape. Available with matching hipster briefs.
Colors available: Classic Black, enchanting Bordeaux Price: RM279 – RM299 (top), RM 89.90 – RM99.90 (brief) The Festive styles will be available in stores in November 2020, just the right time to get yourself a gift for the festive season.
Get Triumph Autumn Winter 2020 collection online at
triumph.com
or at Triumph boutiques and major department stores nationwide. Stay tuned to Triumph on Facebook at
https://www.facebook.com/triumphMY/
or Instagram at
https://www.instagram.com/triumphlingerie/
for latest updates.