Beko's story started way back in 1955. With their history and expertise, they have grown to become Europe's favorite home appliance brand.
Healthy Cooking with Beko Appliances
Before the new year, I had a trip to Ipoh, had so much good food and made it a point to cook more this year. At the same time, I received an invitation from Beko to their Healthy Cooking Workshop. Is this what people meant by "the universe has aligned"? I believe so. I'm surprised to find out that Beko offers a wide array of appliances which includes refrigerator, hob, kitchen hood, oven, chopper, vacuum blender, food processor, vacuum cleaner, air conditioner, washing machine and more!
Their mission is to empower their customers (especially new generations) to live healthier. Hence, this will be their focus when innovating new Beko appliances. And I always try to support customer-centric brands. Cooking and eating is fun, but the it would be awesome if I can put less effort and time to achieve the same result. After discovering Beko appliances, I understand how they can make life easier and healthier. Plus, I get to save more time!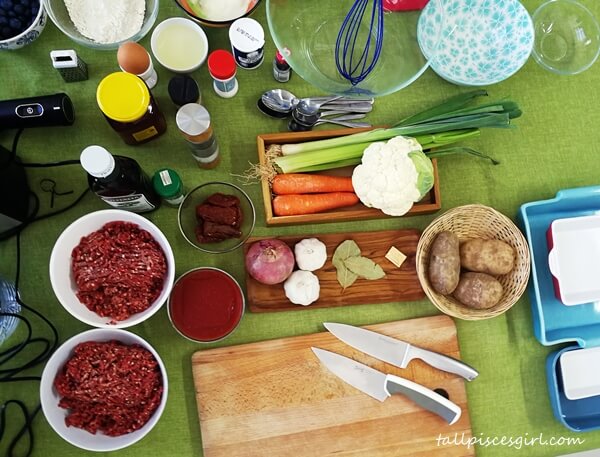 My blogger friends and I had a hands-on experience with Beko appliances. We made Blueberry Yogurt Scones and Cottage Pie! They turned out perfect and I was told that these recipes were approved by nutritionists of FC Barcelona. Make sure you check out the recipes at the end of this post. FYI, Beko is the Main Partner of FC Barcelona and the Official Sponsor of its training uniform.
Where Beko Appliances come into the picture to help us out
Beko 2 Door Top Freezer (RDN470E50VZWB) One of their EverFresh+ Fridge Freezers, this Beko refrigerator is able to keep fruits and vegetables fresh for up to 30 days thanks to their special, humidity-controlled compartment. That's 3 times longer than conventional fridge!It also has NeoFrost Twin Digital Cooling technology. This means it has 2 separate cooling systems so you can maintain high humidity in the fridge, while keeping the freezer dry, frozen and frost-free.
Beko Chopper (CHG7402X)

Getting our beef ready with Beko Chopper

The chopper makes it so easy to chop ingredients finely and saved us so much time. With Thermoresist glass mixing bowl, it means we can chop hot or cold ingredients without worrying about food safety.
Beko Hand Blender (HBS7750X)

Using Beko Hand Blender to make mashed potato

We used this hand blender to mash the potatoes and milk together. With machines like this, there's totally no need to do it manually! It comes with super durable detachable stainless steel blender leg and hardened stainless steel blade.
Beko Induction Cooker (HII 64400 AT)

Stir frying our ingredients with Beko Induction Cooker

This induction cooker is the appliance we used the most during this workshop. We used it to stir fry the beef and all the vegetables needed in the recipe. It has 4 induction zones with 9 cooking levels per zone. The most noteworthy is the safety features. It has overflow safety for control unit, overheat safety system and automatic shut-off feature when not in use.
Beko Built In Oven (BIM22301X)

Beko Built In Oven looks sleek and saves space

We used this built in oven to bake our cottage pie and it turned out great! BIM22301X has a multidimensional cooking feature, the new generation of professional cooking technology that activates all heating elements on a multidimensional level. This function enables cooking large pieces such as a big turkey or meat perfectly and evenly.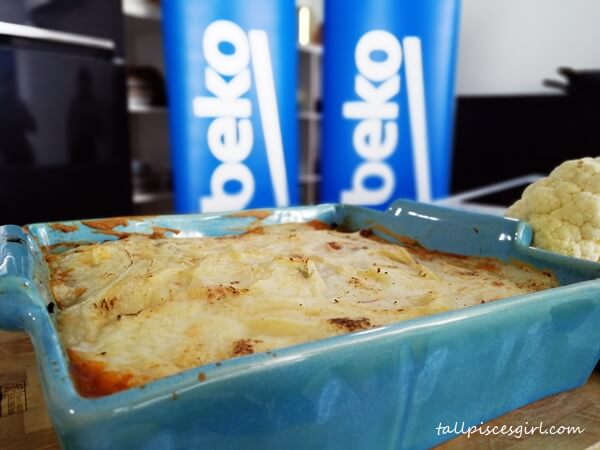 Beef Cottage Pie
Beef Cottage Pie recipe without butter, substituted by coconut oil as healthier alternative.
Ingredients
1

kg

Lean ground beef

Minced

2

tbsp

Extra virgin olive oil

10

g

Leek

1

Red onion

Finely diced

2

sticks

Celery

Finely diced

2

cloves

Garlic

Finely diced

1

tbsp

Tomato puree

6

Sun-dried tomatoes

Chopped

500

ml

Beef stock

Or chicken stock

4

sprigs

Thyme

3

Bay leaves

2

tsp

Salt

1

tsp

Black pepper
Topping
3

Potatoes

Peeled and cubed

½

Cauliflower

½

Celery

300

ml

Milk

15

ml

Olive Oil

2

g

Salt
Instructions
Add the beef into a non-stick pan and fry for 5 minutes until brown. Set aside.

In another pan, add 1 tbsp of olive oil and add onion, carrot, celery and leek. Cook on low//medium heat until soft for 4 minutes.

Add in beef, garlic, tomato puree, sun-dried tomatoes, herbs, salt and pepper. Fry for 3 more minutes.

Add the stock into the pan and simmer on medium heat, uncovered, for 25 minutes.

Once cooked, remove the bay leaves and thyme stalks.

In a large pot over medium heat, boil potatoes, cauliflower and celery for 12 minutes.

Drain the vegetables and blend in a food processor until smooth. Then, slowly add milk until desired consistency achieved.

Spread the beef mince and vegetables into a casserole dish, smooth out to the dish's edges and top with the mash.

Level the mash with a spatula and brush some olive oil on top.

Bake in a preheated oven at 190°C for 25 minutes.
Blueberry Yogurt Scones
Healthy scones with blueberry and yogurt for tea time.
Ingredients
50

g

All-purpose flour

50

g

Oatmeal flour

150

g

Whole wheat flour

50

g

Honey/maple syrup

5

g

Baking powder

5

g

Baking soda

1

tbsp

Vanilla extract

2

g

Salt

5

tbsp

Plain yogurt

2

tbsp

Coconut oil

1

Egg

80

g

Blueberries

4

g

Orange zest

3

g

Cinnamon powder
Instructions
In a large bowl, whisk the flour, baking soda, baking powder and salt together

In a separate bowl, add yogurt, vanilla, coconut oil, maple syrup and egg whites. Mix until well combined.

Then, pour into the bowl with dry ingredients and stir until just moist. Mixture should be crumbly.

Gently fold in blueberries

Place the dough onto a lightly floured surface and knead

Form dough into a 6-inch circle and place on parchment paper coated with coconut oil. Score the circle into 6 wedges.

Brush the top of the circle with coconut oil and honey

Sprinkle some cinnamon powder on top

Bake in the oven for 15-20 minutes or until the top is golden brown
For more info on Beko appliances, visit their official website at
https://www.beko.com/my-en
.