Sublime Skin, [ comfort zone ]'s best-selling rejuvenating collection, presents a new line extension to target the effects of Hormon-aging™. The advanced integrated approach effectively counters skin thinning, sagging and extreme dryness due to menopause. The Cell-Support Technology™, featured in the new oil-based formulas, restores cell communication and promote regeneration. The scientific committee, comprising Dr. Mariuccia Bucci, Nutridermatologist, and Dr. Alyssa Burns-Hill, Holistic Hormone Health Specialist, has supported the R&D team in the line development and creation of lifestyle suggestions to support women in this delicate phase of their lives.
Following the brand's Science-based Conscious Formulas™ approach, they are paying close attention to what goes into their formulas to ensure maximum effectiveness, safety and sensory pleasure. The new products guarantee an optimal "skin support" which deeply nourishes and redensifies the skin and contain no animal derivatives, colorant and silicones. The silicones have been replaced with natural oils and butters that offer the same silkiness and softness for a "real active beauty" on the skin. Both the home care and professional offer have been dermatologically and clinically tested and proved to significantly increase the synthesis of collagen, elastin and Hyaluronic acid. To be kind to the environment, their products are made in Italy using electricity from renewable sources. The CO2 neutral packaging has been designed to minimize its environmental impact, reducing the use of raw materials and superfluous elements.
Hormones and Menopause
Hormones play a significant role over the course of every woman's life. Their fluctuations can influence the physical, mental and emotional well-being. Hormones are like messengers that send signals to adjacent and distant cells, ensuring their good functioning. When menopause happens, the estrogen and progesterone drop triggers significant changes, such as different fat distribution, hot flushes, mood swings and depression. The drop in hormones and the consequent impaired communication network among cells aggravates the aging process, causing a situation of "anarchy" in the skin.  As a result, the fibroblasts' collagen production activity and the functioning of the skin barrier are impaired and weakened. At skin level, this process we call Hormon-aging™, results in extreme dryness, loss of density and thinning skin, together with an acceleration of the typical signs of aging, such as wrinkles and sagging.
Sublime Skin Integrated Approach
The Home Care – Sublime Skin Hormon-Aging
Sublime Skin Hormon-Aging™ is the new redensifying, regenerating and nourishing line specifically designed for menopausal skin. With the exclusive Cell-Support Technology™ and precious oil-based textures, it restores the skin's optimal functionality and contrasts cellular anarchy due to the hormonal decrease. A memorable facial, regenerating the skin and comforting the soul, along with a day and night routine and lifestyle tips, provide the ultimate cellular regeneration for a deeply nourished, denser and fuller skin. CELL-SUPPORT TECHNOLOGY is an exclusive combination of botanical and bio-technological active ingredients which includes:
BIOTECHNOLOGICAL MARINE EXTRACT promoting the synthesis of new collagen countering the lack of density for a fuller, more compact skin
CHICORY EXTRACT acting on vitamin D receptors it strengthens the skin, countering its progressive thinning
SUSTAINABLE MARACUJA OIL rich in tocotrienols, it enhances skin regeneration and compactness
ABYSSINIAN SEED OIL
, oil-based textures mimic the skin's lipid structure for deep and prolonged nourishment. It is rich in Omega 3 and 6, making skin smooth and silky. The fragrance resembles an elegant bouquet of flowery notes of peony, magnolia and violet leaf harmonize in a base of musk, vetiver and sandalwood. It interprets and identifies the line with a touch of feminine elegance which celebrates both the natural and technical aspects of the products.
Comfort Zone Sublime Skin Oil Serum (regenerating night oil) 30 ml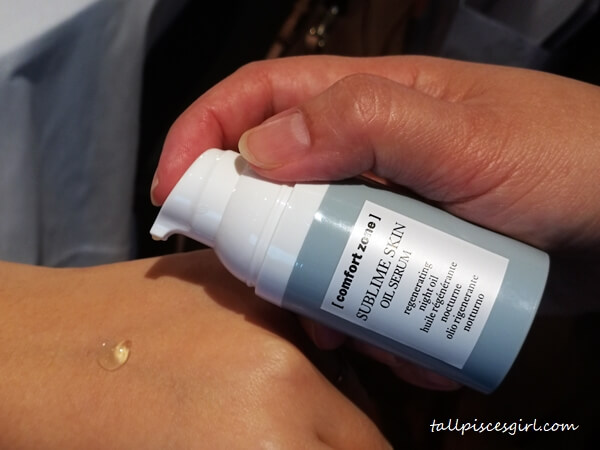 A nourishing, regenerating oil serum with Cell-Support Technology™, designed to stimulate cellular regeneration during the night and to address extreme dryness, thinning and loss of density, typical of menopausal skins. Thanks to eco-sustainable Maracuja oil, it re-energizes the cellular turnover weakened by the estrogens drop. SCIENCE-BASED CONSCIOUS FORMULA™ without silicones, with 99,5% of natural-origin ingredients.
Benefits
Concentrated oil-serum texture Gently regenerates from the inside, without using acids Long-lasting nourishment Preservative-free
Active Ingredients
Sustainable Maracuja oil
How It Works
ECO-SUSTAINABLE MARACUJA OIL obtained from passion fruit seeds (Passiflora edulis) it is a by-product of the Peruvian agro-alimentary industry. The oil is obtained through molecular distillation, an innovative extraction technique which uses high speeds and high temperatures in extremely short bursts, in order to avoid any damage to the quality of the ingredients and to maximize the concentration. Rich in tocotrienols, the oil enhances cellular regeneration through stimulating the fibroblasts to produce more collagen and elastin. ABYSSINIAN SEED OIL is rich in Omega 3 and 6, tocopherols and phytosterols, to nourish and protect skin. The oil provides a wonderful sensorial experience which leaves the immediately smoother, more protected and silkier.
How to Use
Apply a small quantity to face and neck at night and massage until completely absorbed. Follow with the cream when skin is very dry. Results saw a 54% increase in synthesis of Hyaluronic acid based on in vitro test on fibroblasts The Sublime Skin Hormon-aging Oil Serum retails at RM588.
Comfort Zone Sublime Skin Oil Cream (redensifying nourishing cream) 60 ml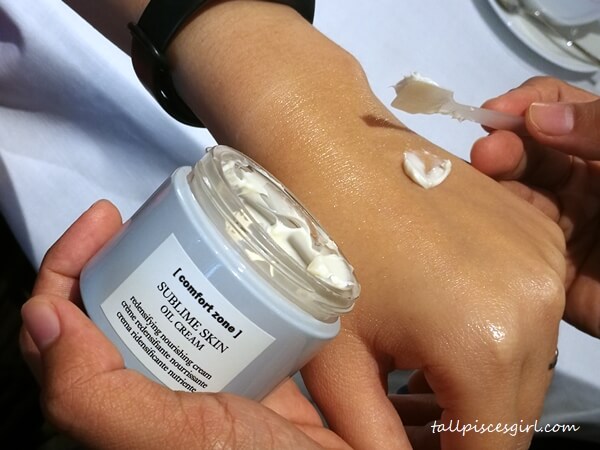 An ultra-rich nutrient redensifying cream with Cell-Support Technology™, formulated to counter extreme dryness, thinning skin and loss of density typical of menopausal skin. It nourishes the skin and reactivates the weakened cutaneous mechanisms affected by estrogen drop. It strengthens the connections between the layers of the skin, encourages new collagen production and stimulates vitamin D receptors, for a nourished, firmer and regenerated skin. SCIENCE-BASED CONSCIOUS FORMULA™ without silicones, with 97.8% natural-origin ingredients.
Benefits
Skin support texture in lamellar oil Highly redensifying Immediate sensation of comfort Long-lasting nourishment
Active Ingredients
Biotechnological marine extract Chicory extract
How It Works
CHICORY EXTRACT by stimulating vitamin D receptors found in the basal layer of the epidermis, it encourages the epidermal differentiation process which strengthens the cutaneous barrier and combats the typical thinning effect of Hormon-aging™. BIOTECHNOLOGICAL MARINE EXTRACT in the salt flats of Agua Amarga in Spain, a difficult environment for living creatures, a species was discovered – Halomonas eurihalina – which can adapt to the harsh, changing environment. The extract obtained improves the connection among keratinocytes and cells of the epidermal and dermal layers, thus optimizing the skin's function and synthesis of new collagen. ABYSSINIAN SEED OIL, SHEA BUTTER AND PLANT-BASED SQUALENE FROM OLIVE OIL create a rich, velvety texture making the skin feel immediately softer and protected for longer. The Omega 3 and 6, tocopherol and phytosterol contents, help to retain water and improve cutaneous hydration levels.
How to Use
Apply to face and neck and massage until completely absorbed. Results saw a 14% increase in synthesis of collagen and 14% increase in total proteins based on in vitro test on fibroblasts
The Sublime Skin Hormon-aging Oil Cream retails at RM588.
The Professional Hormon-Aging™ Facial
Designed to alleviate the undesirable effects of Hormon-Aging™ on both skin and emotions, the treatment targets skin thinning, extreme dryness, loss of density and any feelings of psycho-physical fragility. Thanks to the exclusive Cell-Support Technology™, innovative oil-based textures and two special massage techniques, Dermal Petrissage and Kobido, this treatment reactivates cellular communication, offering deep skin regeneration and a new-found serenity and vitality. Duration: 75 minutes
Enjoy this facial at UR SPA, an oasis of revitalization within the contemporary colonial charms of The RuMa Hotel and Residences. Setting themselves apart from the rest, UR SPA has an innovative, result-driven and integrated spa concept with a distinctive approach to wellness and beauty.
Lifestyle Tips
If approached with the support of a specific lifestyle and with a proactive and positive attitude, menopause can represent a new and vital phase in every woman's life. Thanks to the contribution of Mariuccia Bucci, Nutridermatologist, and Dr. Alyssa Burns-Hill, Holistic Hormone Specialist, we have developed few practical tips to live positively this moment of transition.
WELLNESS WORKOUT Activities such as Yoga and Pilates are particularly recommended to improve mind and body balance and vitality. Key to maintain an active metabolism and control body weight fluctuations, they also stimulate the production of well-being hormones like endorphins and serotonin, which can help with mood swings.
EMPOWERED MEDITATION Combining a meditative activity in the evening with specific vitamin supplements can frequently return sleeping patterns back to normal, without the need for any medication.
SUPPLEMENTS Multivitamins, Omega 3, Vitamin D and Magnesium Supreme support the immune system, promote the correct level of calcification of the bones and balance mood and sleep.
PROTEINS AND FIBERS An energizing, anti-oxidant diet rich in plant-derived proteins and fibers can ensure the right amount of proteins without the need to increase the quantity of meat or dairy products. Eat vegetables, wholegrain bread and pasta and plenty of seeds.Enrich salads, yoghurts, soup and desserts with Chia, Hemp and Pumpkin seeds: you'll add proteins and taste too!
WATER WITH A TWIST Drinking two liters of still water every day and reducing the amount of salt ensures a clear mind and a more resistant, plumped skin, and helps avoid undesired water retention, a common effect of the slowdown in circulation. Add some fresh lemon juice to your water to alkalize your body and combat unexpected pangs of hunger.
ALCOHOL AND COFFEE For those suffering from hot flashes or disturbed sleep, we recommend avoiding them or consuming in moderation. Smoking in particular influences hot flashes, increases the risk of osteoporosis and cardiovascular illnesses, and, reducing the tissues oxygenation, makes skin look dull and unhealthy.
SWEET ALTERNATIVES Finding natural substitutes such as Stevia to sweeten coffee or tea, and preferably selecting dark chocolate when craving desserts, satisfy the need for sweetness while controlling weight and reducing the amount of visceral fat which is generated by the alternating glycemic highs and lows occurring during menopause.
If you can't change your physiology, why not embrace it by responding to it in a favourable way. With the [ comfort zone ] Sublime Skin Hormon-aging™ products, women can now enter the menopause phase confidently and without worrying about the hormonal effects on their skin. Sublime Skin products are available at over 20 beauty salons nationwide. In 2019, the Davines Group with its brands such as [ comfort zone ] scored the top 10% on the prestigious "BEST FOR ENVIRONMENT" list by B Corps for its virtuous ability to create a positive impact on the environment, making this Davines Group's second year of achievement in a row (2018 and 2019). For salon locations, log on to
www.comfortzone.it/en/spa-locator/country/malaysia/
. For more on their products, professional treatments and lifestyle recommendations, log on to
www.comfortzone.it
or contact Luscious Solution Sdn Bhd at 03-2143 2271.