The world's first Starbucks Signing Store located in Bangsar Village II is celebrating its third anniversary this year. To commemorate this milestone, we witnessed how the passion and growth of their Deaf partners blossomed. With hard work and determination, they have now achieved the certification of Advanced Coffee Masters, an achievement that further develops their barista skills and coffee knowledge.
Starbucks Signing Store Celebrates 3 Years of Silent Brewing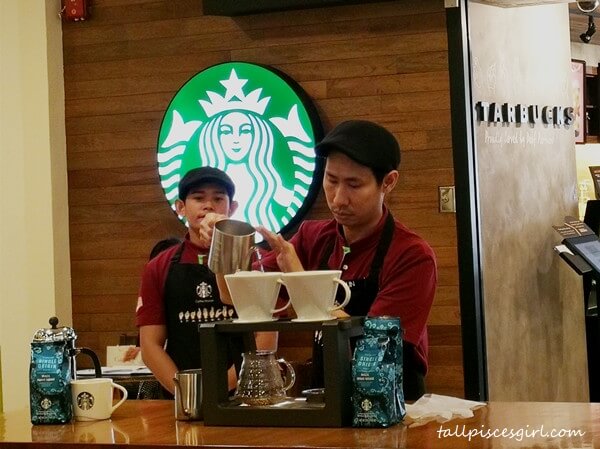 The Advanced Coffee Masters Program teaches qualified baristas new coffee mastery skills. Now, the newly-certified Deaf Advanced Coffee Masters are able to brew coffee using the Pour Over method. They can also conduct coffee chat sessions (available on a scheduled basis) with the public using sign language much like the baristas at the Starbucks Reserve™ stores in Malaysia. Throughout these three years, the Starbucks Signing Store advocates continuous learning and development of each barista. "At Starbucks we always endeavor to create a culture of diversity and inclusion. This was how the concept of the Signing Store came about more than three years ago by offering the Deaf and hard of hearing community in Malaysia with employment and career advancement opportunities," said Rina Siew, Corporate Social Responsibility Manager for Starbucks Malaysia and Brunei.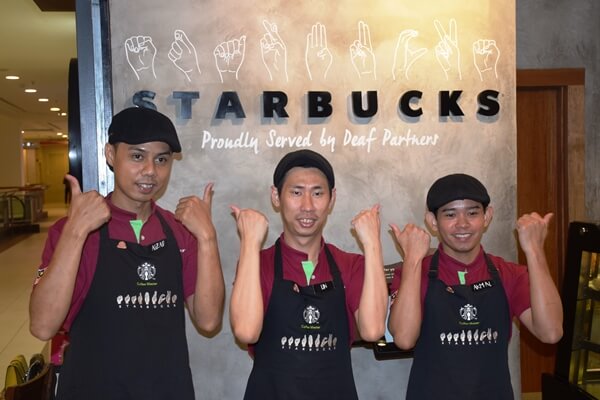 Given an equal opportunity as any Starbucks barista, the
Signing Store
partners have proved their confidence in working and handling a variety of brewing equipment professionally. This has further raised awareness about the Deaf culture at the workplace to surrounding communities. The Deaf baristas are making more than just a cup of coffee but also sharing the warm approach of Starbucks through their perspective. The Deaf Coffee Masters in Malaysia are distinguishable by their black aprons that feature a special embroidery with Starbucks in Malaysian Sign Language.
Starbucks Signing Store Penang
Dedicated to empowering the hearing-impaired community throughout Malaysia, Starbucks Malaysia has announced plans to open the first Starbucks Signing Store in Penang. The Deaf baristas in the Penang Signing Store will get the opportunity to develop soft skills, such as work ethics, teamwork and career attributes. The Penang Signing Store is scheduled to open by end of this year.
Update
: Starbucks Signing Store at Burmah Street, Penang has officially opened on 19/11/2019. Address as below: 403, Jalan Burma, Pulau Tikus, 10350 George Town, Pulau Pinang In conjunction with the 3rd anniversary celebration, Starbucks Malaysia has also launched a series of new exclusive Signing Store merchandise collection which is only available at the Starbucks Signing Store at Bangsar Village II.
The Uniquely Uplifting Experience in Starbucks Signing Store
Inside the Starbucks Signing Store, customers will be familiar with what they see and smell: the rich aroma of the finest Arabica coffee, served by partners in the iconic green aprons in a warm, bustling environment. But while Deaf partners engage with customers with the enthusiasm, passion and craft that they expect from Starbucks, they deliver the iconic Starbucks Experience in a uniquely uplifting way. As customers place their order, they will notice something different, as the usual greeting and sound of baristas calling out beverage orders is replaced by sign language. Customers place orders using a simple menu card which they mark before passing it to the barista. The Deaf partners will use handwritten notes to communicate with customers. Upon placing the order, each customer is given a number on the receipt and once the beverage has been prepared, the number is displayed on a screen telling them its ready.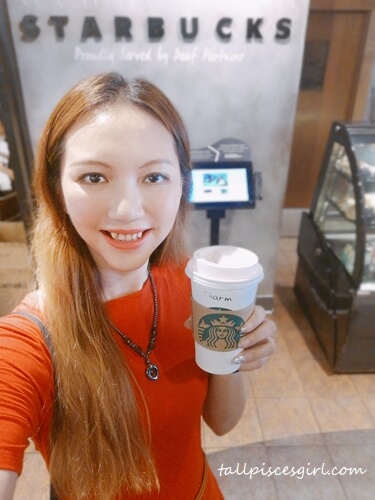 For more information, kindly visit Starbucks Malaysia website at
www.starbucks.com.my
or Facebook Page at
https://www.facebook.com/StarbucksMalaysia/
.